E.P. REVIEW:
Second Hand Poet
All My Life.
9.2/10.0
___________________________________________________________________
The Surrey-based solo star has recently signed with DyNaMik Records; a backing that will see his name being promoted far and wide. His music offers up escape, gentle beauty and stunning reflection, but best of all, an honest glimpse into the inner thoughts of a bright young talent- with songs that everyone can relate to.
_____________________________________________________________________
A great deal of time music involves a lot of D.I.Y. considerations.
I bring it up, as my featured artist has made his name with his bedroom-created music; putting his moves and ambitions together within the ensconments of home. As well as giving the sounds an intimacy and sense of character, home recording (and a D.I.Y. approach) can be quite a prudent and effective method of recording. For any new musician, finance is always a consideration, and a lot of acts limit their output early on- aware of the high costs involved with studio recordings. From my own perspective, I have hesitated and put ambitions on hold; reduced the capacity and potency of various songs- aware of how much the resultant output will cost. I have touched on this previously, but the core of my discourse revolves around the issue of cost; how much it takes to put simple movements on tape- and produce just a single song. Unless you have a record label backing you, and hearty endorsement, the new musician has to do everything themselves. The base considerations such as rehearsals and planning can all by realised cost-effectively, but the true price comes when you get the studio bill. It is an unavoidable and necessary step for every musician, but I often wonder if the issue of money is scaring off new artists; making them put projects on the back burner- and compressing their scope and inner visions. Because of this, there has been a rise and fervency of musicians recording their fledgling steps from their own homes; making use of what is around them, in order to save money. It is not just financial efficiency and belt-tightening that is a big plus, but a certain something can be heard from home recordings; a sound that is delicate and tangible, emotional and sparse- but it does have some down sides. It works if you are a solo artist (and an acoustic act), but if you belong within a band, then that route may not be a possibility in reality. It may be something that I will need to conjugate and digest later on, so I shall leave it aside for the moment. Over the past few months I have looked around the country, and seen what is on offer from all parts; what various regions and their musicians are coming up with- and how it differs from area to area. As someone based near London, I am keen to survey what 'local' acts come up with. Bands such as Crystal Seagulls and Los and the Deadlines are some of the capital's most promising newcomers; aside from their ranks, there are some fervent solo artists whom are making their impressions felt. Emily Kay and Alison Levi are a couple of female sole wonders offering up something special; they are amongst a small group of truly unique artists capable of making big changes within the music industry. Outside of London, Surrey is providing some keen talent; those whom could well relocate to the capital- yet are providing some indication of what the home counties are all about. As my featured act emanates from Surrey, it not only raises the subject of location and county lines- but also the issue of underrated and unique sounds. When looking at the best that new music has come up with, Surrey is perhaps not a county that is amongst the big hitters. I have often wondered why London and the home counties are not producing a huge amount of big names and stars; how come other counties are leading the charge and grabbing the attentions. Perhaps I am getting bogged down in the romantic idea that London is the music capital of the U.K.; this is where all music's best and brightest are calling home. For my money, the north of England is playing host to the best new music of the moment, and the most ambitious and fervent talent on the block; the most diversity and style- that certain something that means critical eyes are being trained to these locales. In spite of the north's hegemony, I am seeing southern counties making a comeback and laying their claim to glory; staking their share of the public attention. Recent review subjects such as Nina Schofield have caused me to belive that a resurgence and reappropriation is under way. The Surrey-born heroine is one of the freshest and most striking voices on the scene at the moment, and is going to be a name to watch closely. Acts such as Chess, Elena Ramona and Emma Stevens are doing the county pride, and it appears that few bands are making strides to add their names to the list. It is an odd thing, but it is the solo artists that are making Surrey glow at the moment; injecting urgency and quality into the local market. It is hard to speculate as to what exactly is causing this, but the proximity to London is an important consideration. Being located so close to its borders, there is a sense of dream fulfilment and escape. The capital provides the money, facilities and natural home for fulfilment and opportunities; something that musicians crave and demand- and I feel a lot of Surrey-based acts see London as a refuge of sorts. The home counties have small and dedicated crowds, yet there is not the wave of attention and chances that London can offer up. Because of this (and the chances that are there for the taking), some ambitious and stunning music is being laid down- by those based in Surrey. It is not that I have a lack of patriotism and loyalty to the county I was born in, but London (and the big cities) should be showing what it is made of; encouraging local talent in, and hustling for the majority share of the critical eye. Going back to my early subject of lack of funds and the expensiveness of music, the capital at least houses a majority of the biggest labels and venues- locations where talent can play and electioneer; with the eyes of record labels underneath them. I have seen a lot of acts and artists outside of London yearn to play the likes of The Borderline, Koko, Roundhouse and Ronnie Scott's; not only bring their music to new faces, but hope to spike the interests of watching labels. Before I get down to investigating Second Hand Poet, I will talk (quickly) about the solo realm; and how underrated certain participants are. There still seems to be a bias towards bands and the music they play. In a sense it is understandable, as historically, band music has provided the fullest and most impressive sounds. Bands provide weight, energy and force, whereas solo acts tend to project subtler and less weighty sonics. Whether a sense of sexualisation and passion (bands provide) is seducing ears (and missing out on the solo sector), I am not sure, but there does seem to be something in it. Solo acts can provide some of the most colourful, invigorating and impassioned music; give a sense of intimate personality and self-reflection- that a band would be unable to. In the recent case of Shiftin' Shade (Portuguese-born Darren Pereira), my point is certainly valid. Whilst employing the services of vocalists such as Adam Hume, the vast majority of the outpourings and sensations of Shiftin' Shade are Pereira's. The Leeds-based talent is amongst the most exhilarating and spellbinding new acts out there; someone whom can unleash a riot of Electro-Swing charm and joy with seeming effortlessness. Ordinarily, the same kind of motion and gravity would be synonymous with a band, so I was pleasantly surprised when I heard Shiftin' Shade. I feel that too many lone acts are being overlooked as it is assumed that their music is not going to be as worthy and memorable as band-made movements- this is just plain myopic ignorance. In my pages, I have highlighted dozens of solo acts whom can mix it with the groups; overwhelm and supersede their sounds- and win eager ears. The plight of the new musician is fraught and difficult enough, so I always feel that the best and more talented- whether they are a solo artist or band- deserve a fair hearing; equal footing and a proper trial. With so many eager young singletons making plans to seduce their local crowds (as well as come to London to settle), we are often in danger or overlooking brilliant talent. It brings me to the case and story of Jamie Tipson; the man behind the Second Hand Poet- and one of the names to watch this year.
I am familiar with Tipson's music already, having reviewed him once previously. Being a Surrey-based talent, I am always keen to proffer and emphasise talent from my local area; yet there was no need for exaggeration at all. Having made his early moves from within his bedroom, Second Hand Poet's work has a D.I.Y. and homemade feel that few modern artists project. One of the things that impresses me most about his music, is the sound itself; the raw and earnest honesty that comes through clearly. Perhaps being in the comfort of his own home suits Tipson, but there is a sense of relaxation and ease that is evident throughout; a settled and relaxed voice that adds weight and conviction to his music. Now under the care of DyNaMik Records, it seems that Second Hand Poet's music will find new audiences and fans; but before I investigate our hero closer, here is some biography (forgive the inclusion of a certain someone!):
"Having spent his formative years writing & developing his lyrics & guitar, now aged 23 he is working on building his fan base more & can be found gigging around his local scene & other areas in the UK & beyond. Continuing to play Acoustic nights around Surrey and London Jamie gained more live experience before retreating back to the four walls of his bedroom to write another album. In September 2012 Jamie released "Heaven Knows" as a single (a sample of which you can hear on the player at the top right of this page) and there is a link to his Bandcamp page on the album below. Second Hand Poets 'Bedroom Acoustics' EP was released in May 2013, the five songs that appeared on this were early versions of a couple of later used album songs, all recorded in one take on Jamie's Mac. A humbling review by music blogger Sam Liddicot http://musicmusingsandsuch.wordpress.com/ for the track 'Little Sun' followed describing the songs on the EP as "Painting the portrait of a talent who could supersede the local scene and make his way to festivals and larger venues". Shortly after the release of his latest self-released album in November 2013 also called "Second Hand Poet" he was invited to play the Boiler room, Guildford, during which he was asked back to feature on Boileroom Radio with a live session and interview. He went on to proudly provide support for the popular American Folk Band Widowspeak http://youtu.be/1-5BBADOBAc as well as Paper Aeroplanes at the same venue.  Christian Frank of Radio Stitch who regularly presents a podcast with his sidekick Jamie Morgan 'The Lemon Circus' on Mixcloud says this about the Second Hand Poet album "The FULL album is seriously top dreamy (is that even a genre???) haunting acoustic dreaminess (imagine it is spelt with an 'i' like happiness) - oh with a dollop of the odd soul shredding sorrow going on in between" 12/12. This is Second Hand Poet's follow-up to his debut EP aptly entitled "Second Hand Poet". All proceeds from this album (absolutely everything) have been donated to the charity, BUAV http://www.buav.org/ who are against Testing on Animals and general Cruelty to Animals, a cause which Jamie hugely supports."
Tipson is hard at work making as much music as possible; ensuring that as many faces and ears are familiar with his work, and give it the support is deserves. At present, Second Hand Poet has fewer than 1,000 fans on Facebook; a smattering of Twitter followers- he is deserving of a much larger fan base. I know that a great deal of crowds in Surrey and London have witnessed Second Hand Poet in the flesh, but it seems that there are a lot of lands and areas to be conquered; a huge wave of new fans that are as-yet undiscovered. It was almost a year ago today that I first reviewed Second Hand Poet (when featuring his track Little Sun). With the release of Bedroom Acoustics vol. 1, our young hero was putting some of his earliest thoughts together; showing the music public just what was capable of. When reviewing the (E.P. track) Little Sun, I tried to assess it, thus:
"The song has ambitions to linger within your mind, and it does through a number of ways. Aside from the vocal being rooted within 2013, and the subject being something everyone can relate to, the way that the words and intentions are expressed is impressive. Many artists would tell their tales, with little consideration lent towards projection and resonance. Second Hand Poet mixes diffidence with angry protestation: some lines are punctuated sternly, before being countered by an emotionally overwhelmed riposte or rejoinder. This unique hybrid is a key focal point, and something that adds gravity to the song. The chorus has an air of mystery and open interpretation: "Hey Little Sun/Look what you've done"; emotions run high and there is a suggestive shrug elicited. If some of the themes of personal dislocation and uncertainty are prevalent: "Feeling lost/And/Stuck on a cross", for example, then the way in which they are presented does not bring you down. The voice does not wallow too much nor hide its scars beneath thin-veiled deceit; the guitar remains strong and focused: hints of Noel Gallagher can be detected in lighter-edged (What's the Story) Morning Glory. Towards the latter stages of the track, the Little Sun is turned upon, put onto the stand, and given accusatory regard: "Burned away/Chosen day", is delivered with an emphatic guilt-trip and disregard. The tension that mounts is temporised, slightly, by the ensuing guitar passage: it picks and strums with delicate touches, before being swallowed and replaced with the final vocal touches."
With the release of a 12-track collection (as well as other tracks), Second Hand Poet has been busy and hard-working over the last few months. I know that Tipson wants a long and fruitful career in music, and I have no doubt that this will become a reality- so I hope more people turn themselves onto his talents. All My Life is where the young artist is at the moment, and it signals a leap forward for the Surrey-based solo star; retaining cores and elements of his previous work, but showing renewed confidence and striking ambition. The E.P. is not released until July, but is already getting some excited tongues wagging; it seems that Tipson's name and reputation is gathering in many new supporters- signalling at an exciting new future. I suspect that in time, our hero will be moving closer to London and setting up camp there (it is the natural thing to do); bringing his stunning sounds to wider audiences and local musicians. Until this- and whether it does- happen, Second Hand Poet is trying to implore to, and connect with, as many people as possible; trying to get his music out into the ether as emphatically as he can- and see what the reaction is. Being a huge fan of his previous work, I was confident that the latest E.P. was going to be tremendous. When I concluded my review of Little Sun, I wrote the following:
"The songs within Bedroom Acoustics paint the portrait of a talent whom could supersede the local scene, and make his way to festivals and larger venues. It is a very of-the-moment release, and one that does not suffer from the weaknesses of many within the solo scene and the associative flaws. The proficiency and striking acoustic playing is a highlight, and the lyrics are capturing and sharp. It is always interesting to hear where future talent may originate from, and what their core values and themes will be. Second Hand Poet is the sound of a heavy-heart, curious mind and endeavouring sound."
In a scene where a lot of new musicians can be hit-or-miss; present a few good songs but not a lot more, Second Hand Poet has a consistency and flair that ensures he will be making music for many a-year to come; taking it on the road and to international climbs, too. With the support and backing of DyNaMik, it appears that doors and opportunities will open up, and horizons expanded; on the evidence of All My Life, it is not hard to see why.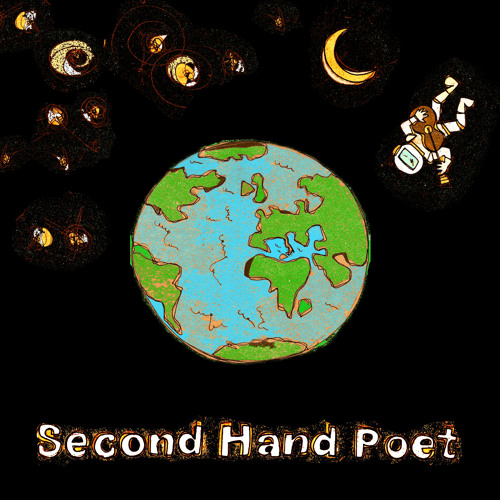 "Shadow you with tears" are the first words that greet Little Ghost. It is an emphatic and multilayered vocal that punctures and enforces the words- you do not expect such an instantaneous rush.. Promising to "love you all so dear", our hero's voice is strong and earnest; opening up the acapella beginnings which are haunting and direct. It is perhaps appropriate (given the song's title) that the atmosphere is echoed and spectral; our hero is spending most of his time (in the"hollows of my mind"), contemplating and reflecting. Whilst "Gazing at sweet nothing", you get the sense of a man on the edge; whether investigating his own life or documenting the rubble of a relationship, you can feel the ache in his tones. The sensation of instrumentation is an effective and unexpected facet, that instantly gives the E.P. authority and directness. You can practically hear the vocals resonate and reflect off of the bedroom walls; there is a mix of closeness and far-away etherealness that adds weight to an aged voice. Our hero sings to his subject; the ghost in his ear is humming softly, as it is requested: "Whisper me some words I can hear". The hollow cathedral chorus is soon joined with soft acoustic guitar; Tipson accompanying himself in a story that sees him waiting for a day; longing for the moment "When my efforts will be paid." It is the vocal itself which makes it mark in the first half of the song; each word makes their mark and comes through clearly; the sound is of a young man with a weight on his mind, and a need to bear his soul Whether the song looks at the problematic and unpredictability of love, or investigating the music industry itself, I am not sure; yet when words such as "A bandage on a wound that doesn't heal", you get the impression that the vicissitudes and struggles of life are at the fore. The plaintive and gentle guitar playing adds some emotionality and potency into the mix, and you sense that a very genuine and personal message is being played out. The lack of sonic clutter and business goes to highlight the words and phrases being elicited; it is a song which compels to stick in your mind and make you imagine what our hero sees. When a delicate and springing acoustic guitar coda is played just before the 2:30 mark, it offers a break and time for reflection; as well as a chance for Second Hand Poet to demonstrate his evocative and tender guitar-picking skills. It is a parable that weaves and trickles; displaying Country and Blues tones, as well as mixing optimistic rays of sun with darker undertones. Towards the closing moments, the strings become more pressing and heavier, making their way to the foreground and ensuring that they say their piece. Our hero's voice echoes wordlessly in the background, summoning up ghostly images, and allowing himself to be taken away. A few far-off words are sung, but you get the sense of a soul that is tired and overcome; a man who is being lifted and summoned- it is quite an evocative moment. A few more striking and spiralling guitar strings wrap Little Ghost up, and end a fitting and impressive opening number. A lighter and breezier mood opens up proceedings for All My Life. There is the sound of Bryter Layter-era Nick Drake; a riparian trickle soothes and caresses acoustic strings into the open- a delicious and fascinating coda that makes you smile. Whereas its predecessor had darker and more introspective openings, here there is an extroversion and confidence that elicits summer vibes and romanticism. Once the delirious introductory moves have unfurled, our hero approaches the mic. "Can you hear the ocean wave?" is the question that is posed; your mind is already on a boat in the sea (as it is); so the words seem apt and evidentiary. Our hero is recalling memories; the wave of the ocean taking his mind back to a particular time; his voice imbued with urgency, yet plenty of heart is evident. The title cut is an investigation of life; recalling past events and the days that have led to here, life is going "so slow". Perhaps there is an anxiety and unease underneath the surface; life is being pulled apart, and it is seen as though (our hero) is "Running down landslides"- perhaps the past few years and months have not been the most fortuitous and benevolent. At the bottom of his mind, mountains are being straddled; there is a sense that no matter what is being done- life keeps throwing obstacles in the way. From the lyrics and vocal delivery, I get a scent of Oasis; the early days of the band and their most considered and tender moments- there is that same sense of quality and conviction. You get the feeling (almost) of an older man looking back on life (and the major events and hardships), yet here is a young man whom is pining for better times- and finding it difficult to move on. Each thought-provoking and emotional recollection verse is punctuated with a beautiful instrumental. Actually 'punctuated' may be too harsh a word, as the sonics that follow the verse have such a depth and mesmeric charm to them, that they are mini-songs in themselves. Such as artists like Nick Drake, Neil Young and Dylan, Second Hand Poet knows the importance of considered and intelligent guitar parables. Not only does it keep the song's momentum going, but creates intrigue and fascination as well- and readies you for what is to come. When it is asked: "Can you fee the air that I breathe", you get the sense that a lover may be talked to; maybe the world at large is being targeted (wondering if the music of Second Hand Poet is getting through to people)- such is the sense of mystery that you start to imagine. The following lines provide some clarity or revelation at least; maybe events are directed towards the romantic; the attention that our hero is receiving and giving is being recounted, and you get the sense that cards are still being held to the chest- that there is something that is on his mind but is being held back. Like Little Ghost, there is an air of dislocation and discontent. Our hero is looking back and realising that he has been against the wall enough time; but you sense that he has ambitions and optimisms in life; he wants to be seen and appreciated, but is trying to negotiate and overcome everything in his way. The final minute is dedicated to aching and sighing vocals; our hero spars and commingles with himself, to unveil a wordless cry that defines and underlines what the song is trying to say- the sense of hope is there but underpinned by derailment and strife. As the song concludes its implore, you realise- after just two tracks- that a lot has been revealed about our hero- but there is still so much to be said. The third number takes the form of Fire and Gold. If you thought that it would be hard to beat All My Life's guitar intro: think again. It is a striding and brief parable that springs and swaggers; drifts and breezes- before our hero is on the mic. His voice is imploring and teasing; it makes words such as "...that the way you move so violently defies you" hit the mark and strike. Introducing an emotive and heartbroken violin into the track augments the mood, and our hero's voice is deep in tought; entranced: "Wondering which way you'll turn". The combination of creeping and elongated violin, mixed with a spirited acoustic guitar line is an effective parbond- it gives a huge emotional weight and an eerie beauty. When our hero's voice tells of (his heroine) "Shaking in your shoes", you can hear the conviction and burden on his tongue; images and scenes are vividly summoned, and you wonder to whom he is referring. Whether it is a metaphor for broken love, or assessment of a broken soul, I am unsure, but our hero ensures that the words get inside your head and overwhelm. It is hard to ignore the potency and sound of violin; it is a storm cloud that lingers over the atmosphere and threatens to burst at any moment- both tender and evocative. By the final moments of the song, there is just the music alone (the soul has been drained); just guitar and violin play, and conclude the tale. After Fire & Gold's majestic moments, the calming and soft guitar opening of Bruises comes as some welcome solace. The intro. has a sense of fatigue to it, backed up by our hero's initial words; those which speak of sleeping for days; escaping, so that it is possible to "...escape from this boredom." The song takes us to the bottom of the bottle; a stupor and sense of escape creeps in. Whereas love and hardships have been documented in previous numbers, here there is an air of self-destruction and pain. Telling the heroine that he is slowly wasting away, you can detect the wracked heartache in the vocal (once more); backed by supportive and consistent guitar work, you find yourself rooting for our hero. Stating that "You know the fields and valleys surround me"; the rain clouds and thunder are dragging his soul away; he implorss to his subject not to touch him: "I bruise easily." You get a sense that there is some music biography within the song; possible a documentation of Tipson's musical ambitions- and the need to do it as a full-time career. When he talks of dark and quiet surroundings, it could be his bedroom and home- a comfort and sense of safety that keeps him warm. He wants to get away from the fear and strains of work and day-to-day; move on and away from things- and get lost in something much more fulfilling. Perhaps I am reading into things too much, but there is a yearning and urgency in the vocals that compel you to dig deeper- to get inside our hero's head. That sense of bruising easily; the susceptibility to touch and pain comes though throughout, and there is a fragility and sensitivity that bleeds and begs. In spite of the openness and honesty that is being presented, there is no sense of histrionics and woe-is-me; the back is strong, but the heart and mind are conflicted and torn- our hero wants something desperately but unable to grab it (just now). Firefly's initial moments are wind-swept and storm-brewing. An audible thunder roll is heard; followed by trickling acoustic guitar, you get the sense that events (of the song) may have a similar timber: a heaviness and vulnerability perhaps. Wordless and cooing vocals arrive for a brief moment, but beautifully link us into the first verse. Talking of "fabled words" and the beauty of the deep; perhaps events are going to turn out differently. Our hero directs messages to his sweetheart; confessing that "I'm yours to keep", the beauty he is speaking to is causing him no tribulation; he seems in awe and devoted to his beau. There is fire in his eyes; a sparkle that is "Like diamonds in the sky" and something that is deep inside our hero's heart. It appears that his sweetheart is a medicinal and redemptive spirit; someone whom is "Like morphine when I'm weak"; someone whom lifts the darkness and attracts (our hero) "like a firefly." Perhaps the most overtly positive and romantic track of the E.P., it is good to see that there is some hope and happiness within the mix. Meteorological and natural images are invoked to pay tribute to someone whom is under our hero's skin; it is said that (he) "See lightning when you speak." The chorus, as well, is one of most memorable on the E.P., and is simple yet highly effective; you know that whomever is in mind is an incredible Siren; a woman who is an elixir and curative aid; someone whom can balm wounds and inspire the thoughts. By the time the song reaches its end, you hope that a smile is on the face of Second Hand Poet; that our author concluded the track with a sense of relief and positivity- I hope so, as it is a song that is memorably evocative and tenderly honest. Wailing and echoing sounds mix with firm-headed acoustic guitars, to open up the final track Fading Out. There is still a sense of beauty and purity abound, with plinking and dancing piano notes coming into the mix, the opening moments are elliptical and spirit-lifting. Everything combines seamlessly to present sunshine and warmth; a lightness and romanticism is at the fore- the early moment see a man who is in need of redemption. Singing to his girl, he is fading out; imploring to her to "Give me a reason, won't you listen baby..." Backed by swaying and haunting backing vocals, the song sees our hero once more in reflective and contemplative mood. Whilst watching films and the scenes they present, although he can relate to the people within, in spite of everything it is "all made up"- a facet that is disappointing and axiomatic. You feel that our hero wants toi escape into those scenes; have the same sense of freedom and carefree ease that they do- yet life is not being so kind and accommodating. The song is a short and direct mandate that hits the mark- and brings the E.P. to its conclusion. Once you complete listening, you need a few moments to recuperate. There is a lot of wonder and beauty within, as well as harder and weightier emotion; a perfect blend that makes the collection so memorable. Tipson's guitar playing is authoritative and stunning throughout, never too heavy or intrusive, it adds colour and emotion to each track. The vocal performances are consistently strong and imploring, and the sense of conviction and potency comes through clearly; our hero never lets his pipes become too dark and brooding. Each track has its own weight and identity and covers a range of subjects; those that are all-inclusive and relatable- everyone will be able to relate to what is being said. Because the E.P. is encompassing and non-alienating it will strike a chord with many, and you find yourself rooting for Second Hand Poet- and hoping that things work out for the best.
Having surveyed the latest installment from Second Hand Poet, I am in no doubt that the next few years will see a great deal of progression and prosperity for the young hero. Over the coming weeks, I shall be investigating some new solo artists and bands- each with their own sound and quality. When it comes to Tipson's moniker, it is clear that more London dates will be forthcoming; some local gigs and appearences- and a lot more music for sure. His voice is instilled with warm and soothing tones; a boyish charm that recalls Tom Odell; plenty of soulful passion and striking power- as well as a unique tone that gets under your skin. It is not just the potent and emotive vocals of Tipson that makes Second Hand Poet's music so stunning. The sound is open and honest, and draws you into the music (at times it as though you are listening in Tipson's bedroom); there is no needless polish or overproduction it is raw and pure, thus allowing each song to implore honestly and without pretension. All of the six numbers have personal relevance to the author, and highlight various shades and sides of a personality that offers tenderness, introspection, strength and hope. You are hard-pressed to compare anyone to Second Hand Poet directly; there is an individuality and heart within his templates that offer something fresh and vibrant. That said, there are embers of modern icons, thus ensuring that Tipson's music will appeal and capture a wide sector of music-lovers. From my perspective, it is always great to hear original songwriters daring to make their own way and be bold. You do not get much more bold than Second Hand Poet, whom projects huge confidence and conviction across the entire E.P. The local (Surrey) scene has its share of interesting and diverse acts; everything from female Soul-cum-Pop vibes through to hard and brutal Metal bands- with a little of everything in the middle. There is always a desire for a particular act to wow their home crowds; to make their name in their locale- but I suspect that Second Hand Poet's ambitions stretch wider and further. Here is an act that has an honesty and charming appeal to his music; making beats and notes in a distinctly personal and lo-fi way- thus separating himself from the bulk of his contemporaries. Towards the south, there is a need and desire for music that has romantic and tender edges; preference is still levied towards inward manifestations and a certain melody- which a lot of the local competitors offer up. With the tenderness comes a lot of potency, passion and genre mixing, and it is a facet that is missing from London on the whole. Recent subjects such as Alison Levi have shown me that they are out there, but most of my London-based reviews have focused on Rock bands and bigger anthemics. I feel that artists such as Second Hand Poet can bring new life and invigoration to the capital- and take their messages around the U.K. By recording material and songs in his bedroom, you can hear that intimacy and comfort, but witness an act keen to make music no matter what- and give his music a home birth. I guess when Tipson's profile augments and explodes studios will come beckoning and that is going to be something that can provide benefits- bigger arrangements and additional musicians. By making music on his own terms and employing his own talents alone, Second Hand Poet is a curious talented and unique brand that will win many hearts. It is early days, but I fully predict that Facebook and Twitter numbers will multiply; people from all around the globe will come on board and witness a young man on the verge of something big. Before I wrap up, I will bring you a snippet from my previous review (of Second Hand Poet); when investigating the man himself:
"I hope that in the future Second Hand Poet gains wider appreciation. He has a voice and sound that is almost tailor-made for the live scene, and will win over local patrons and those further afield, alike. The title of the E.P. suggests that further volumes will be unveiled in coming months, and will be curious to see what moves are made next. Whether there will be a move to the studio, and an incorporation of percussion and strings; or the format and structure will remain in tact, is yet to be seen. In the initial stages, the decision to present bedroom sounds and summations is brave and smart. It shows that the authour is comfortable with his surroundings, and knows the vitality and importance of authenticity and narrative. The songs within Bedroom Acoustics paint the portrait of a talent whom could supersede the local scene, and make his way to festivals and larger venues. It is a very of-the-moment release, and one that does not suffer from the weaknesses of many within the solo scene and the associative flaws. The proficiency and striking acoustic playing is a highlight, and the lyrics are capturing and sharp."
As well as retaining all of his elemental and reliable cores, our hero has grown in confidence and looks set to carry on a bright and profitable trajectory. His record label have offered him some free studio time (in Ireland); the E.P. was mastered at a reduced cost, too- so the financial fears of studio life may not be a consideration for the future.  New music thrives best when diversity and quality are offered; no emphasis on sex appeal or controversial personalities- where the music is king. People like me- whom are starting out making music- are always nervous when trying to break onto the scene; figuring out a way of making things happen- and making music in a feasible manner. Second Hand Poet is not only an inspiration to new musicians and those intimidated by the financial burdens of studio recordings; and his themes are relevant and tangible- those which can be extrapolated by all. This year is almost halfway through, and as I sit back and re-read reviews (of artists I have surveyed) I can see a lot of range; instantly know which acts are going to go far (and those that may be more short-lived). I suggest and predict Second Hand Poet is going to be someone to watch closely, and we will be seeing many future E.P.s and albums from this determined talent. At the moment, investigate his social media space; get an insight into where he has come from- and where he may be headed. Make a note to snap up All My Life and help support a young talent with whom has a clear affection for music; someone keen to make his mark on the current scene...
AND put his music firmly in your heart.
____________________________________________________________________________________
All My Life Track Lisiting: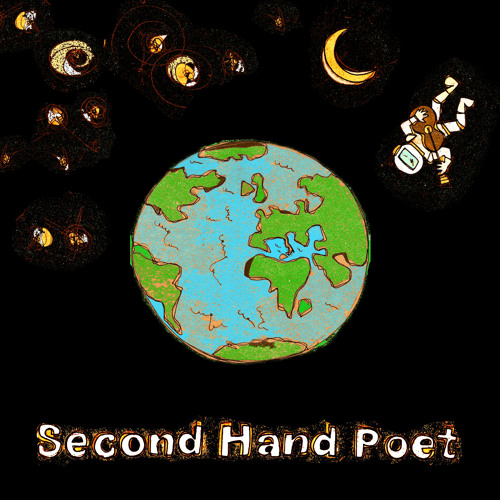 Little Ghost- 9.2/10
All My Life- 9.2
Fire & Gold- 9.3
Bruises- 9.2
Firefly- 9.3
Fading Out- 9.2
Standout track: Firefly
____________________________________________________________________________________
Follow Second Hand Poet:
Official:
http://www.dynamikrecords.org/second-hand-poet.html
Facebook:
https://www.facebook.com/pages/Second-Hand-Poet/417534431620189
Twitter:
https://twitter.com/SecondHandPoet
SoundCloud:
https://soundcloud.com/secondhandpoet
BandCamp:
http://secondhandpoet.bandcamp.com/
YouTube:
https://www.youtube.com/channel/UCYTgFc0W1bGKSRO1UxqH43g
ReverbNation:
http://www.reverbnation.com/SecondHandPoetMusic
iTunes:
https://itunes.apple.com/us/artist/second-hand-poet/id681955841
____________________________________________________________________________________
Tour dates available at:
https://www.facebook.com/pages/Second-Hand-Poet/417534431620189?ref=br_tf&id=417534431620189&sk=app_123966167614127