TRACK REVIEW:
The Midnight Pine
Trouble In the Blood
9.4/10.0
Trouble In the Blood is available via:
http://themidnightpine.bandcamp.com/track/trouble-in-the-blood
The album, Buried is available at:
http://themidnightpine.bandcamp.com/album/buried
TRACK LIST:
Trouble In the Blood- 9.4/10.0
Buried- 9.4
Tears- 9.3
Caution- 9.3
Hey There- 9.4
Edge of Town- 9.1
Markle Interlude- 9.2
Lavish in Bloom- 9.3
Mother Of Amends- 9.1
Out Here Tonight- 9.2
Pocket Watch- 9.3
Always- 9.4
Buried Reprise- 9.3
STANDOUT TRACK:
Trouble In the Blood
DOWNLOAD:
Trouble In the Blood, Buried, Hey There, Pocket Watch, Always
RELEASED:
10 June 2014
Shelbi Bennett: Vocals Alfred Howard: Circuit Bent Radio and Percussion Jason Littlefield: Upright Bass and Cello Sean Martin: Acoustic and Electric Guitars Josh Rice: Piano, Rhodes, Hammond B3, Wurlitzer, Farfisa, Vibraphone and Acoustic Guitar Jordan Andreen: Synthesizer and Accordion Mikhail Borisovsky: Violin and Cello Tim Felten: Mellotron Andy Geib: Trombone and Trumpet Tim Lowman: Electric Guitar Gerard Nolan: Clarinet Jonathan Piper: Tuba
ALL LYRICS BY:
Alfred Howard, except Lavish in Bloom (by Shelbi Bennett) and Out Here Tonight (by Shelbi Bennett and Alfred Howard) 
ALL SONGS WRITTEN BY:
 The Midnight Pine
PRODUCED BY:
Jordan Andreen and Alfred Howard
RECORDED AT:
Audio Design
MIXED BY:
Jordan Andreen
MIXED AT:
Big Fish and Audio Design
MASTERED BY:
Kelly Hibbert
GENRES:
Folk, Indie Jazz, Psychadelic
_______________________________________________________________
Shelbi Bennett has a voice that has caused many commentators to palpitate furiously: backed by her brilliant musical brothers, The Midnight Pine are amongst the finest acts in the U.S. Following an accomplished and fascinating debut- which has its heart in Blues Folk Country- comes its (mesmeric) follow-up: Buried is a page-turning storybook everyone should unearth.
_____________________________________________________________________
PERHAPS the most compelling facet of any band lies in the vocal department...
and the tones of their singer. I appreciate the value and importance of composition, melody and lyrics: for my money, the biggest chills are elicited when you witness a truly spellbinding voice. In recent months, the likes of Sam Smith and Paolo Nutini have won hearts and adoration: their unique (and diverse) vocals have reduced the most concrete of hearts to a blubbering pulp- backing it up with memorable and stunning songs to boot. When it comes to words and music, there are complexities to tantalize: words need to be carefully considered and thought-out; the music should be stirring and daring- if you want to grab the imagination, then a hell of a lot of work needs to go into them. The voice transcends these rules; it subverts and negates expectations: a wonderful vocal display can turn the simplest words into something transcendent and spiritual. It is not good enough to merely have a phenomenal voice (which in itself is a huge achievement): your songbook has to be stuffed with memorable layers and colours in order to mark yourself out. It may sound like an aimless ramble, but my point is well-founded: few acts (past or present) have managed to provide scintillating vocals, transfixing music and nuanced music- the Holy Trinity of songwriting. When you do come across a band or artist that pulls off the- seemingly improbable and obtainable- feat, it is vital to not only take in all they have to offer- their music then needs to be promoted and shared (to ensure as many ears as possible witness it). I have surveyed quite a few Californian acts- from Little Dove and The Open Feel through to Quinn Archer- and tend to find that- when it comes to band formation/conception- a fascinating and filmic back-story presents itself: The Midnight Pine are no exception...
"I met Shelbi Bennett at the record store of my employ. I was ringing her up for dvds, I believe it was the Brother's Bloom and Crouching Tiger Hidden Dragon, the latter I had forgotten existed. I had just seen the first one and struck up a conversation about it, which as all conversations I have longer than 1 minute segued into music. She said she was a singer, in an instant of condescension that... comes with being a record store clerk, I imagined her singing off key Dixie Chick's numbers in the car on the way to work, I responded that I was a song writer which to her ears meant I was a lecherous old man trying to hit on her. For whatever reason we braved our prejudice and got together and the second I heard her take on a song I wrote a ways back called Stolen Wind I was floored. I called Josh and said "hey man, I stumbled into someone real special". I was already in 3 bands and working full time, but when you hear a voice like shelbi's and you have a chance to be a part of some small miracle, you find time." -Alfred Howard [Lyrics, percussion]
The store clerk-meets-aspiring hidden vocal goddess seems ready-made for the silver screen: it is a tableau that beats the mediocre and predictable beginnings most bands have- you can almost picture that initial meeting beat-for-beat. I only came across the band a matters of days ago (via a good musician friend of mine); dug into their annals and treasure chest- and came away wide-eyed and amazed. It is probably pertinent that I allow the guys themselves to sum up their essence:
"The Midnight Pine is the soundtrack to a solitary desert drive beneath a crescent moon. Lead by the haunting voice of young siren Shelbi Bennett, the Pine presents a sparse, hypnotic, eerie and beautiful soundscape. The album wanders through ghost towns of morose psychedelia, brooding folk and triumphant pop. To keep the focus on the vocals there are no drums, just found objects, chains, saw blade...s, sheet metal, utensils and short wave radios are layered to keep a subtle pulse of percussion pushing the songs forward. The Midnight Pine is an exercise in serene nonchalance, moody atmospheres and songs that braid your heart-strings into a rich tapestry. Live the band can conjure pin drop attention with its gentle movements and with a quick shift in dynamic can be a sonic maelstrom. The voice of Shelbi Bennett is a force of nature, captivating, volatile, gorgeous and pummeling."
All of this promise and paen- in some people's minds- come across as hyperbole or over-exaggeration: pick one of their songs at random, and you will find that everything they say is apt and appropriate- they sum themselves up pretty nicely. A few bands that boast such an impressive singer, often can let themselves down when it comes to song quality (Alabama Shakes come to mind). The Midnight Pine seem immune to the critical lashing: they live up to their promise and offer something genuinely new and captivating.
Last year, the group released the album Awake Now. Being their debut L.P., it was the first full representation of what they were about. Tracks such as Stolen Wind were awash with aching Country tones; Gospel-tinged Soul cuts like Time nestle alongside the dark epic Hey There; Wave Goodbye's swaying and tender-souled heartbreak administration proceeded Best Place- and its woozy strings and itinerant ambitions. The album packs a lot of punch into its eleven tracks: there are no false moments or fillers to be found- many bands would incorporate too much diversity and difference across the numbers; a singular and fascinating voice seduces throughout Awake Now. In the ensuing year, the band have increased their confidence and broadened their pallet. Where as their debut contains Country and Desert Folk tales of disenfranchisement and fractious souls; Buried shows greater redemption and hope: there are darker edges, yet the overall tone sounds a little more positive. Jazz and Psychedelic incorporations feature on the album, and The Midnight Pine sound fuller, more determined and focused: the sophomore outing is a creative and personal step forward in every area. It is good that Buried's lyrics feature on BandCamp: it shows that The Midnight Pine are more confident about their songwriting (and keen for their words to be studied). Their latest L.P. builds upon their previous offerings: the lyrics are deeper and more compelling; the sonics are richer and deeper; Bennett's voice strikes even harder and hotter here. For those that fell in love with Awake Now, have no fear: the onliest individuality remains- the group have simply build upon their sturdy foundations.
In terms of sound or 'sounds like', it is difficult to link The Midnight Pine with another: they have a very particular and singular projection. Bennett's voice has embers of Country legend Tammy Wynette; Blues goddesses like Billie Holiday- plus modern-day idols Laura Marling and London Grammar. The City in Motion's brethren incorporate multiple genres into their boiling pot: it means their sound is not elitist or exclusionary. Those that want to find something different should investigate these stunners: pleasing familiarity commingle with new and brave sounds- the effect is phenomenal. I am more enamoured of hard-hitters such as Queens of the Stone Age and Led Zeppelin, yet was drawn to the band due to my love of Joni Mitchell, Bob Dylan and Neil Young: there is that same lyrical ambitiousness and multifarious musicianship. The group's tight and rapturous performances will capture those in need of uplift and reflection; Bennett's voice possess no barrier or (realistic limits) in the mix: meaning The Midnight Pine will strike a chord with all types of genre-lovers. As much as anything, they give you direct access into a world few of have (or ever will) experience: against the lack of profundity in music, the San Diego group are a welcomed breath of fresh air.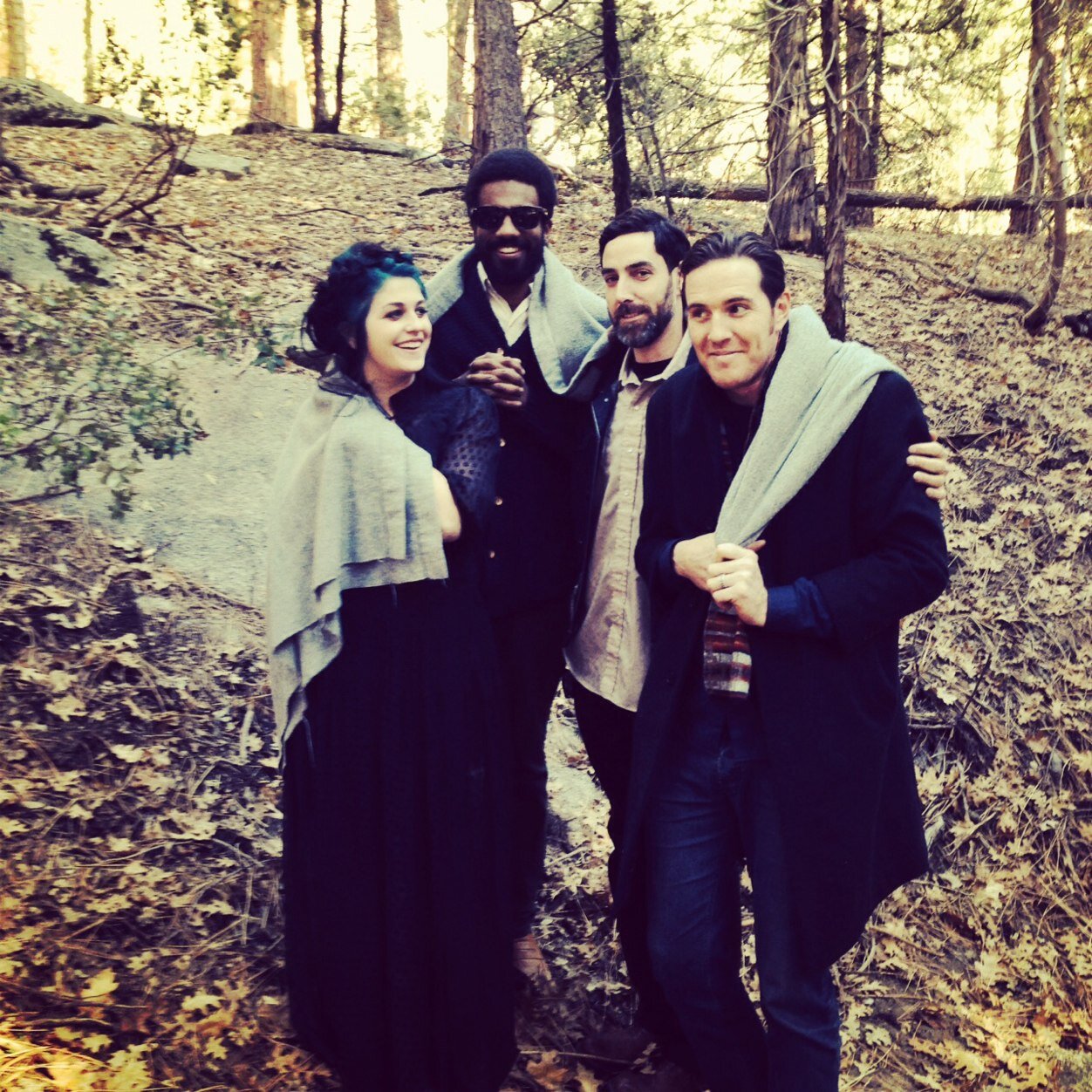 One of the most important considerations- when it comes to opening an album- is ensuring you capture attention and intrigue. Trouble In the Blood begins with menace and crepuscular bloodlust. Echoed and vibrating strings are dark and brooding: machine-like in quality, we are in a ghost town- at the dead of night, you get a real sense of unease and unpredictability. Touches of Kid A-period Radiohead spring to mind (upon hearing the introduction); softer and soothing strings soon dissipate and erode tempestuousness: the daylight cracks and something far less unsettled makes its presence known. The first taste of Shelbi Bennett's voice comes in the form of elongated beauty: our heroine "Woke up with a fever"; biblical imagery and bedside infirmary are coupled early on- enveloped in a mesmeric and pin-sharp vocal performance. Touches of Shana Worden struck my ear: similar to the My Brightest Diamond creator, Bennett beautifully contorts and stretches her words; crystal-clear lustre brings vivid life to each semblance- and causes the listener some misty-eyed moments. Bennett was "born a non-believer", and is "ready for a flood": love's arrival and plight is mixed with Christian meteorology- giving the song a sense of grandeur and epic-ness. In the middle of stark prophecy and asperity is tender longing: Bennett implores (to her lover) "Truths, I've tried to hide/But I need you tonight." Trouble In the Blood's composition mixes '60s and '70s Folk- shades of Roy Harper and Led Zeppelin (III) are in there- as well as funereal organs: the latter becomes prescient and emphatically stirring by the 2:30 mark. Love's capriciousness is examined; our heroine's voice sounds positively anxious when singing "Sky's been clear a while/I feel the coming rain"- you sense that the song's focal lure has left irrevocable damage and marks. The further the song progresses, the more engrossing it becomes: that hypnotic acoustic arpeggio and sweeping organ are magisterially potent. Howard's lyrics are both simple and direct yet filled with polysemy and intricacy: lines such as "Hurricanes and weather/Arguments and pain" perfectly stick in the mind- and leave their impressions. In spite of the fact  Trouble In the Blood contains fewer words than most tracks on the album, its 4:39 running time packs more punch than any song- thanks in no small part to the entire group performance. The track's final moments mirror the introduction: the dying seconds are awash with animatistic and growling guitar; as well as languidly haunting organ. Trouble In the Blood is the finest of the baker's dozen of tracks (within Buried): other cuts get near to hitting its peaks- yet none of them strike quite as fervently. Bennett's performance is consistently gripping and compelling: her voice prolongates words so that they do not pass you by; the gorgeous and heartbreaking turn is one of the finest on the L.P. It is the overall sound and feel of the song that makes it so memorable. The composition is ever-moving and progressive: filled with acuity and emotion, it manages to be both epic and intimate- making the song both personable and cinematic. Howard's words deftly weave indirect and urgent into the mix: everyone can relate to what is being said, as well as feel a lot of sympathy and support for Bennett- a rare feat in modern-day songwriting. From the initial seconds, the instrumentation and sonics burst with light and shade: Folk acoustic guitars and  atramentous keys are cemented in a musical smörgåsbord: found object collages come together to create a hugely atmospheric soundtrack. With superb production values and stunning clarity, nothing gets lost or overlooked: each line, note and word is crystal-clear and perfectly mixed together.
Buried's title track is a stop-start sweeping epic: a song that looks at the temerarious nature of love; its heartaches and shortfallings. Springy guitars- sounding like a cut from Led Zeppelin III- give Hey There a dizzying and Folk-tinged charm. Our heroine's voice is softer and soothing; offering up some picturesque scenes ("A cigarette in between tulips/And a stare far from discreet"), it is one of the album's finest songs. Elsewhere, Edge of Town marries romantic and elliptical strings inside of a song that examines vicissitudes and "silent hearts"- measured out in oblique and baroque rhymes. Pocket Watch is a beautiful Nick Drake-cum-Bob Dylan number: evocative and hypnotic poetry is scored by a sweeping and evolving composition- aching and parping brass makes a rare appearance. Buried manages to cross ghost towns and desert landscapes; tracks range in terms of mood and length (Buried weighs in at 5:23 where as Lavish in Bloom is a mere 56 seconds): there is no excess or bloating at all; just evocativeness, stunning highs and plenty of raw emotion. No two songs sound alike: it means a real sense of travelogue and progression is elicited- giving the band a chance to show their full range of colours. As wonderful and stand-out Bennett's voice is, there are no clear winners or obvious star: each player and facet adds a huge amount of force, beauty and memorability to the album.
I have mentioned before- and overstated with an unregulated fervency- the quality that is coming out of the U.S. right now (I shall spare the protracted lecture). California and New York (between them) are providing some of the most original and spectacular musicians on the current scene- it is no faint praise to say that The Midnight Pine are amongst the finest. A lot of my musical insecurities stem from rigid tastes: sometimes I procrastinate when trying to step out of my comfort zone. I am glad that I was pointed to the joys of The Midnight Pine, as they not only afford me the opportunity to discover something new (and brilliant), but have led me to a rather special singer, indeed. I am by no means biased towards vocalists; it is just that when one does arrive, something inside of me stirs and rumbles- the band as a whole are phenomenal and my no means second-fiddle. A great deal of the band's future endeavours will be in the U.S.: I hope that they pop across to the U.K. (and Europe) as there is going to be an audience waiting for them. Britain has few like-minded and similar-sounding acts; not only will the Californians inspire many of our up-and-coming acts, but inject some genetic diversity into our (compared to the U.S.) rigid stock. Having produced two albums in as many years, The Midnight Pine have a steadfast and imperialist work ethic that is building in momentum: fan adulation and critical acclaim surely will spur them into putting together the strands of L.P. number three. Buried is an encyclopedic collation of emotions, scenes and opinions: a myriad of movements and wonders are contained within. A lot more music is going to come from the group, and they on a career trajectory that will see them scooping awards very soon. With the majority of their fan base located in the U.S., Buried should see their sound transition the oceans- and connect with new continents and nations. The San Diegans make music to buckle the knees and melt the heart- wrapped in the inimitable firepower of Bennett's voice. We need to start extinguishing and foregoing erroneous bands and pointless plastic, and begin to behold and promulgate...
ACTS like The Midnight Pine.
____________________________________________________________________________________
Follow The Midnight Pine:
 Facebook:
https://www.facebook.com/#!/TheMidnightPine
Twitter:
https://twitter.com/TheMidnightPine
Bandcamp:
http://themidnightpine.bandcamp.com/
YouTube:
http://www.youtube.com/channel/UC8k_Ck_mh80Mg4TSPj_TFiw
Soundcloud:
https://soundcloud.com/the-midnight-pine
iTunes:
https://itunes.apple.com/us/artist/the-midnight-pine/id576791160
Last F.M.:
http://www.last.fm/music/The+Midnight+Pine
____________________________________________________________________________________
The Midnight Pine's music can be accessed at:
https://www.facebook.com/#!/TheMidnightPine/app_204974879526524
____________________________________________________________________________________
Tour dates available via:
https://www.facebook.com/#!/TheMidnightPine/events
______________________________________________________________________________________
The Midnight Pine's videos can be viewed at:
https://www.facebook.com/#!/TheMidnightPine/videos