TRACK REVIEW:
Soulshaker Ft. Lucas
Far Away
9.5/10.0
Far Away is available at:
https://soundcloud.com/soulshaker/soulshaker-ft-lucas-far-away-radio-edit-mp3cutnet
RELEASED: April, 2015
GENRES: House/Electro.
ORIGIN:
Surrey/London, U.K.
IT has been nice to focus on solo artists…
and see what is out there.  Although, technically, my featured track is collaboration, I am interested in the man behind the song; the voice that comes through- I shall introduce him soon.  For now, I am interested in the solo market; the range of sounds- and what can be achieved.  Over the last few months, I have been lucky enough to discover some great solo stars: the music is always ambitious and strong; the songs unique and personal- there is a lot of range and choice out there.  I find that the band market seems a little limited: most of the bands I have come across tend to tread the Rock/Indie lines; a few go heavier (or softer), yet there is less diversity.  Perhaps playing to strengths- you elicit the best results from these genres; it is what the public seeks- the lone artists has a tougher task ahead- without the support of band-mates, they have to do all the work; plan their careers- and fight off some tough competition.  When presenting with a new artist- someone that is just starting out- I always tend to find the same thing: they have worked tirelessly (to get where they are); spent a lot of money and time- put a tonne of effort into making it happen.  It is one of the signs of the times, I guess: to 'make it' or at least get recognised, you have to sacrifice a lot- that can include financial security and a degree of happiness.  With that in mind, eyes and ears will concentrate on the most unique: those artists that offer something special; break from the parable of mainstream predictability- and craft something that really strikes the ear.  This brings me to the issuer of genres/styles: the types of music that is currently favoured.  Electronic sounds are coming through at the moment: some of the best solo music at the moment includes Electro./House elements; something upbeat and electric- essentially, music that is gripping and busy.  With the likes of FKA twigs coming through- I know I mention her every review; there is a good reason for it- and the release of her new E.P. (Melissa), it seems to be a quintessential art-form- that is inspiring a lot of solo artists.  Within Electro./House parameters, you can achieve quite a lot: there is more mobility and potential; switch seamlessly between forceful and sensitive- you are not as constrained and limited.  I do appreciate great Folk/Pop music; yet find there are fewer stand-out acts: you really have to dig to discover something special.  Before I continue my point, let me introduce Lucas to you:
"My name is Lucas and I'm an R'n'B, Soul, Pop singer/songwriter solo artist from London. I have an eclectic taste in music so I'll listen to pretty much anything. Listening to these different styles of music helps me to creatively write better songs, have a better production behind me and be more innovative in this ever changing industry. My style of music is a mix of old '90s R'n'B to modern R'n'B, Pop and old Soul! My vocals are inspired by my favourite artists from Michael Jackson and Stevie Wonder through to Mary J. Blige, Ne-Yo, Usher and Justin Timberlake to name a few. I am planning on releasing my debut E.P. very soon as all the songs are written and just need recording now so that is one of my favourite processes and I'll have a few more cover videos out In the coming months. I also plan to start gigging as soon as I have my material all ready to promote!"
The young artist has a true talent: he is seamless when backed by electronic force; natural in the Pop arena- comfortable and striking when in the Soul mould.  With an eclectic music taste, it is perhaps not surprising: here is an artist that will not rest; wants to perform various genres- and showcase his full range.  Having just heard Elena Ramona's latest song/collaboration- Got It is a typically assured and stunning track- it seems that a lot of young singer/songwriters are joining forces- with producers/Rap stars to create something quite awesome.  Lucas' voice is the star of Far Away: together with Soulshaker, the track is a compelling and authoritative House/Electro. mandate- a song that demonstrates what a talent (Lucas is).  Soulshaker are a growing and reputable team: the producers-cum-D.J.s-cum-writers have worked with some incredible artists- their name is catching some influential ears; their portfolio is expanding by the month:
"Soulshaker are considered as being one of the hottest dance music production teams around. They won the 'Best International Dance Producers Award' at the Music Awards in, Malta, Europe, and to date have been involved in an unprecedented 12 No1 UK Music Week club chart Hits and countless more Top 40 Hits around the World including cuts on a new No1 Album in Japan. Always trying to keep their sound at the forefront of the underground dance music scene."
Far Away is the perfect coming-together of production team and central artist: the hungry young artist joining together with innovative and professional producers- to create something quite dazzling.
If you are new to Lucas, it may be worth heading to (his YouTube) page: it shows a range of cover versions; the artists that inspire him- and what his voice is capable of.  What strikes me about (Lucas' voice) is his naturalness and soulfulness.  When the likes of Plan B go into Soul territory it sounds a little forced: although Ben Drew has a Smokey Robinson-esque style, his natural home is in Rap.  Lucas seems like he was born to be a Soul singer: given his influences include Michael Jackson, Stevie Wonder and Mary J. Blige; it is not a shock (he has such a terrific voice).  From I See Fire (Ed Sheeran) to P.Y.T. (Michael Jackson), the young singer makes the songs his own- that rich and expressive voice brings life to the tracks.  There are not a lot of great Soul voices on the scene now: the trend airs towards Rock and Pop; the opportunities to discover a Sam Smith-type vocal are few and far between.  As we are witnessing a Lucas composition, it is hard to compare (Far Away) with previous output.  With Soulshaker joining forces- and Lucas' previous output being mainly covers-based- this is a new venture; stepping into fresh territory- lacing his soulful voice with something harder and less Pop-based.  Definitely check out his YouTube/SoundCloud accounts; get a gist of what to expect- and what his voice can achieve- and listen to that (in tandem with) Far Away- it gives you a glimpse into his future.  In terms of confidence and authority, Lucas is at his peak (on Far Away) - he sounds more assured and stirring; his voice is in full bloom; perfectly mingling inside the composition.  Few young artists are as mobile and adaptable: Lucas shows he is as confident when tackling Justin Timberlake- as he is singing his own songs.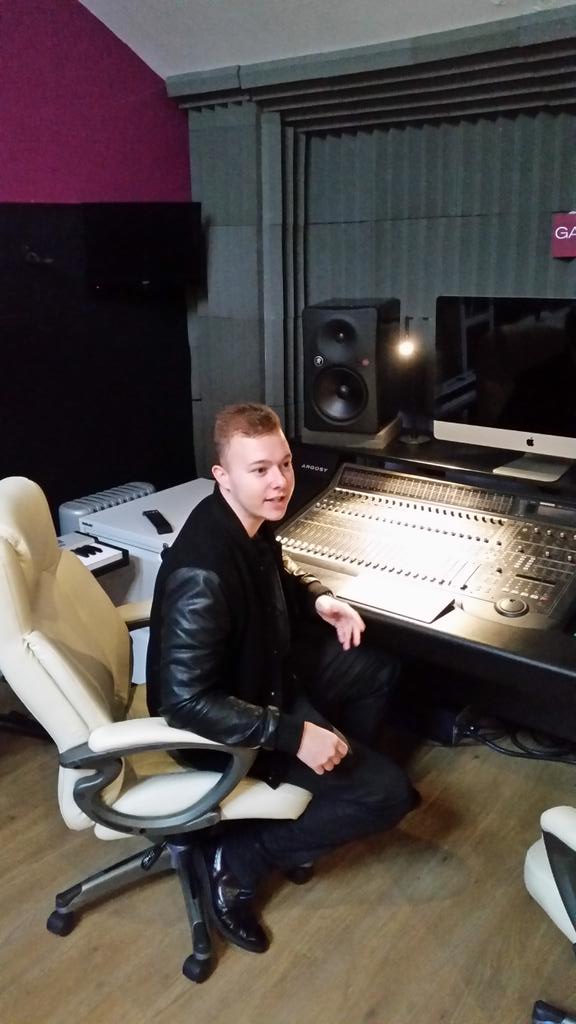 Far Away starts with a very pleasing opening vibe: the first beats of the introduction put me in mind of the '90s Dance scene.  With a suggestion of Show Me Love (from Robin S.) I was transported back to music's heyday: when the Dance/Club scene was awash with stunners and epic tunes; here there is instant nostalgia and evocation.  That is not to say we are hearing a '90s tribute slice: Soulshaker make sure the introduction has a modern vibe: that comingle of '90s-via-current is intoxicating and wonderfully realised.  The tribal call-to-arms rush (of the introduction) then succeeds to Lucas' voice- it comes in hard and focused.  Not overly-produced or processed, we get a naturalness and nakedness coming forth- a rarity considering the wealth of Auto-tuned Dance/House music.  Our hero's initial words are deployed with emotion and pace- the lines are teased in to make sure they hit home.  Looking out across the land (so it is said) "we rise and we fall."  As our man sees it all- his eyes and mind have witnessed too much- there is that desire to "drift away"- quite a mordent sentiment on first investigation.  When it comes down to it, there's that need for calm and peace: get away from the rabble and chaos of events; find somewhere ensconced and quiet.  The song gains early stripes with its mixture of tradition and simplicity.  The composition remains vibrant, yet still pervades that air of '90s Dance: appropriating the glory days, you are instantly uplifted and smiling.  The lyrics themselves touch on common themes and concerns: the lines are quotable and memorable; kept basic and honest- to ensure the sentiments can be appreciated/understood by all.  With its rushing composition, the listener is gripped and invested- already sympathising with Lucas' plight of anxiety.  As the beat gets heavier and more dominant- it is a static beat that punctuates and highlights the foreground- our hero is "far away"- there is a sense of obliqueness and mystery in some of the words.  Wanting to return to a certain "place"- whether that is entrenches in music-making or a happier time- there is that desire to return: escape an unhappy way-of-life and find some sanctuary.  Before you find yourself predicting the next moves- where the song is going and what will arrive- the track evolves and switches- a stunningly stirring mantra is unleashed.  Backed by a soothing (feminine) backing vocal, Lucas is "not gonna wait": that sense of determination and spirit is unerring.  The entire piece is backed with a rousing and multifarious soundtrack: the beats are less punchy (and more soothing); the electronics are colourful and sprite- the vocal is up-front and clear.  That declarative statement comes around again (and again): it is a catchy and sing-along moment; sure to have club-goers and music-lovers unison in voice.  Both bellicose and smiling, that sentiment ("I'm not gonna wait") seems to be the song's central message- something that defines Lucas' current objectives.  There is that feeling of boredom and uninspired day-to-day: the images of Lucas going through the motions; working a humdrum job; not fulfilling his ambitions- that is what strikes my ear.  Having heard a lot of modern Dance/Electro, tracks- including Elena Ramona'a latest- common themes come through.  Dream-chasing and self-sacrifice are hot topics among young performers: there is that sense of stress and emptiness; that constant struggle to pursue dreams- having to compromise and do a workaday job (just to fund your dream).   In my imagination- and I may be way off the mark- I get the feeling Lucas is calling out to the world: when he says he is "coming back" again; it refers to recording/touring.  He is telling the world about it- I am guessing social media is being referenced in these moments- and determined to throw off his shackles and demons.  Having overcome some hardships and trials, the young man has his eyes primed: he knows what he wants in life; music is his reason for existence- that desire and burning passion emanated in every note and expression.  Supported by an insatiable and fire-cracking composition- that teases '90s beats with cutting edge electronics; static crack with swirling undertones.  Writing a song that is not just personal- it can be extrapolated by so many people- Far Away is that definition of frustration: the need to get out of a bad way; feeling detached and alone.  The final moments reintroduce that stunning chorus: its addictiveness and entrancing qualities seem even-more pressing and glorious; a perfect send-off for the track.  The final seconds take things down rapidly: no time for fade-out or silence; the track comes to a succinct and speedy end.  All that is left is to reflect and take it all in: try and get to grips with the many themes, dreams (and sounds) of Far Away.
As a song, it is filled with catchiness and nuance: you find yourself repeating it; missing things out on the first lap- you keep coming back time and time again.  When you sit down and listen to the track, there is that instant nostalgia and recognition: consciously or not, Lucas and Soulshaker have crafted something that is '90s-sounding yet modern; 'oldskool' and current- a wonderful concoction.  As beat-makers; Soulshaker come into their own.  I have checked out their previous work, yet here they seem to be at their peak: the production qualities and sound is exceptional; it is clear and polished, concise and crystal- allowing every note and vocal to shine without any fear of muting/clarity loss.  Lucas' central vocal is the real star here: his soulful and direct vocals bring the words to life; keep the listener fascinating from first to life- he showcases himself as a natural front-man and voice; someone with a huge amount of instinct and drive.  The song's messages are personal to him: they can be understood and appreciated by everyone- we have all experienced that sense of disenfranchisement and struggle; the need to do something meaningful and good.  Keeping the lyrics direct and simple, it not only makes the song memorable and quotable- it is perfect for the current crowd; those who want their songs easy-going and catchy.  That is not to say the words are unintelligent or basic: Lucas has managed to make his thoughts deep and thought-out; yet has not made them too wordy or complicated.  Soulshaker and Lucas seem like natural counterparts: their distinct voices/talents blend perfectly; there is a seamlessness that made Far Away such a stunning song- there are no loose edges or nervous moments; always a feeling of natural bond and intuition.  I hope the two combine in the future; join force again for another round- this one-off collaboration will see the fans and listeners desiring more.
Lucas shows himself to be one of the best up-and-coming talents around.  It would be good to see an official website from him: something that ties his social media together; puts himself up front and proud- is a one-stop port for his music and news.  As things stand, the future is looking pretty good.  I know he is planning his debut E.P.: a chance to see him in his element; show the world what he is about- and make his mark on the scene.  Being such a superb interpreter it will be interesting to see whether Lucas- when his E.P. has been completed- opts for originals-only; or whether he will include a cover or two.  Having studied his SoundCloud page, it seems like he has plenty of ammunition and music: his original tracks (largely snippets and ideas) seem full of potential and possibility; he may have a hard task narrowing his options down.  Before I mention Lucas more, it is worth reflecting on Far Away- and the collaboration with Soulshaker.  The startling production/D.J. crew seems like natural bed-mates: their intuitive ear is the perfect springboard for Lucas- when they join force, you get a real simpatico; I hope the two join forces again.  The composition and production values are tremendous: they allow the vocal to reign yet do not negate the music itself—which is rich and filled with detail.  A song that is ready-made for the dancefloors and clubs- that also has a made-for-radio popularity and quality- they have created a gem here- a song that cannot be ignored or overlooked.  Soulshaker are on the rise; a growing force, they will be worth watching closely- and make sure you follow them closely.  With regards the central voice: here is an artist that will go onto big things.  Being a mutual friend of other great London/Surrey-based talent- including Elena Ramona and Chess- he is one (of the core) of young artists making their first moves- and showing the music world what they're about.  Far Away is just one side to the young man: given his musical upbringing- and his eclectic range of idols- and list of cover versions; any future E.P. will be fascinating to predict- just what can we expect from Lucas?  Well, it seems like there will be a leaning towards Soul and Pop: that unique voice augmenting tales of love and struggle; against-the-odd and fighting on.  Lucas has overcome some hurdles and set-backs (in his life) so it will be fascinating to see how he distills that- and whether it will feature in his music.  Of course, Far Away shows he is adept in the House/Electro. milieu: maybe his upcoming E.P. will combine all these strands.  Far Away has already made its way into an E.P. - the track features a number of remixes- yet when Lucas goes alone, that will be the most interesting release.  Equip with a honey-rich set of pipes; a confidence that bellies his age and youthfulness- keep your eyes peeled.  The likes of Sam Smith and Paolo Nutini- two young and startling talents; both complete with stunning Soul tones- have shown what can happen- they are both among the best singers/artists on the scene.  Smith has gone onto critical success and applause; Nutini is one of the most impressive singers around- there is no reason Lucas cannot join the pantheon of the greats.  Of course, he will want to focus and regroup: plan his next moves and start to hit the road; taking his music to new audiences- before dropping an E.P.  With so many jaded and fly-by-night artists coming through- most of whom have no real quality and durability- we need to embrace the truly deserving: those singers that have a long-term future; are filled with distinction.  As the weather is somewhat capricious (read: complete crap) and summer is fading away, we all need something to rally the spirits- Far Away is just the tonic.  Take a listen and drink it all in; it is a song that has nuance and fresh layers- all spiraled around a smooth and essential (central) voice.  With Soulshaker providing ample support, Lucas is eyeing the future; making his next essential moves.  Given what has come before, I predict 2016…
WILL be a very prosperous year for him.
[soundcloud url="https://api.soundcloud.com/tracks/196555171" params="auto_play=false&hide_related=false&show_comments=true&show_user=true&show_reposts=false&visual=true" width="100%" height="450" iframe="true" /]
_______________________________________________________________
Follow Lucas:
Twitter:
https://twitter.com/LucasMusicUK
Facebook:
https://www.facebook.com/LucasMusicSceneUK
SoundCloud:
https://soundcloud.com/lucasmusicuk
YouTube:
https://www.youtube.com/user/LucasMusicUK
_______________________________________________________
Follow Soulshaker:
Official:
http://www.soulshakermusic.com/index.html
Facebook:
https://www.facebook.com/soulshakermusic
Twitter:
https://twitter.com/Soulshaker_main
SoundCloud:
https://soundcloud.com/soulshaker
YouTube: