TRACK REVIEW:
Kelsy Karter
  
Crystal Blues
9.7/10.0
Crystal Blues is available at:
https://www.youtube.com/watch?v=h26oC_rKDZI&feature=youtu.be
RELEASED: 7th November, 2015
GENRES: Soul; Pop
ORIGIN:
Los, Angeles, U.S.A/Australia
The E.P. Kiss the Boys is available at:
https://itunes.apple.com/us/album/kiss-the-boys-ep/id1049359238
TRACK LISTING:
Clocks- 9.5
Kiss the Boys- 9.5
Children of My Hometown- 9.6
Valentine- 9.6
Crystal Blues- 9.7
Outsiders- 9.6
DOWNLOAD:
Children of My Hometown; Valentine; Crystal Blues
STANDOUT TRACK:
Crystal Blues
____________________________________
TODAY I get to look at a fascinating artist that brings up a few really…
good points in my mind.  It is not often I get to look at female Soul artists, so it is great to come across Kelsy Karter.  The Australian singer (who not resides in L.A.) also compels me to look at the Australian music scene and iconic figures within the music industry.  Having investigated quite a few female artists this year, it has been interesting to see the range and diversity of what they produce.  A lot of my reviews have centred around Pop acts- with some electronic touches thrown in- but I have had scant chance to assess a female artist that packed such soulfulness and smokiness into the music.  In this country we have quite a few Soul singers although most female solo artists tend to play in other genres.  Perhaps that is related to the expectations of the mainstream- perhaps Pop is a more marketable commodity when it comes to success- so you have to look hard to discover those rare treasures.  What I love about Soul is the genre has so much mobility and potential.  If you look back at the legends such as Sam Cooke and Aretha Franklin and you cannot understate the power, potency and passion they put into the music.  Perhaps not the most immediate and all-encompassing music you will hear; what Soul provides is music that appeals to the heart and the soul.  It is for those people that want to reflect and feel something incredibly powerful and sensual.  Pop music- without mixing in Soul or other genres- can be too vague and slight; not really offering that much depth and surprise.  I have always loved Soul because of its power and wonderment.  Those incredible and peerless singers could take songs that seem simple on paper and transform them into something transcendent and mind-blowing.  In terms of modern music there are fewer Soul artists around but the ones we do have are making big impressions and showing huge promise.  With my featured artist in mind I have been compelled to look closely at the Australian music scene and the music coming out at the moment.  I spend a lot of time reviewing U.K. and U.S. acts- it is easy to overlook other parts of the world- and see what is coming through there.  In terms of the Australian music scene, there are a lot of great bands and acts coming through there.  From bands such as Milwaukee Banks to Lowlakes; Aversion Crown and Earth Rot, there is a whole host of spectacular and vivid bands.  In terms of solo acts you have the like of Catlips and Sunbeam Sound Machine; Baro and Peter Bibb are providing the music world with something very promising and fresh.  Like the U.S. and U.K., Australia is not confined when it comes to sounds and genres.  Depending on which part of the country you visit depends on the type of artist and sounds coming out.  Melbourne, Brisbane and Perth are the three areas of Australia that are producing the most promising music this year.  Perth is a particularly curious example.  The capital of Western Australia is showcasing some phenomenal solo artists and Electro.-Pop bliss; stunning bands with a hell of a lot of passion- some tender and passionate male solo acts.  When it comes to Kelsy Karter- although she lives in the U.S.- she is one of the most fascinating and individual artists coming out of Australia.  With a voice that summons up so much emotion and passion; songs that mix rebellious story-lines with soul-bearing moments and you have a young woman with a big future ahead of her.  Before I go into depth, let me introduce her to you:
"Musician. Rebel. Professional weirdo.  Kelsy Karter -Australian blue-eyed soul singer is here to disobey,  and conquer. She moved to Los Angeles as a runaway teenager, with no plan, no fears and an innocent rebellion. Miss. Karter was brought up on Motown, soul and rock n roll. She is re-inventing these genres into her own little mix of musical wonder.  Storytelling is one of her favorite parts of being an artist, as she grew up in the theatre singing, acting and dancing, as well as playing the piano and flute in the school orchestras.  Kelsy's style is a cross between '60s rock 'n' roll and a real life circus doll and has been described as "The Rebel Doll", because of this mix of style, musically, visually and spiritually. 
"I feel like I was meant to live through the '50s and '60s, so I embrace that. I am heavily influenced by people like James Dean, Johnny Depp, Angelina Jolie and Elvis. I wanted to join the circus as a kid too... so I guess I dig a little madness". 
Her musical heroes include Amy Winehouse, Sam Cooke, Elvis, James Brown, The Rolling Stones, John Newman, Stevie Wonder, Bruno Mars and The Beatles. Kelsy was a mischievous kid, with a fearless, impulsive and emotional nature. She is taking those parts of her and channeling them into something great. Something magical. 
"I am a firm believer of embracing your oddities, and making your strange your strength. I love love, I fight hard, and am irrevocably addicted to chaos".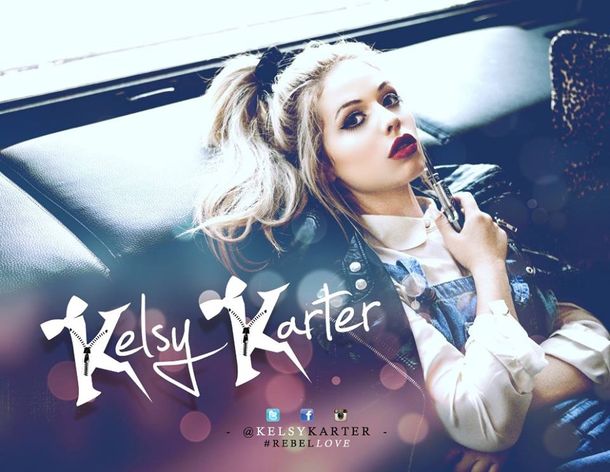 Karter is one of those artists that is hard to ignore.  She is called 'The Rebel Doll'; it is an apt title.  In addition to being extremely beautiful and stunning, you can see there is something different about her.  Karter loves chaos and a sense of conflict; there is a Rock 'n' Roll spirit to her Soul heroine persona.  The beautiful Australian has a look of Amy Winehouse about her- that same facial look and attitude- and reminds me of Winehouse when she first came through.  Although there is sweetness and vulnerability to Karter, she is not someone to be messed with.  Feisty, spunky and strong; here is a woman that channels that strength, defiance and pain into her music.  Little is known about the young star beyond her online biography.  Having briefly conversed with her via social media; she is someone who fascinated me hugely.  A young woman with a passion for music and getting his songs out there, I am confident Karter will be one of the names to watch in the next year.  There are so few characters and standout personalities in the music industry; it is rare to find someone like Kelsy Karter.  The music she plays harks back to the likes of Sam Cooke and James Brown via a modicum of Winehouse and contemporary Soul artists.  With the likes of Lana Del Rey providing that sense of rebellion, defiance and uniqueness in their persona/music- with few others following their examples- it is great to find someone like Karter: a talent that has mainstream appeal yet is not your run-of-the-mill musician.  Too cool for school and fools, you can tell she will never tire of stop pursuing her music dreams- taking everyone on until she gets to where she needs to be.  Were in just the personality that seduces then you'd have reservations.  Karter backs up her charming quirkiness with songs that are hugely evocative and sensational.  Working with some top-name producers and honing her sound; the E.P. Kiss the Boys has been met with effusive praise and a lot of love.  The E.P. looks at disconnection and loneliness- I shall tap into this more near the end of the review- in addition to romantic trysts and fantastic dreamscapes.  Whilst the lyrics paint stunning scenes and possibilities- a blend of retro. cool and modern-day angst- that voice is enticing and entrancing at every stage.  Impossible to forget or pigeon-hole; Karter is a woman with a very special sound and sense of direction.  Let's hope she makes it to the U.K. very soon- I for one would like to see her and buy her a beer (or several) - and play over here.  There are clubs and venues that would house her for sure.  We have few comparable artists in this country, so I can see there will be a demand for the young Australian.  Kiss the Boys is just the start of things for the stunning heroine.  As 2016 looms, there will be more music, intrigue and chaos for sure.  Things are never boring or predictable when it comes to Kelsy Karter.
When assessing the young L.A. resident as she is now, it is worth having a look back into her past.  Last year Karter released A Very Rebel Christmas.  A covers album with a unique twist, it gave the public a chance to witness the heroine reinterpret some classic standards in her own style.  The tracks Please Come Home for Christmas, I Saw Mommy Kissing Santa Claus; Have Yourself a Merry Little Christmas and Silent Night are tackled- with huge authority and passion.  Please Come Home for Christmas is given urgency and desperation to really emphasise its messages.  An aching and heartbreaking performance it sees Karter let her voice stretch and elicit raw emotion and urgency.  Not overwhelming or heavy-handed it gives the classic a new lease of life; it sounds new and fresh.  I Saw Mommy Kissing Santa Claus has some sensuality and vibrancy to it but retains its purity and innocence too.  Karter lets his stunningly soulful and gorgeous voice add honey, light and beauty to the track to give it a wonderful edge.  Have Yourself a Merry Little Christmas and Silent Night are kept fairly faithful and loyal to their original sound.  Karter gives edge a smokiness and strength that few other artists have to ensure listeners are impressed and hooked.  Committed to the material and showing what her voice can do; A Very Rebel Christmas is an E.P. that sees Karter lay her voice and heart on the line- the results are hugely impressive indeed.  A lot of artists do Christmas cover and to be honest, most of them sound the same.  A wonderful collection of some old favourites; the Australian heroine came into the scene with an emphatic charge and a stunningly realised voice.  Since then Karter has covered other tracks and done some collaborations; honing her unique voice and concentrating on some original material.  Kiss the Boys is the result of her travels, labours and efforts.  Whereas A Very Rebel Christmas gave the purity and innocence of Christmas a slight dash of vodka and kick- whilst ensuring the songs were not overhauled too far- Kiss the Boys extends the rebellion and attitude into new ground.  Over the course of a year Karter has come on leaps and bounds and sounds effortless and urgent now.  No weakness or shyness can be heard in the original material.  What we get is a young woman with a very determined and gutsy attitude to music.  Having grown up with legends and classic artists; Karter has been singing since she was a child.  It is no surprise her E.P. sounds confidence and commendable yet few young artists produce something with no filler or rough edges.  Whilst her voice perhaps sounded a little close to Amy Winehouse in A Very Rebel Christmas; Kiss the Boys sees her expand her vocals and inject more originality and range into the material.  Her latest collection shows that voice show more colour, depth and emotion.  What is most impressive is the strength of the lyrics and compositions.  A lot of contemporaries are weak in one area yet Karter demonstrates she has flair when it comes to words and music.  The stories and characters throughout Kiss the Boys are very real and relatable- without becoming too unlikeable- whilst she has an emotional palette that does not just stick with love and heartbreak.  The compositions have richness and range that means plenty of nuance and repeatability will come out.  Shivering and shimmering one moment; drained and angered the next and you have an E.P. with no fear or bounds.  This all signals a very promising 2016 for the Australian rebel.  After such a confident and bold release, one would expect her to rest and maybe tour for a bit.  I know how much Karter is getting from music and how inspired she is.
Given the staggering breadth and confidence of Kiss the Boys, I was excited to see what Crystal Blues would provide.  Amidst some church organs and ecumenical calm there is a vocal sample (I am not sure the origin of it) from a preacher; a pastor maybe that is in determined voice and firm.  Claiming "you cannot let The Devil rise" we get a beautiful juxtaposition of tender organ and ecstatic vocal delivery.  A lot of mystique and fascination is built into the opening seconds of Crystal Blues.  Before our heroine has approached the microphone you wonder what is coming and where the song will go.  It appears (The Devil) will tell "your people how to drive…"- drive right off a cliff, it seems.  Quite an odd and alarming proclamation; one that is memorable and vivid in its details.  After that unique and dizzying religious sermon, our heroine comes straight into the fore.  With her voice electrifying and passionate, she is in reflective mode.  "Mama told me/don't you cry" it is said; that voice is so strong and urgent you cannot ignore those words and where they will lead.  Asking her daughter to dry her eyes- there is a supportive shoulder and sage advice- pretty girls with pretty eyes do not need them ruined by boys.  Whichever boy(s) has caused the tears it is not worth it.  There is some everyday wisdom and advice in there and that sense of mystery deepens- what has caused this missive and lyric?  Maybe our heroine is in a dark place and heartbroken- where she has been messed around by the boys- and she is recollecting words that can help her in this time.  Our heroine's Crystal Blues (from her crystal blue eyes) are startling gems that are being watered and tarnished by a ruinous bond.  Although the no-good boys and hound-dog fellas are not worth their weight; the aftershocks of a relationship breakdown still hurt as bad.  Although her mother warned her against these types of men- those that are all about looks and have no emotional depth- the thrill of the chase is exciting; the passion and connection still intense- even though there is going to be an inevitable fall-out and break-up.  Our heroine's boys has gone and got her in trouble- "don't I know it baby"- and is causing hurt and confusion.
In these early exchanges the most striking facet of the song is Karter's vocal delivery.  Not just a static or limited performance; you have a delivery that twists and turns; it stops and starts- creating a huge emotional wave and an idiosyncratic style.  So many singers have unmistakable vocal traits- from James Brown and Michael Jackson through to Prince- that adds maximum effect and gravitas to their songs.  Karter lets her soulful tongue weave and twist with sensuality, lust and heartache.  The effect is quite a stunning one; you are gripped in the grasp of her power and panache.  I get little flavours of Amy Winehouse in the voice- a similar overall sound and sense of drama- in addition to Soul legends such as Aretha Franklin, James Brown and Sam Cooke.  Karter always has one eye in the present and one in the past.  Her vocal recalls vintage and classical beauty- you are transported to the '60s and '70s- but always brings things to modern-day.  Crystal Blues is a song that builds from promising beginnings to offer something very personal- with a scenario and sentiment that can be understood and appreciated by many.  Our girl is not fooling for "your disguise" and pretty eyes.  Whoever our heroine is being approached by- many a former sweetheart returning or a new boy on the scene- she is getting wise to his tricks and hollowness.  Having been "to Hell and back" you can hear that hurt and scar in her voice.  Although she is a rebellious doll and takes no bulls*** from anyone; there is still a vulnerability and sensitivity that lingers beneath her skin.  Too many boys have taken advantage and left her affected and mistrustful.  With that being said, our heroine is not fully free from blame.  It seems the 'type' she goes for are not your 9-5 and dependable sort.  Maybe the tattooed chaps and rough-around-the-edge anti-heroes have the looks and cool- when you spend time with them they offer little beyond all that.  The 'normal guys' do not have the pretty crystal blues- that enticing glint that hooks our girl in every time.  Crystal Blues is the most open and emotionally resonant song across Kiss the Boys.  On other tracks there is attack and accusation; plenty of fight and rebellion- perhaps masking real emotions and expressing true intentions.  Karter does not overload the vocal with histrionics and wallowing: she teases and tempts words and vowels; twists and turns her phrases to emphatically highlight her true feelings.  Having been tricked and fooled too many times, perhaps she is maturing and learning harsh lessons.  Recalling mama's messages- that The Devil has got into her girl- she does not want to quite pretending.  The central vocal sound transforms into a Gospel-themed chant that brings the song to new levels and elicits shivers and raw emotion.  With the vocal multi-tracked and haunting; you return to that original sermon and the sense of holiness.  Perhaps the song is a confession of sorts; a cleansing of sins or perhaps the understanding that she may be damned and condemned.  Whilst she realises the wickedness of the boys- and what they do to her soul and personality- there is that drug-like addictiveness she cannot escape from.  After a sojourn back into evangelical and quasi-religious ground we return to that chorus- which seems more relevant and prescient this time around- as our heroine lets her voice cry out.  With the words (and that chorus) becoming more desperate and urgent as time ticks on; our girl will not be fooled by disguise and tempting words- perhaps there is going to be redemption and some savior for the heroine after all?  The final seconds boast a catchy and soothing sway that mixes Gospel and Soul together with something dreamy and delirious.  Those multi-tracked vocals weave in and out to evoke an immense amount of passion and energy.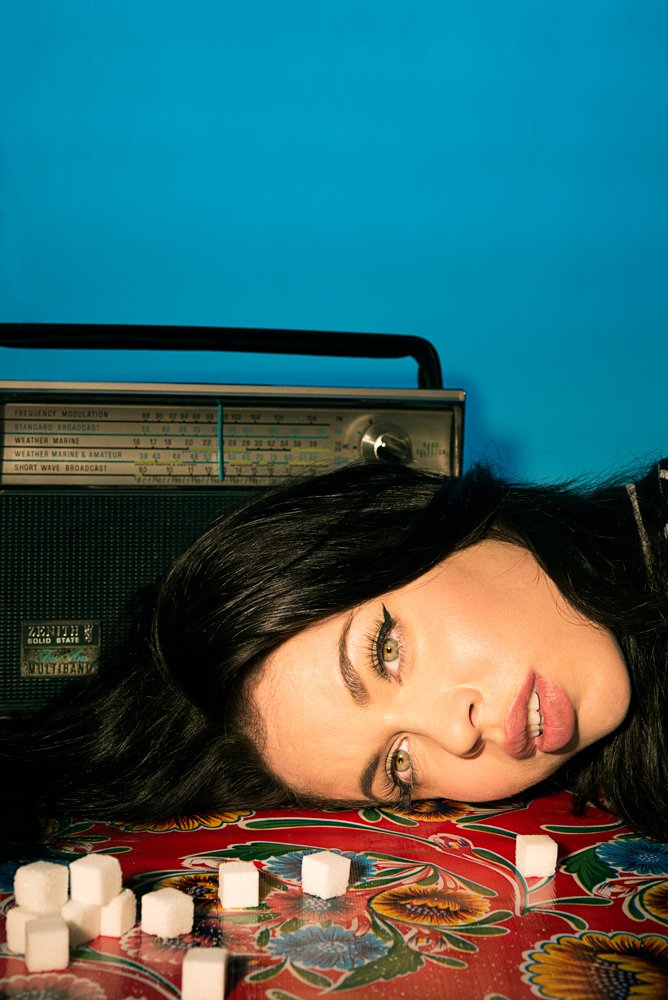 Kelsy Karter is the master of introduction and always captivates the listener from the very off.  Often the introductions sounds distinct from the rest of the song- a red herring sometimes; always scintillating- and have spoken word parables and samples.  Crystal Blues is a track that draws you in from the first notes and takes your mind somewhere very odd and wonderful.  Congratulations must go to the production and mixing which helps makes the song such a wonderfully compelling and authoritative beast.  Backed by her band- and with that team in place- you get a song that sounds cinematic and widescreen whilst retaining an intimacy and confine.  The vocals are allowed to rule and reign- whilst not compromising the impact of the composition- and are the E.P.'s most effective and stunning.  What staggered me about the track is the eclectic ambition and genre-range throughout.  Effortlessly switching between Blues-Rock and Gospel; to Blues and Soul you get a spectrum of sounds packed into an exorcism of love and strange addictions.  Karter once more plays with her favourite themes and traits- rebellion and doing what she wants; chasing a thrill-kiss and sexual fulfillment- even if it does result in some heartache and hard lessons.  You get the sense Crystal Blues is a wake-up call that will lead to change and maturity in our heroine.  The likes of Lana Del Rey have highlighted the lure of the cigarette-chomping bad-boys and the primal thrills they elicit.  Our heroine perfectly balances a fervent lustfulness with something heartbroken and wracked.  Never over-emoting or sounding insincere it is a perfect balance of her vocal dynamism and emotional balance.  What you get is a stunning song that shows a lot of attention to detail and craft.  It is not a tossed-off number to meet deadlines and expectations.  One of the most personal and relevant tracks Karter has produced; it showcases all of her strengths and assets in a single stride.  From her Twitter posts I get an insight into the woman behind the music.  She very much seems as genuine as the music and who she claims to be.  Someone with rebellious nature and a who-gives-a-f*** attitude to convention; she is a refreshing breath of air that music needs to embrace.  Sexy, beautiful and hugely impressive; Karter is an artist who impresses most with her authority, talents and pure passion.  Crystal Blues demonstrates just what music means to her and how she wants to connect with people.  Whether our heroine has found love- and is in a relationship with a good guy- or is running with the boys, we can only guess.  A part of me wants to see her settled and in arms of a loyal soldier who is worthy of her beauty and wonderful soul.  That said, if heartache and rebellion brings about music like this; perhaps she should not be too fast in changing her ways (and taste in men).
Kelsy Karter is not a manufactured artist intended to throw some electricity and shock into the music world.  With so few personalities and memorable musicians making their way through this year, the Australian heroine is one of the most vided and fascinating around.  I have mentioned the likes of Amy Winehouse and Lana Del Rey- artists with tragedy and chaos; they are inspired by the past and its wonders- Karter effortlessly slips alongside her peers and icons.  Too many musicians are only inspired by modern-day music which tends to limit their possibilities and artistry.  When the music is predictable and narrow you are unlikely to really connect with music-lovers and carve out a long career.  Music is becoming defined by its disposability and lack of imagination.  Karter is a young woman that few people will forget in a hurry.  Her unique beauty and rebellious swagger are just the start of things.  A young woman with a huge amount of spirit, guts and complexity- analysing her dreams would be the stuff of legends- you have someone that is made for the music scene.  Shaking it up and infusing colour and cigarette smoke into the mix; you have one of this year's biggest personalities coming through.  A rebel-child that would seem more at home caning it down a highway in California- boy in the passenger seat; stood up in his seat screaming across the desert with delight- and embracing the wild and untamed possibilities of the road.  It seems like Australia is fostering a lot of popularity and potential for the young heroine.  Whether she decides to remain here in the future- or relocated to the U.S. or U.K. to gain a new audience- is down to her but that will be something to mull.  Were Kelsy Karter just a fascinating woman- with very little to recommend in her music- I would be reluctant to predict a glistening future.  Kiss the Boys is an E.P. that shows a lot of heart, natural talent and variation.  A songwriter with a troubled and interesting past; she funnels her scars and anxieties into intoxicating and beautiful music- at times it sounds like an execration of the soul.  Not just reserved to exorcism and anger our heroine embraces the passions and possibilities of life: mini-dramas and vivid characters come to play with introspective pleas and heartfelt confessions.  The compositions range from lush and swelling to intimate and nervy.  With that amount of contrast and possibility in the music it is small wonder so many people are embracing this young artist.  Crystal Blues is the gem in the crown; the song that shows Karter at her strongest and more fantastical.  That inimitable and wonderful voice is packed with drama, sexuality; sensitivity and grit- few contemporaries manage to combine that many strands and contradictions into a seamless whole.  I started this review by looking at Australian music, figures of music and Soul of today.  The Soul genre is quite under-represented and under-the-radar at the moment.  Charts and mainstream media tend to favour other genres when it comes to their recommendations.  With regards Soul it still seems to be a niche genre.  Over the course of this year I have seen some fantastic Soul artists (mainly women) emerge that could revitalise the scene and transcend into the mainstream.
I am not sure why so few people overlook Soul as Kelsy Karter has demonstrated what can become.  Emotive, dramatic and sensuous vocals are just the start of things.  Throw in some grand and semi-orchestral swathes- with some more restrained and tense beats- and there is another layer of fascination.  Top it all off with lyrics that address personal heartaches and vintage characters and there is a wealth of wonderful music, material and emotion to be found.  I find too much of music is narrow and unadventurous.  Soul is a genre that has few limits and is reserved for those that want to put the magic and passion into music.  This country is promoting a few great Soul artists yet I am fascinated to go abroad and see what is happening in other parts.  Australia is a country that I negate somewhat- it is 10,000 miles away and social media does not bring it any closer- so it is perhaps excusable.  In addition to their great bands and fantastic solo artists it is the diversity of sounds that Australia does so well.  Many have cliché ideals of sunshine and constant upbeat- there is more depth to the country than that- yet there is emotional depth and danger to be found too.  A country that has always produced some phenomenal musicians, I suggest you keep a closer eye on Australia.  Melbourne, Perth and Brisbane are hotspots that seem to be at the forefront of the country's charge and who knows what 2016 will produce?  What I do know is- when it comes to the music scene in general- we need more interesting artists and fascinating back stories.  Too many bland bands and boring solo artists are coming through.  If the music is good then it is acceptable yet one craves a writer that has some tragedy and fascination; something that catches the eye and compels the soul.  If the face behind the music is predictable and lacking any curiosity then surely the public will grow tired eventful.  I am not saying musicians need to fake a personality or persona yet there is no harm in putting yourself out there more and being more open and honest.  So many musicians are guarded and secretive which is quite frustrating to see.  Kelsy Karter is a young woman who is bold and memorable.  Her stunning beauty and wonderful backstory- the stuff that classic films are made of- is just the start of things really.  She manages to funnel her spirit, heartache and idiosyncrasies into her music which digs deep and elicits a huge emotional response.  Her knowledge and passion of music legends- Sam Cooke, Amy Winehouse, The Rolling Stones etc. - comes through in her own work.  She manages to blend '50s/'60s Soul into something heavier and more contemporary.  I fell in love with Crystal Blues as it is the perfect representation of Karter's many sides and depths.  Kiss the Boys contains many more treasures and curiosity; an E.P. that everyone should investigate.
Clocks begins with some echoed vocals and building atmosphere.  There is a distant cry and electronics layer into the track.  Rushing and emotive, our heroine is at the microphone and left with memories that tick like a clock.  Going back and forth, there seems to be some anxiety and burden that is haunting the heroine.  A lullaby "wasted on you"; a song that "I didn't want to write" are lyrics that cause some intrigue and great fascination.  Our heroine lets his voice sway over the composition- creating a mix of lullaby and waltz- that gives the song a sense of romanticism and soothe.  It is Karter's voice that stands out early.  Imbued with graveled passion and a soulful electricity, there is so much drama and heart put into the performance.  It seems like a particular man has caused some heartbreak and disappointment this time.  Whether the relationship is over, it is hard to say yet it is evident our heroine is feeling the effects.  The clocks on the walls are constant reminders of the stress and loneliness that is being felt.  With her voice at her most wracked and tortured Karter asks (her man) why he left.  Like a lot of love songs, there is an obliqueness and mystery to things- names are not mentioned and reasons are not given- leaving the listener to interpret their own course of events.  The opening track mixes electric guitar stabs and Rock-tinged swathes that give the number necessary force and emotion.  A confident and stunning opener, it shows Karter at full flight; that voice is given a chance to roam and stretch to its full potential.
Kiss the Boys' title track starts with pizazz and a sense of theatre and dance.  Swaggering and ready for the show, there is a sassiness and suaveness to the introduction.  Slinking and confident our heroine soothes into view.  Her voice is at its most Blues-tinged and soulful here.  People are telling her people cannot fall in love (as young as she is).  Our lady is making a "deal with The Devil" and making a Faustian pact.  The bad boys and no-good rough-around-the-edge chaps are being sought and lusted-for perhaps.  Although they will lead her astray there seems to be that necessity for thrills, danger and illicitness.  Perhaps a poisoned chalice, it is one Karter is willing to sup from.  The composition boasts a persistent piano line; some punchy and rampant beats alongside Jazz-tinged notes and some howling guitar notes.  A busy and hypnotic thing, our heroine seems effortless and in command here.  Recounting days and nights when she would run wild; the songs has plenty of cool, edge and attitude to it.  The guitar work comes into its own- sounding like Jack White's solo work- whilst the lyrics project scenes of forbidden kisses, brief encounters and false expectations.  Maybe the rebel princess is letting her heart take a backseat; there seems to be some recklessness and lack of control here.  It all makes for a track that is one of the E.P.'s best.  An addictive and memorable number that effortlessly fuses Rock, Soul and Blues into a stunning whole; Kiss the Boys is a definite high.
Children of My Hometown allows for a narrative to open proceedings.  The E.P.'s longest track, it shows some personal insight and reflection.  Growing up our heroine confesses she was unaware of her greatest fear.  That fear is then realised: she didn't want to grow up.  She wanted to live forever and had some great friends; becoming an adult was a lonely and haunting step too far.  Running to a "grand circus" with extraordinary and vivid creatures; she had to return to home and face things.  Those now-adults will always be the children of her hometown.  With some Nancy Sinatra quiver in her voice- that vibrating guitar reminds me of Sinatra at her most haunting- our heroine lets her voice ooze and seduce.  Although our heroine may run and seek new adventure she lets it known "I'm always homebound".  The soft and controlled pace of the vocal allows the lyrics to shine- they tell of a childhood adventure and mischief.  Birds and butterfly-chasing mixes with night-time shenanigans and chaos.  Our heroine seems haunted and sad here.  Not wanting her friends to grow up without her, there is that need to stick with them and not be cast as an outsider- gripping ono the past to give her safety in the future.  Tender and emotional; Children of My Hometown is an inventive and unforgettable track that sees Karter explore her soul-uttering and impassioned side to extraordinary effect.  Wavering and rippling guitars are sparse yet hugely effective too.  The sound is one of the most bare-boned on the E.P. which allows that vocal to stand in the spotlight to create shivers and spine-tingle- which it duly does!
  Valentine is one of the most instant tracks on the E.P. because of its opening.  Thudding beats and sassiness welcome in the tracks.  Motown and soulful guitar licks create a heel-click and huge addictiveness.  Our heroine never meant to hurt her man and is sorry for what has happened.  Brassy and parping horns create a Mark Ronson-esque track that mixes Soul and Blues with something contemporary and funky.  The track never really sits still for investigation.  After the frantic opening, the mood calms and sees Karter step into the spotlight.  Casting apologies and regret to her boy, the song kicks back up- fueled by a stinging guitar slam and some ecstatic percussion work- to keep that revelry and upbeat constant.  Constantly shifting and unpredictable it is a song that keeps listeners on their toes.  Romantic piano lines come in to offer romance and serenity: perhaps there was love in the relationship but is has broken down; our heroine may "love you tomorrow".  Allowing her voice to reach its limits and achieve its full potential, Karter effortlessly switches between genres and moods to create something of an exorcism.  A flavoursome and sizzling song that has catchiness and transcendence to it; it is one of those songs that will be a live favourite and radio staple.  The heartache is never too heavy and harsh; that chili-hot composition paints so much flair and colour you get caught up in its magic- Valentine instantly comes out as one of the E.P.'s finest.
   Outsiders seems like a perfect way to bring the E.P. to its conclusion.  With so many different introduction sounds being presented; the final track begins with vinyl scratch and sirens.  Buzzing and scuzzy guitars bounces and blend with military drum-rolls.  A heavy and hit opening, our heroine is at her most spiked.  "Cigarette burn T-shirt" and wasted wonder years is being spent on "mainstream s***".  Our heroine is the outsider for a good reason: she does not fit into a bad mould that her peers do; following the pack is not the way to do things.  With her voice echoed and processed it creates a raw and savage sound that brings conviction and danger to the performance.  That Rock-influenced composition sees our girl not wanting to belong and conform.  Running with her friends you hear that rebellion and attitude come through in the vocals.  Perhaps one of the most personal and relevant songs in her cannon; it brims with conviction and passion.  After that rampant and hypnotic drive the song mutates and changes in the closing moments.  Initially there are echoed voices and a haunted string before our heroine's voice can be heard in the background.  Chanting messages ("we do not need to change") she is "perfectly insane"- it is other people who need to change.  That memorable imagery is riding for a few more seconds before Karter raps and spits a bellicose message.  With Hip-Hop attitude and spike she fast-flows a mantra that ends with that key message: the rebel kids are those brave enough to change the world.  Not only one of the best songs on the E.P.; it ends with a sentiment that will get the listeners reflecting and thinking.
Congratulations must go to the producers and minds behind Kiss the Boys.  Each song comes across clearly and wonderfully.  The mix of sounds and ideas explored is fantastic; Karter shows herself to be one of the most agile songwriters and voices on the scene today.  Wildly inventive and unrestrained; Kiss the Boys is a stunning collection that demands close investigation.  Mixing classic Soul softness with edgy Hop-Hop, Soul and Rock; you have an artist that is brave and daring in the extreme.  When you finish the E.P. you are left to take it all in.  Congratulations to our heroine who has unveiled one of the most stunning and accomplished E.P.s I have heard this year.  If you have not heard her/the E.P. then you have no excuses- it is also available via her SoundCloud account- and pick apart its many wonders and layers.  An artist with a tremendous future, Kelsy Karter has many years ahead of her.  Make sure…
YOU follow every one of them.
[youtube https://www.youtube.com/watch?v=h26oC_rKDZI&w=560&h=315]
______________________________________
Follow Kelsy Karter:
Official:
Twitter:
https://twitter.com/kelsykarter
Instagram:
https://www.instagram.com/kelsykarter/
 ___________________________________
Music:
https://soundcloud.com/kelsykarter
__________________________________
Videos:
https://www.youtube.com/user/musiKELSity