TRACK REVIEW:
Savannah Dumetz
Naked
9.7/10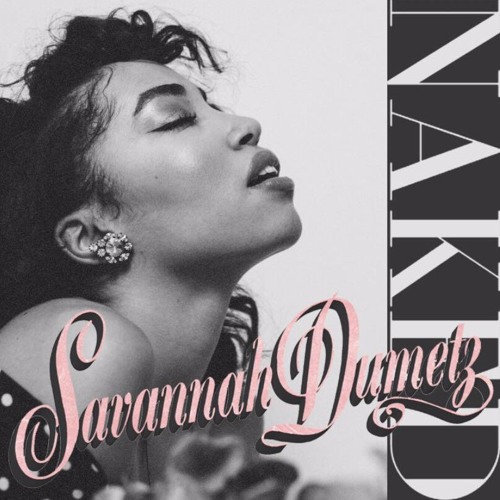 Naked is available at:
https://www.youtube.com/watch?v=Eo-Rte6cNF8&feature=youtu.be
RELEASED: 23rd February, 2016
GENRES: R 'n' B; Pop
ORIGIN:
London, U.K.
____________________________________
THIS will be my last 'regular' (daily) review for a while...
as I make a return to the world of (full-time) work.  As I say a goodbye- albeit, temporary- farewell to reviews; I come to an artist who is an exciting proposition indeed.  One of the most interesting and passionate young solo artists emerging from London:  she is going to be someone to keep an eye on throughout 2016.  Before I come to my featured act I wanted to talk about emerging female talent in London; songs that look outwards- and embrace something positive- with a bit about diversity/recognition in music.  As this year keeps ticking; we are looking at the artists playing to see which will be making waves.  So far in 2016 there have not been many huge moves made in the mainstream:  the albums/songs released thus far are far from spectacular to say the least.  When it comes to new music, there are more positive/progressive signs.  That said, if you look hard enough, there are a few worthy talents worth sticking with.  I have mentioned Alessia Cara a lot in these pages- a hungry Canadian solo act who mixes feel-good Pop with charm and energy- and here is a star that is going to be a big proposition we need to concentrate on.  Kali Uchis is a Columbian singer who has '60s kitsch and stunningly beautiful songs- another musician to behold.  Anne-Marie is one of the best homegrown artists: mixing Lilly Allen-esque vocals with a very distinct style; this is going to be a great year for the Essex-born singer.  Glaswegian-based Kloe and R&B dream projector Nao are a duo of other names that can be added to the pack.  There are a hell of a lot of great female artists that are going to be shaking things up.  Whereas last year saw a rather limpid and unimpressive mainstream effort- the best artists emanated from outside the U.K. predominantly- this year looks set to show revival and promise.  A wave of British artists is starting to pole through:  all providing different sounds and styles; it is going to be wonderful seeing where they go from here.  It is not just the quality that is amazing but the variation and variegation.  From R&B style queens to uplifting Pop:  there is something for everyone and some fascinating personalities behind the music.  Once more, London is showing how fervent and dependable it is.  A city that continues to produce stunning musicians:  some of the best solo artists from this year will be coming out of London.  Savannah Dumetz is a 19-year-old who is going to nestle among the most promising and prosperous from this year.  Before I continue on my point- and raise a new one too- let me introduce her to you:
"19 YEAR OLD LONDON NATIVE SINGER-SONGWRITER SAVANNAH DUMETZ IS MAKING HER LIFE A WORK OF ART.  Growing up in a household where music from reggae to hip-hop and everything in between rang through the walls, the songstress is now 19 years old, and her passion and vision to celebrate herself, to promote self-love, to break through barriers and destroy limitations with her music, is stronger than ever.  Savannah is passionate about being active in the empowerment of people: "I sing what my heart feels. My music is my message, and that is to claim who you are and stand unapologetically in your own skin. My message is to wholeheartedly embrace every part of you. You can grow, you can be vulnerable, strong, sexy and in control all at the same time. I'm a lady who has taken control of her dreams, I refuse to give up." Soulful and sweet, sassy and powerful, the world of Savannah Dumetz holds no limitations and is welcome to everyone.  "Everything I do is bigger than myself, it's not just about me, I feel so much joy in connection. I want to be active in change. I just want to empower people, push boundaries, be unapologetic. And even if I have days where I don't feel quite as good, I know that deep down I'm stronger than ever and ready to take on the world. I want people to come to my shows and have nothing on their mind but that moment, when they leave, I want them to feel inspired. I want my art to be the embodiment of limitless expression. I want to connect with people and make my life a work of art."  Soulful and sweet, sassy and powerful, the world of Savannah Dumetz holds no limitations. "It's just such a beautiful feeling to see your most genuine, vulnerable, pure moments of expression, unite as something beautiful and timeless.  I have so much to say and I am so excited to slowly start sharing the pieces that make my story!"  Savannah Dumetz's vision to change the face of music has only just begun!"
There are few artists who write songs that are not personal/love-based.  Most artists concentrate on their own relationships and heartaches.  Those that stretch themselves and show more thoughtfulness- connect with the listener and get them to think more deeply- will always impress me more.  You do not get many songs/moments that project outwards and encourage positivity and togetherness.  Maybe a relic of past times- something more synonymous with '60s music- the modern-day artist is much more insular and self-absorbed.  Dumetz wants to create music that is deeper and more considerate to what is already out there.  Given her varied background- the types of music she was exposed to- it is no surprise to see that range reflected in her music.  The depth and passion is matched with adventurousness and bold compositions.  Ruling everything is that expressive and rich voice:  making sure every word is as enticing and entrancing as it can be.  The early signs are always a good assessment and hint at what past songs will possess.  Naked is a stunning statement and an original track from a young artist who wants to remain in music for many years.  There's a lot of competition out there but Dumetz needn't worry:  her voice/music/lyrics are as strong as I have heard from any solo act this year.  I will keep an eye on her and see if an E.P. is forthcoming:  that will give listeners a chance to hear the Londoner let loose and fully exploit her many talents.  Music- and music award shows- have been critisised for their lack of diversity and fairness.  The lack of black faces being recognised this year has shown there is a real problem within music.  It extends to acting too- and the issues with The Oscars- yet music is facing quite a tough time.  The Grammys recognised black acts like Kendrick Lamar; though it was still too stringent and limited- Lamar deserved more awards than he won.  It is the white artists that still get the majority of kudos- whether they deserve it or not- and some wonderful musicians are being overlooked.  I am not sure whether this issue- the racial inequality and imbalance- is going to be rectified any time soon.  Dumetz among a roster of black artists who will be making terrific music throughout this year.  I do wonder whether artists (like Dumetz) are going to struggle for kudos and award nods:  will the situation improve in years to come?  It is hard to say but the best thing we can do- as consumers and fans- is promote the music and hope things work out.  A damaging and telling sign of the times- how we have not moved on or developed our attitudes- let's hope things improve soon.  For now- and before Dumetz looks at awards- I am excited to see Naked drop and mark the 19-year-old out as a definite name to watch.
Naked is really the first real original from Savannah Dumetz.  In the past- and leading up to this moment- the young Londoner has tackled other people's songs.  Having built a reputation as an expert interpreter- tackling everything from Bob Marley to Labrinth when covering songs- it is hard to see how she has progressed.  There is certainly no dip in confidence or quality when looking at Naked.  Having transitioned seamlessly from covers to originals (or original) you do not sense any nerves or slip.  Every cover Dumetz tackled had that inimitable stamp and personality injected.  Naked is a song that keeps that stunning voice firm but shows a real songwriting talent.  Given the progression and impressions from her debut single:  who knows just how good she will sound in future months?  The reviews for Naked have been universally positive to be fair.  The vocal has been commended and the rawness of the track has been commended.  That ode to self-love has impressed critics- fed up with the samey nature of many songs out there- and the track has resonated with a lot of people.  Having amassed thousands of listens across SoundCloud- the official video has obtained over 2,000 views- we have a song that is growing in stature by the day.  Not many artists make such an impression this early on so it is testament to the talent and originality of her work.  Dumetz is not going to be an artist who betrays her voice and integrity- writing songs that sound just like everything out there- so I feel we have a very promising talent on our hands.  Just where she heads next is down to her:  I will be following her plight with passionate eyes.
Given the reputation and applause Naked has received; I was excited to get to grips with the track.  There is a clear interpretation and definition from the song:  the joys of self-love and the need to embrace with the outside world.  Going in with fresh eyes; the initial notes get straight inside the mind and elicit instant reactions.  Serene and romantic strings are the first sounds heard.  That electric guitar is serene and languid; enticing and seductive.  You drift inside the notes and start to let your mind drift and dream.  Such a head swimming and luscious sensation:  one that perfectly introduces Dumetz's voice to us.  When that voice does arrive, it is filled with intention and raw edge.  "Open your heart/Let me in" are the first words and a real insight into the song's objectives.  The vocal swoons and gets straight inside the heart.  Even in the earliest moments you have honest and deep words that are filled with intention and direction.  There is no cynicism or objectives:  jut a young woman who wants people to let their guard down.  Whether Naked is directed at a single person- or just a general message- there is that need to stop being so closed-off and guarded.  People need to embrace life more and let others in.  It is clear there are some romantic/relationship inspirations behind the song.  Whether a particular man has hurt our heroine- and lead her to put pen to paper- you can detect a semblance of heartache lingering within the words.  It is clear the song's 'hero' has been reserved and really not let his feelings out- or has said something to end the relationship- which compels the heroine to think more widely about the world.  She wants to trust the man but pain lingers through.  For so long she has been trying to find that trust and believe in the guy.  Whilst documenting the dissolve of the relationship- and the problems that have arisen- the sweet and sensuous voice coasts every word with sugar and chocolate.  Dumetz is one of the most beautiful and gorgeous singers around:  her spine-tingling and shivering voice captivates and draws the listener firmly into the song.
The tears that have been cried have left our heroine drained and dry.  There is that sense of loss and heartbreak has caused a huge amount of damage- some positives have emerged from it.  Given the fracturing of bonds there is that resolution to be more open:  for others to be more expressive and show their feelings more clearly.  Baring her soul- with her heart breaking into the bargain- you sense a rather one-sided love.  Maybe the guy was too stringent with his honesty and feelings:  it has left the relationship scarred and in tatters.  Our heroine is going to be naked and open- against the instincts of her man- and is struggling to connect with her lover.  Whether this love has broken down- and the bond has reached the point of no return- or is still ongoing you have two people with different ideals and personalities.  Backed by Jazz-tinged strings and some subtle bass:  the composition matches the foreground and demonstrates emotion and passion.  This central love has left its marks and caused some reflection in our heroine.  In spite of the dark and damaging days there is a good outcome:  our girl is looking for more open people who are not afraid to bare their feelings.  Scared and uncertain of being a lone soldier- so "you don't see my fall"- there is that reluctance to let go.  Having hidden her feelings inside for so long; you sense there is an awaiting explosion- maybe those feelings will come out.  The vocal has such a luscious and breathless quality- especially when multi-tracked against one another- that makes the words so scintillating and delicious.  You draw into the song and become seduced by the utter nakedness of the sound.  The heroine lies in the bed naked- physically and emotionally- and you feel the drift and distance between them.  Naked is a song that shows how comfortable Dumetz is in her own skin:  she wants others to feel the same and experience that self-love.  Maybe traditional romance has been fraught and caused too much pain.  Just being happy with yourself is the most important thing:  connect with your feelings and let your soul come out.  People need to embrace themselves more and not be so insular and secretive.  As universal and impressive as the words are I was drawn to that flame-like vocal that is so beautiful and smoky.  You get sweet notes and child-like purity nestling inside the hazy smoke and bold soulfulness.  Towards the final moment, those R 'n' B sounds come through- the big vocals and layers augment the foreground- and that vulnerability-cum-confidence mixture is more evident.  Strands of '90s R 'n' B- from Aaliyah to Brandi- spars with modern-day Pop and Soul.  The end result- once the song has come to an end- is one of amazement and instantaneousness.
I know Dumetz is planning new material and will be headlining The Social (London) on April 15th.  If Naked is anything to go by- and what is to come in the future- the fans will flock and there will be immense demand.  I cannot wait to see our heroine in the flesh and it will be wonderful seeing her blossom and mature.  The social media numbers and SoundCloud plays are only a small fraction of what she deserves.  One of this country's most spectacular and stunning voices cannot be ignored and overlooked.  Naked is a song that has some familiarity to it- the issues of love and hiding feelings- but goes much deeper and does a lot more.  There is that message of self-love and embracing your own self.  Feeling good in the skin is not a subject that is touched upon in modern music.  Not only is Naked a song that will inspire others:  it is sure to garner huge radio play and a lot of critical attention.
Savannah Dumetz has come onto the scene with quite a bang, it seems.  Having performed cover versions previously- cutting her teeth and finding her voice- Naked is a brave and memorable song from a musician who stands aside from her peers.  I have stated the problems with diversity- acknowledging the best black artists around the world- and what a struggle there remains.  Maybe the protests and public will affect change:  perhaps it will take years before there is equality and less discrimination.  You would think music would not succumb to the worst traits of society:  that colour and race is not an issue; there would not be that discrimination.  Sadly, there are real problems that need to be overhauled and sorted.  With the likes of Dumetz liable to be award-worthy- if her career continues this way- you wonder whether she'd have to struggle to gain plaudits and awards.  It is a divisive and explosive issue that needs more exposure- I shall save that for another day- but my point is valid and timely.  More positively- and something we can ALL agree on- is the wonderful female acts coming out.  London is brimming with eager artists all ready to make their impressions heard.  I mentioned a few acts at the start of the review- from Alessia Cara to Anne-Marie- and the U.K. as a whole is showcasing some prodigious talent.  I was disappointed with 2015 and the real lack of defining artists:  there were few that stuck in the mind and compelled me to follow them closely.  The mainstream provided some terrific albums for sure- mainly emanating from outside Britain- and I wonder how 2016 will fare.  The underground artists are showing real heart and potential already.  Shaking off the cobwebs of the past year:  there is ample evidence to suggest we are in for a bumper year.  Dumetz is a young artist who has a distinctive voice and a real rare songwriting ability.
Naked shows her at her most impressive and memorable.  A song that implores listeners to think more deeply and connect with the outside world- not another heartbroken song that is introverted- you cannot help but be involved and take something away.  Before finishing off the review it is worth looking at Dumetz and what she is capable of.  Naked is a brilliant song that glimpses into her psyche and soul.  I would love to hear some similar songs appearing on an E.P.  Whether she goes down that route- or choose to release a series of singles- it will be interesting to see how she develops.  There are no immediate tour dates planned- although she has one or two important gigs in the coming months- but that is likely to change.  Many new artists struggle for airplay/longevity because they are too rigid and predictable.  If you have hundreds of Pop stars all saying the same thing- and there are hundreds out there- it is impossible to decipher which ones are worth attention.  Dumetz is still a teen yet mature enough to understand the necessity of originality.  You get some inner reflection (in Naked) but overt passion and that need to feel comfortable in your skin- no matter what life throws your way.  Our heroine has a real joy and love for music that is evident and unwavering.  The social media numbers will start to rise- they are impressive as they are now- and the radio play will arrive thick and fast.  What she does from there is anyone's guess.  I would love to see Dumetz more as 2016 progresses.  There are so few young artists that come in with that originality and unique edge:  we should embrace those who want to stand out and provide music with something fresh.  Among the armies of solo artists who will be campaigning- and there are legions of them right now- here we have someone who is sure to succeed.  If Naked is any indication of future stock- and the follow-ups we will be witnessing- then we have an artist who…
CAN affect positive changes in music.
[youtube https://www.youtube.com/watch?v=Eo-Rte6cNF8&w=560&h=315]
_________________________________________________________
Follow Savannah Dumetz
Official:
http://www.savannahdumetz.com/
Facebook:
https://www.facebook.com/savannahdumetzmusic
Twitter:
https://twitter.com/savannahdumetz?ref_src=twsrc%5Egoogle%7Ctwcamp%5Eserp%7Ctwgr%5Eauthor
Instagram:
https://www.instagram.com/savannahdumetz/
_________________________________________
Music
https://soundcloud.com/savannahdumetz