The Classics Series:
 
Fleetwood Mac- Rumours
 ________________________
IF turmoil and conflict leads to creativity and focus…
then Rumours is the perfect example of this theory.  Well, perhaps there were other reasons- why the album remains a masterpiece- but it is amazing the album got made at all.  In the years leading up to Rumours:  Fleetwood Mac were on a little bit of a tepid streak.  In 1974, the album Heroes Are Hard to Find was released.  This was the last Fleetwood Mac album to feature Bob Welch:  He was replaced by Stevie Nicks and Lindsey Buckingham soon after.  Before that, Fleetwood Mac had recorded eight albums- from weak efforts like Penguin and Mr. Wonderful to wonderful cuts like Bare Trees- and had produced few lacklustre albums.  There was a general feeling in camp the band was going through a bit of a slump.  Something needed to change:  That change arrived in the form of an American couple who would make their impressions felt immediately.
Heroes Are Hard to Find is not quite as bad as I make out.  In spite of Welch's departure and the odd duff moment:  The strong moments are truly memorable.  Welch's She Changing Me is among the album's most celebratory and upbeat tracks:  Angel and Bermuda Triangle are among the record's more experimental and psychedelic offerings.  It was Christine McVie that made the biggest impact on Heroes'.  Prove Yourself and Come a Little Closer are grand and lush songs that stop you dead in your tracks.  Ethereal strings and delicate piano augment the songs to impossibly-dreamy realms.  Not just confined to ballads:  Rocker Bad Loser has plenty of dark undertones and kicks (thanks to Mick Fleetwood and John McVie's rhythm section).  Throughout the album, Fleetwood Mac injected toughness and sensitivity in equal measures.  If Heroes Are Hard to Find is considered a 'weaker' effort from Fleetwood Mac:  It shows just what an immense proposition they were.
Following the line-up change, there were some nerves and uncertainties:  How would the two Americans fit into the band?  The group's self-titled album- the second so named (their 1968 debut was called Fleetwood Mac) - is regarded as one of the finest Fleetwood Mac efforts- one of the greatest albums of the 1970s.  Arriving in 1975, the album would go on to reach number one- it would stay in the top-ten for nine months- and sold over five million copies.  Maybe the fresh blood made an instant impact- or the band as a whole were in inspired form- but you cannot deny the influence of Buckingham and Nicks.  The U.S. lovers were close to break-up when Fleetwood Mac was recorded- the two were hired after Mick Fleetwood conducted a brief interview in an American interview- and that bubbling tension led to some tremendous offerings.  Monday Morning has nerviness and urgency:  Lindsey Buckingham highlighting what an important songwriter he was.  The Californian couple turned Fleetwood Mac from borderline-soppy to a genuine U.S.-U.K. Rock band with huge spirit and gusto.  The album's opener (Monday Morning) is impossible to ignore and signalled a brand-new sound for Fleetwood Mac.  Although this was the tenth line-up change since their inception- and the most successful one- it was a move of genius.  Buckingham would be a background presence on the album- he would come more to the fore throughout Rumours- with McVie and Nicks contributing gems Rhiannon, Say You Love Me and Over My Head.  Perhaps Buckingham's songwriting credits are limited but his D.N.A. is all over Fleetwood Mac.  His production style transformed the band into a more forceful, focused and brave brethren.  Pushing McVie to create some of her best work- bringing out the Rock goddess in her- and propelling the group to rarefied heights:  Thanks to Buckingham; Fleetwood Mac was the standard against which all subsequent Fleetwood' albums would be measured.
Fleetwood Mac was very much the Blues coming to England.  This country has always had a passion for Blues music.  Since the '40s and '50s, the genre was not overly-representing in mainstream music.  Lindsey Buckingham and Stevie Nicks reintroduced that vintage-sounding Blues style to the 1975-album.  Everything sounded authoritative and genuine:  As such, the album resonated all across the U.K.  From the East End to the northern towns:  Fleetwood Mac was in-demand and a very hot ticket.  That scratchy and raw sound can be detected in every track of Fleetwood Mac.  It remains one of those pivotal and transformative musical statements:  An album that not only changed the band themselves but the landscape of British music.  With that impressive gauntlet thrown down; few could have predicted what was to arrive next.  It was not just Lindsey Buckingham and Stevie Nicks whose relationship was going through strains:  Christine and John McVie were experiencing some tough times too.
[youtube https://www.youtube.com/watch?v=462lDlULSBk&w=420&h=315]
In 1977, Fleetwood Mac released their finest (debatable, but true) creation:  The majestic and peerless Rumours.  Today, Rumours is one of the biggest-selling albums of all-time.  It won a Grammy for Album of the Year and has inspired countless modern-day Folk and Rock artists.  Not only was Rumours' recording fragmented by relationship strife and squabble:  The band's drug-taking and recklessness threatened to derail the album completely.  More hedonistic and disjointed than they had ever been:  In a rather bad way, Fleetwood Mac had turned into a true Rock band.  Whilst most acts- certainly those in the current climate- would not have produced an album- instead, the band would split- Fleetwood Mac defied expectations and recorded an album of near-genius stature.  Despite the tumultuousness that was encroaching, there was still discipline and focus.  Critics noted- upon the album's release- the wonderful vocal interplay of the three singers (McVie, Nicks and Buckingham) and the multiple genres represented.  Fleetwood Mac mixed electric and acoustic guitars together:  Rock, Country and Folk numbers sat alongside one another organically.  The incredible production values- Buckingham at his peak as a producer- was also a huge factor in Rumours' success.
The recording on the album was anything but smooth- as you have probably figured- with the band sequestered at the Recording Plant in California.  Commencing work in February 1976, there was a strange mix of optimism and recrimination.  The band was definitely on the finest form they had ever been:  The intimate relationships of four-fifths of the group was both a curse and a blessing.  With inhospitable studio conditions- small, windowless rooms were not popular with the group- the boys lived together in one part of Sausalito; the girls resides near the city's harbour.  With Buckingham in control of the album's direction- he wanted to make a pure Pop album- the discipline and focus started to wane.  The band members would not socialise after recording- given the splits and quarrels that were emerging- and the access to drugs- Sausalito was still in the grip of the hippie movement- the band indulged in drug-fuelled sessions and self-indulgent binges.  The album's undefined budget meant Fleetwood Mac had an endless fund for narcotics and stimulants:  Rumours was never going to be the most puritanical and healthy albums ever made.  Despite the friction, the band's best work was being shaped.  Using the best microphones available:  They captured the sublime harmonies of the band's singers.  Mick Fleetwood- the poor chap caught in the middle of this Anglo-American hurricane- summoned some of his most compelling beats.  Lindsey Buckingham fostered the beauty in Nicks' music- although the duo was balkanised- and it showed struggle and negativity brought the best from the group.
In terms of the album's themes:  Broken relationships and hopefulness sat alongside one another.  Chrissie McVie's You Make Loving Fun was not about her former lover:  It was about the band's lighting director.  Go Your Own Way is a pessimistic song that leaves little to the imagination- Nicks didn't need to read behind the lines.  Dreams, conversely, is a more optimistic and bittersweet affair.  With the band's principle songwriters- Nicks, Buckingham and McVie- writing separately (occasionally sharing ideas) it was a compartmentalised and impersonal writing process.  Rumours was truly a shift away from any other Fleetwood Mac album.  Never had such emotion and strain defined an album's creation.  The clean, crisp and receptive sounds (of Rumours) was celebrated by critics at the time.  Rumours is one of those albums that has received very little negative feedback.  Not only one of the greatest albums of the '70s:  It remains one of the most impressive musical achievements ever.  Few people would have excepted something so authoritative, flawless and smooth from a band on the brink of disintegration.  Maybe the separations- writing in private and lack of socialising- helped avoid a complete capitulation and wreckage.  Maybe the ready access to drugs helped balm wounds and mitigate the pain.  In truth, it was the band's passion for music that turned Rumours into a classic.  Yes, the recording was delayed and studio sessions were fraught.  Overriding the pettiness and infidelity was that burning desire to record beautiful music:  Without that innate drive, the world would never have heard Rumours (or you'd get an album that was a rather muddle affair).  If you look at the songs one-by-one, you can tell why (the album) made such an impact on its release- and continues to amaze musicians and fans alike.
   Second Hand News kicks off Rumours with Buckingham in the driving seat.  The track was originally going to be an acoustic number.  After hearing the Bee Gees' Jive Talking; Buckingham added words/melody and set the tone for the album.  The lines:  "I know there's nothing I can say/Someone has taken my place" defined the record and saw Buckingham accept the reality of his relationship.  The song looks at the pleasure and redemption Buckingham found with other women.  Buckingham wouldn't miss Nicks because the two had to record with one another.  It seemed like the American was having his cake and eating it:  Finding thrills with transitory bonds but immune from heartache and longing.  Second Hands News is a song with Buckingham in complete control.  He called the shots throughout- instruction bassist John McVie to play a simple, quarter-notes part- and wanted the song to be simple yet euphoric.  The track's refrain is one of the boldest f***-yous ever:  It was clear Buckingham's heart was anything but broken.
  Dreams is a more optimistic and softer number that shows Stevie Nicks at her peak.  A gorgeous and stand-out moment- definitely among the best songs on the album- that Nicks wrote in about ten minutes.  Sat on her bed with a keyboard and a simple drumbeat:  The song poured out onto the page.  Drummer Mick Fleetwood was going through a divorce; the McVies were in a similar predicament:  Buckingham and Nicks were ending their eight-year relationship.  The denial and disenfranchisement inspired Nicks to pen one of her most honest and open tracks.  Upon presentation, the band was not crazy about the song:  Nicks has to beg them to record it with her.  Buckingham fashioned three distinct sections from identical chords- giving the sound a logical and distinct thread- on a track McVie (Chrissie) found "boring".  The fact that it is one of Fleetwood Mac's most-celebrated tracks is a testament to Buckingham's influence and Nick's intuition (and talent).
[youtube https://www.youtube.com/watch?v=6ul-cZyuYq4&w=420&h=315]
Never Going Back is a gorgeous and reflective song that assesses the break-up of a relationship.  Buckingham's tale of rebound fling- one of the final songs written for the album- was not the deepest song (Buckingham felt it slightly shallow) but the simple chords and beautiful melodies made it a favourite among critics.  The bad-news scenarios were given a prettiness and elegance that transcended its authour's modesty.
   Don't Stop is another classic from the album:  Another one of those unimpeachable numbers spoken about in devout tones.  Whilst Nicks brought positivity to Dreams:  Chrissy McVie ensured overt hopefulness came through in Don't Stop.  Subconsciously directed towards John- although McVie was always a positive muse- it boasts tremendous lead vocals (from McVie and Buckingham) and is among the catchiest songs on Rumours.
None of the band members knew they were writing about one another (when entering the studio).  Go Your Own Way is hardly the most discrete track.  Seen as one of the best songs ever in music- both Rolling Stone and other publications have assessed it thus- it was not a favourite of Stevie Nicks.  The line "Packing up, shacking up is all you wanna do" was a nasty and untrue jab at Nicks.  A line written to push Nicks' buttons- she wanted to kill Buckingham every time that line was performed on stage- Buckingham refused to remove the line.  Upon initial release, some D.J.s were lukewarm towards it.  Both Buckingham and Fleetwood took the blame.  Buckingham explained how his acoustic guitar part created a foil for the vocals but was divorced from the beat- only when the first chorus comes in does the beat bond with the guitar.  Fleetwood blamed his unorthodox and inept (his words) drumming.  It was a mutated interpretation that Fleetwood never got to grips with.  Whatever the reason- in response to L.A. D.J., B. Mitchel Reed's criticism- the song went onto to be one of the band's most successful.
   Songbird and Oh Daddy showed what a consistent and diverse songwriter Chrissie McVie was.  The former is the need for love and trust.  Directed at an unnamed source, the lines "For you, they'll be no more crying" and "To you, I'll never be cold" reflected self-sacrifice and the need to stay firm against adversity.  It was one of the album tracks that kept the band together and focused.  A subsequent set-closer, McVie wrote it in the early hours one morning.  Waking- and struck by inspiration- she put down the melody and chords in about 30 minutes.  Arriving in the studio the following day- she was trembling like a lead- McVie knew she has something special.  Whilst other band members were engaged in opium-smoking:  McVie put the song onto a two-track recorded (aided by producer Ken Calliat) - the rest is history.  Oh Daddy was written for Mick Fleetwood- the only dad at the time- and a nod to the band's backbone and rock.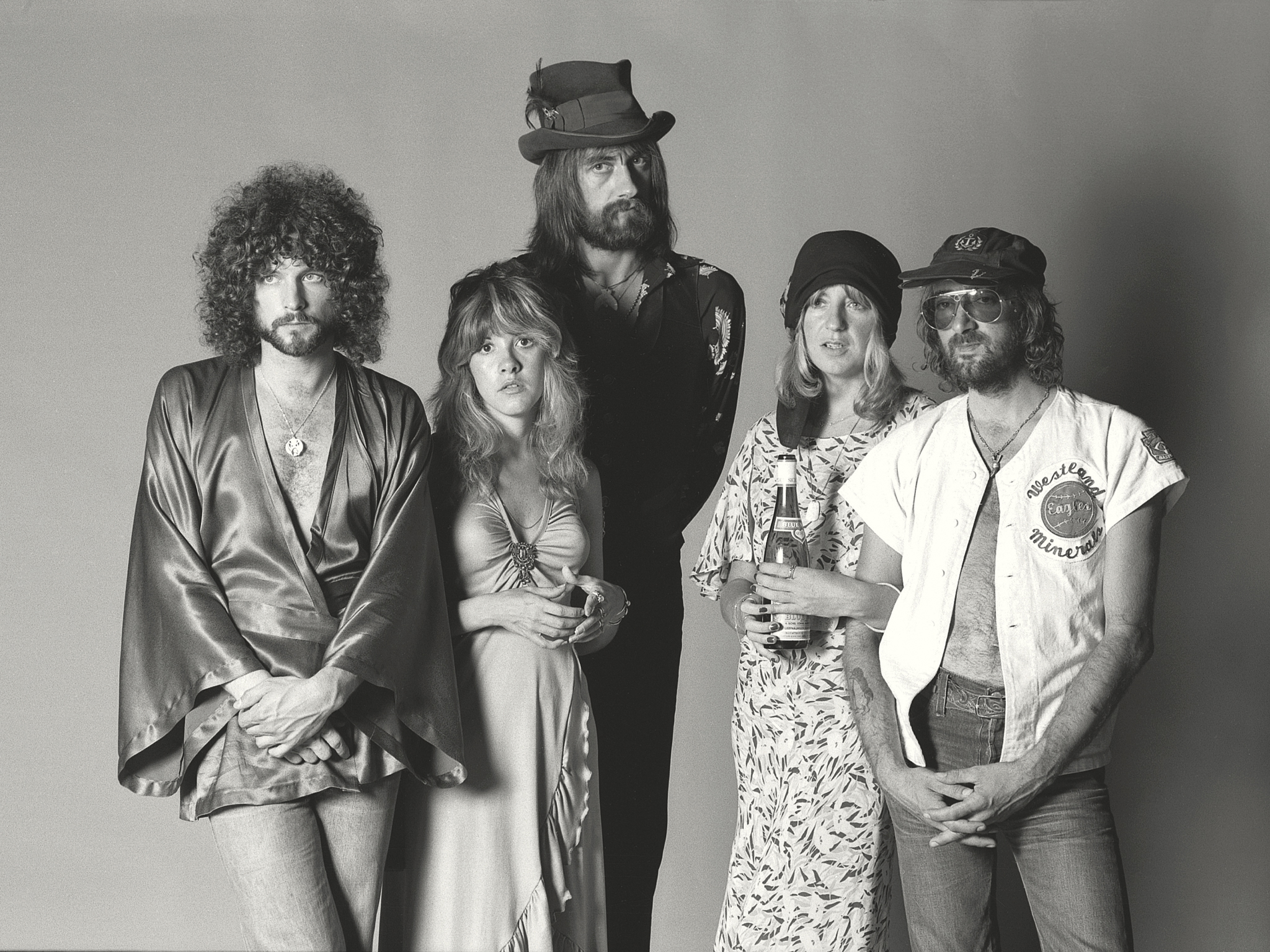 You Make Loving Fun and I Don't Want to Know were some of the gems from (the album's) side two.  With Buckingham absent during the early record:  Christine McVie was free to record You Making Loving Fun with her sights unblinkered.  The recording itself was defined by excessive cocaine use and corpulent decadence.  Chrissie McVie informed then-husband John the song was about their dog:  Only in subsequent years did he learn the truth (the tryst Christine has with her lighting director).  I Don't Want to Know is a song Nicks wrote years previous- when she and Buckingham were a Rock duo- and fits seamlessly into the mould.  The song's conciliatory nature- about the realities of love- naturally slotted into an album with many like-minded songs.  The lines "I don't want to know the reasons why/Love keeps right on walking down the line" are among the most bare-naked and heart-breaking on Rumours.
   The Chain and Gold Dust Woman complete rumours:  Two of side two's most memorable tracks.  Gold Dust Woman is a signature song from Nicks that brings Rumours to its close.  The album's swansong has a rather unorthodox history.  The album's take was recorded at 4.a.m.:  Following a rather unsuccessful run of takes, Nicks was getting frustrating.  Wrapping a black veil around her head- blocking her senses out to get a more raw interpretation- the song featured strange instruments and sounds- including an electric harpsichord with a jet phaser.  With Mick Fleetwood breaking sheets of glass- like a mad professor banging with a hammer- to add sound effect:  It was a moonlit rhapsody and majestic moment.  In terms of the song's themes- in 1997, when speaking with Courtney Love, Nicks was unsure as to the originals- Nicks defined it as a celebration of cocaine and dependence:  The acceptance of failed love and trying to get through things any way possible.  The Chain is the only song to feature the entire band as songwriters.  Written in bits- the bass progression was written by Fleetwood and John McVie- whilst Nicks wrote the lyrics alone.  McVie brought together earlier tracks to help bolster the song- music she had written previously- and the final track was recorded across various tracks.  It is one of the album's defining tracks as it defines Rumours.  Looking at the splits occurring- every member undergoing break-ups- they were being bonded and kept together by music and their kinship (a chain).
[youtube https://www.youtube.com/watch?v=PppUJ_JGq2U&w=420&h=315]
Fleetwood Mac continues to play for years after Rumours- they are still touring as a band- but never topped Rumours.  The album's follow-up, Tusk, is a near-rival that is a more experimental, dark and bold proposition.  After the enormous sales figures from Rumours:  The band had a blank cheque to go nuts with.  Buckingham was even more in control- the relationships were dead and the mood was even frostier- and the 20-track album was fragmented and messy.  Fleetwood Mac's equivalent of The Beatles ('The White Album'); it is a weird and wild record with Buckingham taking most of the songwriting credit- he gave McVie and Nicks' songs an ethereal quality and sheen.  The album's dynamic of mellow stretches- that would then explode in a violent burst- did not fare as well as Rumours upon release (a sales disaster by comparison) but has gone on to be regarded as one of Fleetwood Mac's finest.  It is amazing Tusk came to life:  It is perhaps down to Rumours that it did:  That faith in the music and the bonds that held the band were still there.  It is amazing that the band is still going today:  They are long past their peak but have survived the test of times and inter-band dislocation.  Rumours was an album documenting relationship heartache, but ironically, ensured the band stayed together and stood the test of time.
The influence of Rumours still resounds today.  Acts from Lorde to Death Cab for Cutie have been inspired by it.  Throw in Tori Amos to the agenda and few albums have been as inspiring as Fleetwood Mac's 1977 masterpiece.  Topping polls and one of the defining albums of the '70s:  Few subsequent albums have matched Rumours' quality and brilliance.  If you look at the Indie/Folk acts emerging in music:  You can tell how many take their heritage from Fleetwood Mac.  The band have created waves of hungry and daring musicians:  Each hoping to record their version of Rumours.  Whilst that album is peerless and unmatched:  The fact so many want to pay tribute to it speaks volumes.  We will never see another album as scintillating and fascinating as Rumours.  It was very much a product of its time and one of the most spectacular recording processes in musical history.  If you have not heard the album for a while- or not listened to it at all- you owe yourself the chance to (re)discover a…
WORK of pure brilliance.
[youtube https://www.youtube.com/watch?v=cMp57bUzOB8&w=560&h=315]
________________________________
TRACKLISTING
Second Hand News
Dreams
Never Going Back Again
Don't Stop
Go Your Own Way
Songbird
______________
The Chain
You Make Loving Fun
I Don't Want to Know
Oh Daddy
Gold Dust Woman
DOWNLOAD
Dreams; Don't Stop; Go Your Own Way; The Chain; Gold Dust Woman
STANDOUT TRACK
Go Your Own Way