The Classics Series:
Jeff Buckley- Grace
 _______________
YOU might not think an album released in 1994 could genuinely count…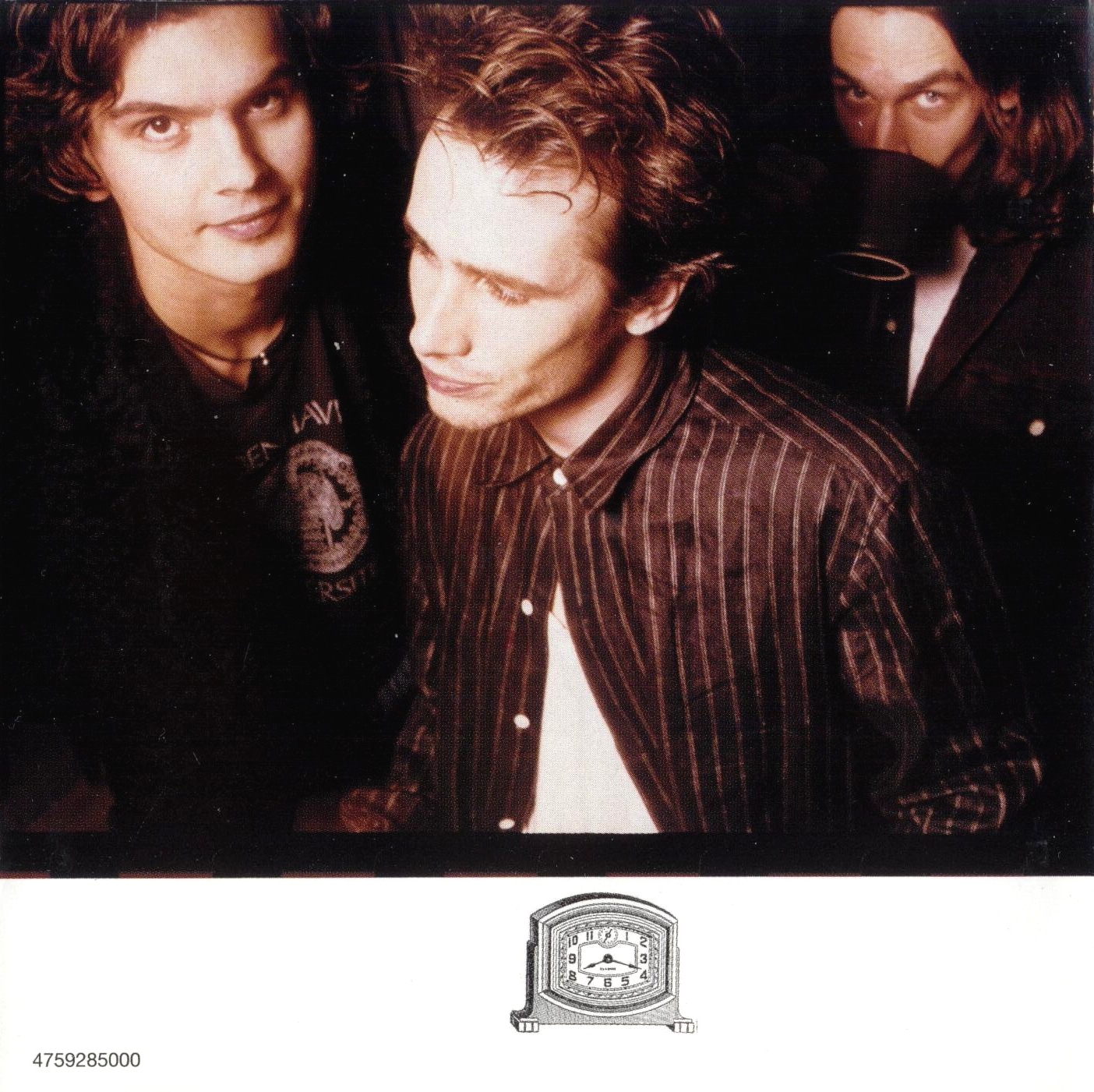 as a 'classic'.  That is where you'd be (sort of) wrong.  You cannot overstate what effect Jeff Buckley's debut (and only) studio album had upon the world.  In today's music scene, the heavenly falsetto-laden troubadours are something of a familiar quality.  Back in the early-'90s, few had seen the likes of Jeff Buckley.  Born on 17th November, 1966, Scott Moorhead (Jeff's real name) was born in Anaheim, California.  The son of legendary Folk musician Tim Buckley:  the young artist's formative years saw him move from town to town.  Buckley would go on to say- in subsequent interviews- how he was a nomad in his childhood- various cities and towns would be 'home' for him.  A "rootless trailer-trash" existence- Buckley's actual words- his step-father, Ron Moorhead, would stabilise and guide the young Buckley.  Whilst relocating around Orange County; Buckley and his mother (Mary Guibert) would often harmonise together- she was a classically trained pianist and cellist- and perform around the piano.  Moorhead would open his step-son's eyes to legendary bands of the time:  Led Zeppelin, Pink Floyd and The Who were played in rotation.  Given the atmosphere and influence in his home-life:  it is hardly a shock Buckley would foster a deep love for music.  Perhaps a way to block out the stress and uncertainty of his upbringing:  Buckley would pick up a guitar aged 5 and never look back.  Bonding with the instrument- and starting to mould that extraordinary voice- it seemed like the future was clear.
During his teenage years; Buckley was bought his first electric guitar (at age 13) and went on to attend music school in Hollywood- a "complete waste of time" was how he ascribed the experience.  Over the coming years, Buckley performed with a number of (struggling) bands- often playing guitar and reducing his vocal part to backing-only.  In February 1990, the young musician moved to New York to chase opportunity and exposure.  Upon arrival, Buckley struggled to find work and chances to perform.  A little disenchanted, he returned to L.A.  Later that year, Buckley began recording demo. songs- including early versions of Eternal Life and Last Goodbye (under its original title, Unforgiven) - and honing his craft.  On April 26th, 1991, Buckley performed at a memorial concert, Greetings from Tim Buckley:  held at St. Ann's Church in Brooklyn; Buckley would perform a number of Tim Buckley songs.  The performance drew a huge reaction- few had seen the young master perform- and many questioned his motives.  Buckley explained how he regretted not attending his father's funeral:  this was a way of showing respect and paying tribute.  Following that; Buckley would travel to New York and perform with Gary Lucas (Gods and Monsters) and the duo would write together- Grace and Mojo Pin were written around this time.  Just as Gods and Monsters were offered a record deal- and a chance to launch their career- Buckley decided to leave the band.  Moving to the Lower East Side at the end of 1991:  this was to be Buckley's home for the next few years; a natural atmosphere for someone keen to perform to a variety of audiences.
Buckley began performing around Lower Manhattan throughout 1992:  Sin-é would offer a regular Monday night slot to the young singer.  April 1992 was possibly the most important month (to that date) of Buckley's career:  the first time he performed at Sin-é.  The audiences that attended- the very small, charming coffee-house- could not imagine what they were about to witness.  Demonstrating an extraordinary range of influences:  Buckley would cover the likes of Bad Brains and Nina Simone; The Smiths and Led Zeppelin; Leonard Cohen and Bob Dylan- dozens more name to boot.  Playing on a borrowed Fender Telecaster:  the audiences would grow and the attention was starting to rise.  By the summer (1992), queues were forming around the bloc.  Limos were parked in the street- record company executives keen to examine the young master- and big things were about to happen.  Buckley learned to play onstage based on these intimate gigs.  It was in October that Buckley signed to Columbia Records:  a three-album deal was struck.
   Between late-October, 1992 and mid-1993, Buckley would continue to play at Sin-é:  he would release a 4-track E.P. in November 1993- including a majestic cover of Van Morrison's, The Way Young Lovers Do.  The stage was set and the dream was starting to be realised.  With little (early) interference from the record label:  Buckley was free to assemble a band and record how/where he wanted.  Andy Wallace was selected as producer:  Mick Grøndahl (bass) and Matt Johnson (drum) were chosen and the quartet would encase themselves in the climate of Bearsville Studios.  Located in Woodstock, New York; it was a perfect environment to get music made.  Free from the distractions of the city- the studio was located in woodland; miles from the centre of New York- it gave the boys an opportunity to focus and get material laid down.  Recording was productive and saw Buckley unite with former bandmate Gary Lucas- he would play guitar/co-write Grace and Mojo Pin.  Between January and March 1994, Buckley left the studio to perform a mini-tour of Live at Sin-é.  Performing across North America and Europe:  it was a chance for Buckley to play café/coffee house audiences; clubs and in-store gigs.  When returned, he would link with guitarist Michael Tighe- who would join the band and become part of the fold.  By June 1994, Buckley took the band on the Peyote Radio Theatre Tour.  Early audience members included Chrissie Hynde (The Pretenders), Chris Cornell (Soundgarden) and The Edge (U2).
[youtube https://www.youtube.com/watch?v=xxjBHKNSM38&w=560&h=315]
Upon Grace's release, the reaction was someone mixed.  Critics and contemporaries heaped praise upon the L.P.  Bob Dylan- an idol of Buckley's- would call (Buckley) one of the great songwriters of the '90s.  Robert Plant and Jimmy Page were complimentary, too- the latter considered Grace one of the most-treasured albums of the decade.  Despite the praise received:  Grace would struggle with regards sales figures.  Critics and musicians loved the album but perhaps it was released at a bad time.  During 1994, Grunge was seeing its forefather, Kurt Cobain, depart the world.  Bands like Soundgarden and Pearl Jam were coming through:  taking the baton over and keeping Nirvana's memory alive.  Grace seemed (in 1994) like a strange, outcast album when it arrived.  The romantic, sweeping songs seemed at-odds with the popular demands at the time.  Of course, Grace would go on to record incredible sales- after gaining retrospective acclaim- but it would always struggle to amass the sales figures desired by record company executives.
In spite of the so-so chart performance; Grace's songs had a huge effect on the public.  The title track- my favourite Buckley track- showed what a force of nature Jeff Buckley was.  Lyrics of living for the moment- grabbing romance and passion whilst we're still here- were backed by an extraordinary, powerhouse vocals.  From whispering, seductive coos:  Buckley's voice reached impossible heights towards the final moments.  I have tried to perform the song and find it a real struggle.  You can track for the first few minutes but then start to struggle.  I wonder how Buckley managed what he did on that song:  the lung power and technical ability just blow my mind.  One of the most potent and stunning moments across the album; it remains a wonderful demonstration of what Buckley was capable of.  Last Goodbye is one of the most-played Grace songs.  Hardly a surprise when you consider the performance and lyrics.  An underrated songwriter- hardly talked about in the same terms as the greats- sadness, longing and desire lingered; the young musician laid his heart out and exposed his soul.  So Real- often considered one of the weaker songs on the album- was written with Michael Tighe.  Originally Forget Her was to be included on Grace (it would appear on the Legacy version of the album) but Buckley grew to hate it.  It is a strange assessment considering how popular the song is among fans.  Perhaps a little too saccharine in places; maybe a little bit personal- that song was nixed and discarded to the annals.  Looking for inspiration; Tighe would provide the spark (composition) for Buckley.  Walking around the studio- trying to find the words- he would return to the studio in excitement.  Recorded fairly quickly- in maybe a couple of takes- the song is one of Grace's heavier tracks.  Eternal Life suffered the same sort of review and consideration.  Another Rock-inspired number; it received some tepidness from critics at the time.  Not quite a balls-against-the-walls jam; not as tender and reflective as it could be- it sat uncomfortably in the middle of the spectrum.  If you listen to alternative recordings- the soft, beautiful Live at Sin-é cut; the hard-hitting, rampant, Live at Chicago version- the song was given more appropriate consideration.  On Grace; Eternal Life seems a little a little out-of-sorts.  That said, it showed Buckley's flair for lyrics and politics:  it was one of the angriest tracks he had recorded at that point.
Dream Brother is one of the earliest songs- and one the first the band wrote together- that has been interpreted in a number of ways.  If you look at the lyrics closely- "Don't be like the one who left his name behind"- you would think of Tim Buckley.  Waiting for someone who "never came":  many were keen to link the song to the late Buckley.  If you look more carefully, it is a rather optimistic reach.  Buckley (Jeff) himself refused claims:  it was not about his father but concerning someone he knew- who had lied and not been loyal to their true nature.  A fascinating and accomplished work from Buckley (and the band) it would end Grace on a huge high.  Lover, You Should've Come Over documents the breakup of Buckley and his then-girlfriend, Rebecca Moore.  Despondent and confused; it sees our hero struggle to deal with the changing situation and reality of the break-up.  It was hardly a surprise Grace would feature a selection of cover versions.  Given Buckley's authoritative nature- and the ability to make a song his own- Lilac Wine, Hallelujah and Corpus Christi Carol made their way onto the record.  Lilac Wine was written by James Shelton in 1950 and recorded by the likes of Nina Simone and Elkie Brooks.  Buckley's version remains one of the finest and most distinct.  Perhaps inspired by Simone's take- many thought Brooks' take was the most influential- it breathed new life and beauty into the song.  Corpus Christi Carol- Buckley and his electric guitar played softly- is one of the most beautiful recordings I have ever heard.  Encouraged by Andy Wallace- who urged Buckley to include it; Buckley dedicated it to a friend- it is an astonishing reading.  You would not expect a modern-day singer to cover such a song:  upon hearing it; it sounds ready-made for Buckley's angelic, divine falsetto.  Those well-covered songs pale into insignificance when lined-up against Hallelujah.
[youtube https://www.youtube.com/watch?v=WIF4_Sm-rgQ&w=420&h=315]
Performed during his Sin-é days:  Hallelujah is what many of us associate with Jeff Buckley.  Arguably Grace's highlight- many have argued it is Buckley's finest performance- you cannot overlook the sheer transcendence of Buckley's delivery.  Leonard Cohen wrote the song for his Various Positions album (released in 1984).  It was not Cohen's- rather forgettable and flat version- that motivated Buckley's rendition- John Cale was the catalyst.  Inspired by Cale's beautiful version- much closer to Buckley's version than Cohen's- a magical moment in music was cemented.  Cohen spent years trying to get Hallelujah just-so:  over 80 versions were written before the final lyrics were honed.  Buckley- with a similar, perfectionist drive- attempted a number of different takes.  Ranging from manly and deep; angrier and more direct- the final version was not recorded in a single take.  Andy Wallace- keen for a final version; worrying one would never come- mixed a couple of different takes to produce the finished version.  Upon reflection, Buckley was disappointed with his performance:  feeling it could be more masculine and raw.  Jeff Buckley's seminal version of Hallelujah would stagger critics at the time.  It is hard to describe the performance and put it into words.  Celebrating the "hallelujah of the orgasm"- how Buckley approached the song- you get that mix of seduction and transcendence; spiritual reading and harrowing thing.  Few artists- up until that point or since- have performed anything as heart-stopping and peerless.  Many have interpreted Cohen's lyrics- the stories of Samson and Delilah (from the Book of Judges) - but Buckley's version takes the song to a new plain.   With just him and electric guitar:  what you get is one of the most beautiful recordings of all-time.  Inspired by Buckley's seminal performance; hosts of musicians- perhaps hundreds- have put their stamp on the song.  That is one of the most depressing aspects of Hallelujah:  Buckley's version was the definitive cut; subsequent artists have watered down its essence and it all seems pointless.  Why try to top Buckley's sublime rendition?  It just can't be done.  With every rather weak and inane YouTube delivery- talent show nobodies murdering it- it strips beauty and meaning from the song.  Despite the terrible-by-comparison cover versions:  Buckley's Heaven-sent performance remains the very finest.
In the three years that followed Grace's release; Buckley would commit himself to a blizzard of tours and live dates.  From Ireland and Japan; the U.S. and Canada:  the band tirelessly took the album across the globe.  On March 1st, 1996, Matt Johnson would play his last gig.  Tensions arose between Johnson and the band:  Buckley would fire the long-time collaborator and halt touring (until a replacement could be sourced).  There were rumours surrounding Johnson's departure- tensions in the band; drug abuse- but it left Jeff Buckley with a quandary on his hands.  It was not until February 12th, 1997 that Buckley would perform (with a band).  In the interim period; Buckley would retreat from the stage and give himself a chance to reflect and relax.  Feeling exhausted by touring commitments; the 30-year-old yearned for the bygone days at Sin-é:  playing to strangers in an intimate venue; that need to reconnect with something he loved deeply.  By 1997, Buckley has already begun writing material for his forthcoming album, My Sweetheart the Drunk.  Recording began in mid-1996 with producer Tom Verlaine.  With Parker Kindred hired as the new drummer:  the newly-reorganised band laid down tracks like Yard of Blonde Girls and Everybody Here Wants You.  Trying out new material across New York; the band would play at Arelene's Grocery:  one of the first gigs that Parker Kindred would be involved with.  Despite the new line-up and impetus; Buckley felt unsatisfied.  Recording sessions with Verlaine were not going well and in February (1997) Buckley was on the phone to Andy Wallace:  wondering if he could fill-in and oversee recording.  After the band's third recording session- with Verlaine in Memphis- Buckley stayed put and rented a small house here.  Recording songs on a 4-track recorder:  he sent rough demos. to the band back in New York.  Feeling free and unconstrained- just the artist and his own thoughts- by May, the band was preparing to return to Memphis.
On May 29th, 1997 everything changed.  With the band flying in- to record the newly-written material- Buckley was driving near Wolf River Harbor with his roadie, Keith Foti.  Struggling to find their way- the duo was lost and had driven the same streets a while- they pulled over.  Buckley- in black boots and fully clothed- ran to the water and began paddling on his back.  With stereo and Foti on the shore; Led Zeppelin's Whole Lotta Love was playing.  Buckley began singing along and the mood was high.  Suddenly, a passing tugboat created a wave that dragged Buckley underwater.  Foti- who has moved the stereo from an oncoming wave- had only turned his back for a moment.  Looking back, and realising Buckley was gone, he looked out at the water.  A search was conducted but all in vain:  Jeff Buckley had died.
Music was changed and lost one of its most promising, extraordinary stars.  It seems like such a senseless and needless death.  Considering Buckley's impulsiveness and romantic nature:  maybe the circumstances/outcome was not that shocking.  You can quibble with 'what-if' scenarios and the like:  the reality and tragedy of that fateful day are being felt today.  As shocked and saddened as people were- and continue to be- Jeff Buckley's legacy remains.  Grace is that epic masterpiece that signalled what could have been.  You cannot argue how important that 1994 album has been to today's music.  Thom Yorke saw Buckley play during the recording of Radiohead's The Bends.  Upon seeing him perform in London, Yorke resumed to the studio and recorded Fake Plastic Trees.  The entire album- and Radiohead's future career-w as inspired by that performance.  Allowing the music to become more sensitive, tender and emotive:  many more artists felt exactly the same way.
Subsequent releases- compilation albums and cash-ins- cannot distil Jeff Buckley legacy and important.  One of the greatest singers we have ever witnessed:  Grace remains a peerless statement from a young man making his first steps into music.  Matt Johnson recalls fond memories-http://www.popmatters.com/feature/184862-an-artist-capable-of-making-something-magnetic-matt-johnson-on-jeff-/- and the wonderful experience of the album's recording.  I am a huge admirer of Buckley and he is my all-time music idol:  someone who compelled me to review music and support musicians.  All of us will have some connection with Buckley and his majestic music.  His songs are timeless and reveal new meaning and majesty every time you hear them.  In an age of talent show rejects and fly-by-night Pop stars; will we ever see anyone like Jeff Buckley?   I hope not because it seems (Jeff Buckley) was a once-in-a-lifetime genius.  And for that…
[youtube https://www.youtube.com/watch?v=hXe1jpHPnUs&w=420&h=315]
GRACE should be adored for the rest of time
____________________________________
TRACKLISTING
Mojo Pin
Grace
Last Goodbye
Lilac Wine
So Real
Hallelujah
Lover, You Should've Come Over
Corpus Christi Carol
Eternal Life
Dream Brother
DOWNLOAD
Grace; Hallelujah; Lover, You Should've Come Over
STANDOUT TRACK
Grace