TRACK REVIEW:
Gold Phoenix
 
Oh So Hard
9.5/10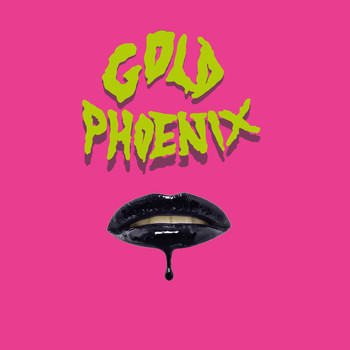 Oh So Hard is available via:
https://soundcloud.com/gold-phoenix-1/oh-so-hard-single/s-obcsl
GENRES:
Garage-Rock
ORIGINS:
Surrey, U.K.
RELEASE DATE:
8th August 2016
Recorded at Rockfield Studios
Lyrics and Music by Gold Phoenix
Produced by Nick Brine
Engineered by Jon Constantine
Mastered by Pete Maher
________________
I have been meaning to review Gold Phoenix...
for a while now and for good reason. I shall introduce the boys soon, but at the moment, they bring up topic around real Rock; characters and personality in music and the difficulty in squeezing life from certain other bands. Many have been debating whether Rock and all its sub-genres, really has any life left and is as good as it was. I feel there are a lot of bands coming through but you have to wonder how many actually have the guts and glory needed to give Rock a good name? Many play Alterative-cum-Indie sound which is an excuse for crowd-pleasing choruses and songs about love and heartbreak. That is all very well, and we all need that, but you yearn for a bit more grit and power in the music. I admire bands that can whip up some meaty riffs and 10,000 volt charges but ensuring there is melody, emotion, and discipline in the music. There may be a lot of those bands around, but for my two-cents-worth, they are few and far between. I suppose there have been so many Rock bands through the ages; it is challenging doing something new and differentiating from what has come before. Bands think too literally when they approach Rock and decide what their music will sound like. They get it into their heads that audiences want it loud and sweaty without much nuance and intelligence. The modern consumer is more intelligent and discerning and demands something a little more layered and structured. That, as a band, gives you more breathing room and chance for maneuver. Indie and Blues-Rock are ways of taking a solid template and adding new shades and sounds into the mix. One of the reasons some say Rock is dead is due to the one-dimensional nature of some groups. They are too rigid and defined and do not understand what can be achieved by pushing the genre slightly and mixing other elements together. With so many new artists entering the fray: we are seeing a turn away from Rock and Alternative bands (as the majority) and welcoming a lot more solo musicians in.
Perhaps there is more to be found in other genres or (bands in general) are less stable and long-lasting than they used to be. I have seen so many groups call time due to the demands of the modern industry – the strain on the relationships becomes too much and they have to break up. It would be foolhardy to assume Rock and bands are a dying commodity as that is not the truth. The fact of the matter is, and why critics raise that heated question, is a watered-down, safe approach to Rock music. So many artists lack that necessary spark and fire which is sad to see. My featured act understands this and is responding by bringing Rock back to its roots. They are not just an un-distilled, straight-ahead Rock band, but instead, lace Blues into their work and come up with something popular but unique – packed with vitriolic riffs and exceptional performances.
I will continue – and raise a new point – soon, but for now, it is worth getting an insight into the awesome Gold Phoenix:
Jamie - Guitar – Vocals
Fred – Bass
Ed – Drums
"Surrey's Gold Phoenix expresses large doses of raw, riff heavy Garage-Rock. The trio release their upcoming single, Oh So Hard, on August 8th with a video to accompany it, filmed by Joe Parker, at Full Tang Visual. The band were contacted by Producer Nick Brine (The Darkness,Oasis, Ash,Thunder) which followed in the recording of the single at the legendary Rockfield Studios in Wales, and mastered by Pete Maher (Jack White, U2, The Rolling Stones). Musically, Oh So Hard pays a powerful homage to the bands that have influenced their sound, with flicker of Queens Of The Stone Age, Placebo and She Wants Revenge, the seemingly dark lyrics pray amongst a heavy fuzz fuelled bassline that drives the song through its powerful mapped out arrangement. Oh So Hard is the follow up to the bands debut self titled EP which gained great reviews, airplay and recognition. The single Back To You was played on shows including BBC Introducing South's saturday show, and Belgium's Equinoxe FM.
Following the successful response of Gold Phoenix's debut self titled EP in late 2014, the band spent the year playing shows around the UK. This included shows with international touring bands such as The Weeks and Thomas Truax, a London show supporting WWE Legend X-Pac and they supported UK upcoming bands Dolomite Minor, Eva Plays Dead and Armchair Committee. The band also toured the UK in August 2015 playing prestigious venues including The Jacaranda Club in Liverpool, Bannermans in Edinburgh and The Boileroom in Guildford".
One of the reasons some of mooting Rock's future is the bands/artists that are representing the genre. In a social media age you have to wonder: how easy it for personality to shine through? We hide behind screens and communicate electronically; it makes it hard to forge any sort of human identity and that can affect the music. One of the best things about a truly great band is the characters and personalities of the members. It is not sufficient to make your music connect: the people making it are expected to stand in the mind and connect with their audiences. Social media is a mixed blessing and double-edged sword with regards that side of things. Many musicians assume they can get away with a lack of character because they are speaking behind an electronic platform. So many bands put minimal information and biography on Facebook and Twitter; they do not give you a glimpse into their influences and, when it comes to the live setting, have a weak connection with the crowds. I am not suggesting all bands should be happy-go-lucky, in-your-face types that proactively throw themselves into the spotlight. There used to be a time, perhaps towards the Britpop/'90s era, when you got some truly exceptional bands – those whose members were as interesting as the music. In the last couple of decades, there are fewer and fewer band that get into the mind and can charm you with their personnel – perhaps the Internet is to blame or maybe it is sheer numbers. Music is becoming packed and crowded so it can be hard truly defining yourself and getting into the memory. Gold Phoenix have shown you do not need an army-sized P.R. campaign to register in the imagination. The three musketeers or Blues-Rock are hirsute, down-to-earth and funny: their personalities shine and they are as real and genuine as one would expect. Not hiding behind egos or letting other people speak for them: the boys captivate with their humour and true Rock spirit. They have a, as their Facebook page attests, a fondness for goats and cowbells – who doesn't, I say! The boys are almost a trio you can see coming out the Deep South of the U.S. They have that façade and demeanor: good 'ol boys who live the simple life; drink merrily and raise havoc – ensuring their music is a ball-kicking, groove-laden and in the impure side of things. You see what I mean about personality coming through - they have created these personas, to an extent, that makes them a fascinating prospect. When playing live, they connect with the audience and do not just bluster through the songs: keeping things light and upbeat; a good rapport with the audience. It goes a long way when putting your music and brand out there. If you can make the prospective fan smile and spike their curiosity then you have already won half the battle.
The other half of the fight concerns influences and the overall sound. Few bands/artist come into music and are completely original. There are a few, but for the most part, you can always hear a little bit of someone in their work. Everyone, whether you are a musician or fan, is inspired by other artists and takes them to heart. When embarking on a music career, you are always going to have them in your back pocket. So long as you do not replicate them or water them down enough – and are essentially ripping them off – then it can make the music cross-generational and wonderful. Everyone yearns to discover music that is fresh but has some familiar, legendary elements to it. Gold Phoenix are a trio that prefers their music hard-hitting and Blues-inspired. As such, they have a gamut of bands and artists that they could bring to mind. Unsurprisingly, it is the American heavyweights Queens of the Stone Age and The White Stripes that leave the lasting impression. I have discovered so many bands, local colleagues Gelato among them, who use Q.O.T.S.A. as a guiding point. To my mind, Gelato are a little too close to Queens' and that sort of begs the question: if you duplicate another band then how original and distinct are you going to be? Gold Phoenix, like me, are fascinated by the band. One of my favourite albums is Rated R (an underrated Queens of the Stone Age gem) and I have plenty of time for Songs for the Deaf – I even love the much-unappreciated Era Vulgaris. Josh Homme's crew always bring the goods and are among the most innovative, macho and talented bands of our generation. The White Stripes, sadly defunct, are another of my all-time favourite bands. I cannot imagine my record collection with Elephant and White Blood Cells nestling in there. Gold Phoenix must have been drooling in tandem: listening to these titans and being in awe of their majesty and musicianship. As such, it would be understandable to copy the bands to the letter. Given how many other bands are influenced by Queens of the Stone Age and The White Stripes: Gold Phoenix know there is not a lot of mileage left in that particular tank and are not a band who want to toss off some sub-Queens' sounds. They use the boys as a starting block and then take it out: putting themselves into the music and ensuring they are not a covers band.
Starting off with a military step and sense of authority: Oh So Hard begins life quite light and rhythmic. The percussion patters and rolls and provides instant gratification and appeal; the listener hooked by the catchy drumroll and kick. Not going for a simple riff and adding too much energy straight on - instead, you get restraint but enough intrigue and fascination too. Just then, a buzzing, hacksaw fuzz emerges to add lightning to the thunder. Juxtaposed against the dignified and imperious percussion: the guitar and bass swing in without much seduction and restraint – they aim straight for the throat but ensures the song does not get too heavy-handed and loud. Oh So Hard has drawn comparisons with Smashing Pumpkins and you can hear a little bit of Bullet with Butterfly Wings/Mellon Collie and the Infinite Sadness in there. That is not meant to contradict my early points or do a disservice to the band. It is great hearing something that emotional, dark and grand. It brings together '70s Heavy Metal with Blues into a rictus of avalanche and harsh weather. Without a word being sung, you are in the kung fu grip and helpless to shake it off. The first minute-or-so is designed for the live crowds and seems like a set closer. You can play the E.P. tracks and they know what to expect – stunners that are familiar and they can sing along to. As Oh So Hard is new, it takes time to bed-in and register. For that reason, open with an appealing and head-banging riff that does not require sing-along and chorusing. For a glorious minute, you are caught in a riptide of strings and percussion. The drum smacks and keeps firm whilst the guitar spirals, snakes and stings its way through the undergrowth – bass keeping the song moving, together and fluid. You never get bored or think you have heard it before: a stone-cold sizzler that packs punch and groove in equal measures. Once you have surrendered to the balkanised attack of the introduction: you prepare yourself for what is to come in the first verse. Our hero steps up to the microphone and ensures his vocal hits the mark without delay. The song's subject, whether a friend or foe, is strung-out and abandoned – perhaps overwhelmed by a situation and unable to keep their head together. I often jump to themes of love and romantic untangling when I approach any new song. Here, it seems like a friendship is being attested: the fall-out and struggle one person is facing at the moment.
Photo: Joe Parker
Given the song's artwork – the black lipstick dripping down against a pink-and-yellow background – a femme fatale seems a likely explanation. Her "black heart" and red lips are firmly in the mind. If the crimson-coated lips have been telling lies and deceiving: her coal-dark, murky heart has been causing pain and upset. Not your average, idealised heroine: here is someone undesirable but strangely alluring at the same time. The anti-heroine is not a fairytale queen but a bit of a double-crossing vixen. Oddly, our man seems to find common ground or some sympathy with his subject. Maybe the two have a backstory that is hard to ignore. You wonder, given the song's lyrics, whether an old romance is being described or a friendship. There is never too much negativity or bile; strangely, you get a sense of relaxation and seductiveness in the vocal performance. With the other two players stepping back slightly – to allow the voice to be high in the mix – it is a dramatic and confident without losing intensity and focus. Most songs of this kind would sharpen the vocal and polish it: putting it right in the centre and putting it on level terms with the instruments. Here, the voice (whilst high in the mix) does have a bit of a somnambulist quality and slight weariness. It is like our lead is fighting against the composition and battling to be understood. Maybe a conscious move by the band or a note from the producer: by putting the vocal where it is and delivering a certain way; it gives Oh So Hard a wonderfully delirious tone and wins you with its unique delivery. Our man is struggling against his thoughts and instincts. It is hard to walk away and move from this woman. She is clearly quite toxic but perhaps not intentionally so. If you look back (or up) to the song's artwork; it gives a little glimpse into her looks and fashion. She is a sexy and eye-catching woman but someone who has some poison on her lips and acid on her tongue. Whether a shake-up against conventionality and boredom or a rather addictive love: it is not easy getting (the muse) out of the head and making a clean break. I may be overreaching and looking too hard but that's what I get from the song.
Oh So Hard is the new single and one that did not appear on their eponymous E.P. Perhaps (the new track) is the signal another E.P. is coming: perhaps just a one-off track to keep fans happy and show how the trio has evolved. Look at the Gold Phoenix E.P. and you witness some stunning riffs and lightning-strike performances. Anyone thinking they are the sum of their influences needs to listen carefully and realise how original the boys are. You get nods to U.S. Blues-Rock and Desert-Rock bands but it is never too obvious or strong in scent. Gold Phoenix's songs sound like live jams and have that loose and ragged appeal. Complete with solid and professional production sound and it is quite an intoxicating and heady blend. Oh So Hard, as opposed to tracks like Mortal Man and Where Did You Go, say, is the change of sound. The trio has moved slightly away from the Queens of the Stone Age-cum-intense blend and moved towards (a song) that brings more depth and darkness into the agenda – perhaps artists like Placebo and Smashing Pumpkins are more evident. As I say with regards influence: they are just spices and flavouring rather than the majority; the trio knows the importance of originality. Oh So Hard has the same straight-ahead attack of their E.P. work but goes through stages and seems more developed. The song shows how much their live experience has fed into their recording. Completely engrossing and packed with details, lovely little asides and nuance: the sound of three musicians hitting their peak and stepping up. Their E.P. was a terrific five-song work that has a variety of lyrical inspirations and colourful riffs: plenty of fantastic performances and wonder. Oh So Hard could easily sit on the E.P. but sounds like it is Gold Phoenix 2.0. It could be the sign of a new stage for them and fresh influences in their sound. Whatever the trio has planned, it is great to hear them productive and not standing still. Not content to just continue what they did on their E.P.: Oh So Hard proves how amenable and malleable Gold Phoenix are. Throwing another biblical riff into the mix: the band manages to emphasis the harsh emotions and stress with one of their most compelling instrumentals yet. It is though the strings represent the tangled and painful feelings inside; the stress headaches and racing heartbeats. Guitars yowl and strain; they stretch and race – so many different sides that bring life to the song and keeps the listener hooked and imagining. Not your simple, knuckle-dragging riff: Gold Phoenix have expended time and thought and come up with something quite special and multi-layered. Oh So Hard is just shy of six minutes, and as such, some might see it as over-ambitious and long. That would be the case were the band not up to the tasks and the lyrics were too vague and stereotyped. In fact, the track is instrumental-heavy and spends a lot of time telling story with strings and percussion. After the intriguing and curious first verse: the boys open up the taps and go on the charge. You are dragged into the performance and the impressive kinship of the trio. Guitars are fierce but agile; bass leading and tying each element together; percussion sturdy and meaty.
PHOTO CREDIT: Brennan Woollands
It may be a bar-set song or a date: our lead comes back in and reveals more pieces of the puzzle. The girl is drinking red wine (or both) and caught in each other's web. Furtive glances and sly smiles are coming out. "Your place or mine?" is the question posed and you can feel the heat rising. Maybe it is an ill-advised 'liaison' about to occur but one that our hero is not refuting. It is hard resisting such a woman and something we can all relate to. It seems like mistakes have occurred in the past and the two have gone through the doldrums. Maybe that bond and connection between them is so strong they fall back into bed. It seems we "burn gasoline" as it's said. That can be taken one of two ways. The combustibility and unstable nature creates possibilities of fire and explosion- harming others and ravaging everything around them. That suggests a rather flammable and harsh relationship that does not seem to benefit anyone – just scold and affect those outside of the lovers. On the other hand, gasoline propels the internal combustion engine and creates well-timed sparks in an engine – me being a motoring bore. Because of that, it seems like this love is productive, necessary and life-enhancing. You cannot listen to Oh So Hard without thinking of sex and a hungry desire. The title itself suggests engorged double-entendre and raw passion. Lyrics are kept quite simple and honest but get the listener wondering and guessing. Each line seemingly has double-meaning and does not reveal itself too easily. The hero is the ghost in a machine and almost like he's having an outer-body experience. I mentioned how the vocal seems quite faded down in the chorus but that adds to the effect of the song. Were the song title to be delivered too sharp and angrily then it would not be as effective. By leaving it quite drugged and tired it emphasises the pure confusion and pain our man feels. Like the conclusion of verse 1: the next verse is followed by another gritty riff that keeps the story going. The verses suggest sex and imminent togetherness but never fully revealed and exploited. The composition goes for the gut (or bone) and is the sonic representation of the passion and flirtations. By the end, you wonder how things worked out between the two and if they got into things too deep. It is clear there is past and history that has caused scars and torment. Unable to resist and listen to his mind: our man is following his gut and embarking on something quite dangerous and compelling. Gold Phoenix keep things simple and intriguing in the lyrics whilst creating a composition that has complexities and multiple shades. The trio has crafted another stunning song and one that is sure to get the live crowds jumping and together. Oh So Hard would suit a larger venue and one imagines thousands moving and singing along to the chorus.
It has been long-overdue coming to Gold Phoenix, so I am glad I finally got there. Being a local band, there is no real excuse to overlook them and there are many reasons why they will become a mainstream proposition. In a sea of Rock-inspired bands: you are always looking for that act that shines above and distinguishes themselves. The trio has been travelling the nation and bringing their music to a variety of audiences. The future is looking assured by they know the graft they have to put in. Every modern band, unless you are in the mainstream, tirelessly works and gets themselves out there. It is impossible to arrive in music, release a few songs and has a record deal fall in your lap – unless you are biblically good. As such, the promotional side of things can take over from the creative one. Touring and the demands of the road have swallowed so many bands. It is a harsh and severe industry that demands its players be resolute, thick-skinned and fit. If you arrive and assume the odd gig will get you into the public consciousness then you are in for a shock. Gold Phoenix know the demands in front of them and are responding with plenty of spirit and ammunition. Gigging across the U.K.; there is no stopping their juggernaut right now. The fans and crowds are responding and there is a great buzz surrounding the trio. Of course, it is a tiring and draining process and the guys need their downtime and relaxation. Oh So Hard is going down well and getting a lot of love right now. Hardly shocking when you hear the song: that gives them another live gem in their treasure chest. Where do the lads go from here, then? Well, there is going to be more touring throughout 2016 and they want to capitalise on their recent form and reception – getting as many gigs as they can. As the year ticks to a close, they will be looking at what 2017 has in store. I have not heard any rumours of an album but you feel the boys have an L.P. in them. Knowing the work that has come before – including their eponymous E.P. – one feels the lads might look at another E.P. next year. Perhaps a full-length record might be too costly and there are not enough new songs to put on there. Oh So Hard would be a great lead-off track to any E.P., so it has to get you thinking. That will be down to them but exciting to see what next year holds for them. In their career so far they have played some great gigs and conquered quite a lot of ground.
PHOTO CREDIT: Brennan Woollands
There is a lot of brotherly love and bond in the Gold Phoenix camp so you know they will go the distance and last many more years (often a curse but I can feel it). That desire and hunger has already seen them accrue a solid fan-base and talked-about in fond tones. Although they are inspired by the likes of Queens of the Stone Age, Placebo and The White Stripes: it is their individual, gold brand that stands in the mind. They work hard on their music and have exceptional musicians in their ranks. It would be encouraging to think they can go onto to get international dates and carve some influence across the U.S. and Australia. Maybe it is money that is the issue as I feel there's definite demand and audiences that would eat their music up. For now, their touring is a bit more modest and they are making sure they put their songs out in the ether and pick up invaluable live experience. I opened the piece by looking at Rock and whether it is on life support. There are a good many bands that try to write hooks and riffs and, finding they have nothing, copy someone else's. Those bands that are adding fuel to the debate – and those who think Rock is dead – are muddying the water and doing a disservice to the genuinely great bands that are keeping the spirit alive. Of course, Rock is not dead and has plenty of life left in it. I feel the real issue is the lack of originality and the easy temptation to copy a band in order for vicarious success and fandom. We often underestimate how difficult it is writing a hook or coming up with a compelling three-minute jam. Bands that have true talent and guts have patience and know the moment will come: they do not rush their music and have a resilience and faith in what they do. Too much fear and impatience rules modern music. Perhaps the consumer is too impatient and fickle and will abandon an act if they do not keep cranking out great songs. It is a hard debate to settle and one for another day. I just know the drama and swagger of Rock is not dead but definitely needs to proffer its finest examples. Gold Phoenix are one of those bona fide bands that have started promisingly and have many years ahead of them. Battling and slogging it out to get their music heard: their sheer work-rate and passion for what they do will find them rewards and mass appreciation. Oh So Hard is a typically impressive cut from the boys of the Deep South (of Surrey). Aside from their cowbell-appreciating, cider-swigging, pig-tipping (maybe me going to the hillbilly cliché well) antics: plenty of music will arrive from the trio. What form that takes is up to them but many eyes are on them right now. Given the fact bands like Royal Blood are working on new material: there is a hunger and zeal to hear like-minded, similarly hard acts fill the (temporary) void. If you have not discovered the beardy brilliance of Gold Phoenix then you owe yourself to get involved and latch on. Building a solid local reputation: they are not going to be confined for long; their legacy and abilities will resonate across the country and abroad. Oh So Hard is a song-title with many meaning, but at its heart, the raw energy and powerful aftershocks stand out – just how intense and commanding the trio is. If you think Rock is under palliative care…
I know a three-piece that can bring the genre empathically back to health.
[soundcloud url="https://api.soundcloud.com/tracks/274532205" params="auto_play=false&hide_related=false&show_comments=true&show_user=true&show_reposts=false&visual=true" width="100%" height="450" iframe="true" /]
_______________________________
Follow Gold Phoenix
Official:
http://www.goldphoenixband.com/
Facebook:
https://www.facebook.com/goldphoenixband/
Twitter:
https://twitter.com/goldphoenixband
Instagram:
https://www.instagram.com/goldphoenixband/
SoundCloud: