FEATURE: 
My Favourite…. Live Album

(The 700th)
______________________
WITH the 700th post now under my fingers…
I wanted to launch my second regular feature – alongside the Playlist series. In future rounds, I'll be investigating my favourite album, song; band, years in music and many other topics – attempting to turn it into a 10-part series. To kick things off, I wanted to look at a subject that is not often covered among the polls and features of the music press: what constitutes the best live album of all time. In my opinion, there can only be one…
___________________
What Is the Album?
Jeff Buckley is my musical icon for a number of different reasons.
Not only is he, in my humble opinion, one of the most arresting and transcendent voices to have ruled the planet – still influencing singers and making its mark some 19 years after his death.
At a time (1993) when Grunge and Rock were topping the charts and inspiring legions of new bands: embracing something like Jeff Buckley's Live at Sin-é might seem like an insane notion. You cannot deny the pleasures and beauty that lie within.
Background 
"He moved to New York City in February 1990,[36] but found few opportunities to work as a musician. He was introduced to Qawwali, the Sufi devotional music of India and Pakistan, and to Nusrat Fateh Ali Khan, one of its best-known singers.[37] Buckley was an impassioned fan of Khan,[38] and during what he called his "cafe days," he often covered Khan's songs. In January 1996, he interviewed Khan for Interview and wrote liner notes for Khan's Supreme Collection, Vol. 1 compilation.[39] Buckley also became interested in blues musician Robert Johnson and hardcore punk band Bad Brains during this time.[20] Buckley moved back to Los Angeles in September when his father's former manager,Herb Cohen, offered to help him record his first demo of original songs. Buckley completed Babylon Dungeon Sessions, a four-song cassette that included the songs "Eternal Life", "Unforgiven" (later titled "Last Goodbye"), "Strawberry Street" (a different version of which appears on the Grace Legacy Edition), and punk screamer "Radio".[40] Cohen and Buckley hoped to attract attention from the music industry with the demo tape.[41]
Buckley flew back to New York early the following year to make his public singing debut at a tribute concert for his father called "Greetings from Tim Buckley".[42] The event, produced by show business veteran Hal Willner, was held at St. Ann's Church in Brooklyn on April 26, 1991.[42] Buckley rejected the idea of the concert as a springboard to his career, instead citing personal reasons regarding his decision to sing at the tribute.[43] With accompaniment by experimental rock guitarist Gary Lucas, Buckley performed "I Never Asked To Be Your Mountain", a song Tim Buckley wrote about an infant Jeff Buckley and his mother.[44] Buckley returned to the stage to play "Sefronia – The King's Chain", "Phantasmagoria in Two", and concluded the concert with "Once I Was" performed acoustically with an impromptu a cappella ending, due to a snapped guitar string.[44] Willner, the show's organizer, later recalled that Buckley's set closer made a strong impression.[45] Buckley's performance at the concert was counter-intuitive to his desire to distance himself musically from his father. Buckley later explained his reasoning to Rolling Stone: "It wasn't my work, it wasn't my life. But it bothered me that I hadn't been to his funeral, that I'd never been able to tell him anything. I used that show to pay my last respects."[24] The concert proved to be his first step into the music industry that had eluded him for years.[46]
On subsequent trips to New York in mid-1991, Buckley began co-writing with Gary Lucas resulting in the songs "Grace" and "Mojo Pin",[47] and by late 1991 he began performing with Lucas' band Gods and Monsters around New York City.[48] After being offered a development deal as a member of Gods and Monsters at Imago Records, Buckley moved back to New York to the Lower East Side at the end of 1991.[49] The day after Gods and Monsters officially debuted in March 1992, Buckley decided to leave the band".
https://en.wikipedia.org/wiki/Jeff_Buckley
What Makes it Special?
Sin-é was, and sadly no longer is, an Irish coffeehouse in New York's East Village. Just look at the cover for Live at Sin-é and you can see how 'cosy' and small the place is. It is, in this rare and ultra-commercial time, a throwback to simpler, honest times – an independent coffee house that is not subjected to brand marketing and identikit shop banners – a million chains of Starbucks on your doorstep. It is one of my lasting regrets I never got to step into Sin-é and witnessing the magic go down. Back in 1993, just before Buckley signed his record deal, it was host to some modestly successful music nights. You had some great talents walk through the door but none like Buckley: as though medium and location were married in harmony the first time he opened his mouth.
You can practically hear spoons drop and coffee being made; little throat clears and people applauding – so intimate and homely. For that reason, it feels like you are right in the mix with Buckley: sitting with him as he unveils performances of immense beauty.
Aside from the sparse and cloistered space – the confined and raw setting – there is oceans of atmosphere, sound and reflection. Just listen to these little conversational snippets and Buckley's charming and quirky personality comes through.
The album is not a set of ramped-up album songs with stilted conversation in-between. You do not get a band awkwardly shuffling between numbers and re-tuning. There is a real person speaking directly to the audience: they, in turn, are in Buckley's palms and at his mercy. The music is not your typical live affair. Most live albums (the average ones anyway) have the classics and they are performed to a typically assured level – enough to please the punters and get the crowds singing. Throughout Live at Sin-é there are songs being performed like never before. Buckley covers – as you will see in some selections later – such a wide range of songs from so many different eras. Many of the patrons that saw Buckley perform would not have heard many of these songs played. Even tracks that would appear on Grace – the title track and Last Goodbye – were in their early stages and being experimented with. It was a young man starting to find his feet and taking his first steps. Ragged, loose and rough around the edges: just a human, guitar and amp – surrounded a choice few New York gig-goers. Even though it was released in 1993 it translates incredibly well and sounds as divine and seductive as the day it was released.
The Reviews
(E.P.)
Allmusic:
"These four songs certainly accomplished that end. Buckley hurdles seemingly unreachable octaves, suspends notes for what seems like minutes, and belts out his falsetto without a scintilla of restraint. That's a positive inasmuch as it allowed him to show off his considerable talent; it's a negative when it sounded like he was showing off. But his ten-minute cover of Van Morrison's "The Way Young Lovers Do" is a tour de force of strumming and scatting, and his acoustic "Eternal Life" has an electricity that is paradoxically lacking on the plugged-in album version".
http://www.allmusic.com/album/live-at-sin-%C3%A9-mw0000594878
(Legacy Edition)
Pop Matters:
"Overall, though, Sin-é shows Buckley with a reasonably firm handle on his flourishes. Dylan's "If You See Her, Say Hello" features some Indian guitar strains for some extra flavor, while he convincingly tears into the traditional "Dink's Song", making it sound like even more of a Zep tune than "Night Flight". Buckley completely invests himself in Van Morrison's "The Way Young Lovers Do", injecting the song with hepped-up jazzy guitar and scat vocals that just carry you along".
http://www.popmatters.com/review/buckleyjeff-liveatsine/
A.V. Club:
"But all the nitpicking in the world can't drown out the bittersweet excitement Legacy Edition generates, from the abundance of never-bootlegged rarities to the emphasis on freewheeling banter to the fragments of subtly spectacular guitar work that begin "Strange Fruit" and Buckley's signature concert staple, Leonard Cohen's "Hallelujah." In Buckley's sure hands, "Hallelujah" couldn't be more moving, but it's nearly matched here by the revelatory likes of "If You Knew" and "Twelfth Of Never." Best of all may be his cover of Van Morrison's "Sweet Thing," which for more than 10 graceful minutes chronicles the sound of Buckley discovering the depth of his power, as he learns just how loud his quietest moments can be. It's an awe-inspiring display, and a pleasure to hear it made public at last".
http://www.avclub.com/review/jeff-buckley-emlive-at-sin-e-legacy-editionem-11825
Legacy
In today's scene, coffeehouse gigs are probably ten a penny. With so many small venues closing and performances chances fewer: playing at a local coffee joint is an easy and available space for a musician. Less common among bands and larger acts: the solo artists has that chance to play to small audiences and experiment.
Buckley's Live at Sin-é was a bit of a rarity when it came out. Most of his peers were playing electric and loud: filling stadiums and getting more attention. Most of the recordings at the café were not meant for consumption. Buckley was just doing his thing and doing what any musician does: getting live experience and giving his music exposure.
It is debatable how many modern singers would perform in smaller, more intimate venues were it not for Buckley's example. In another way, it seems like we need to return to Live at Sin-é-esque live experiences. Think how many of your favourite artists would sound if they were 'confined' to somewhere like a coffeehouse. Stripping the music back and deconstructing it provides new life to songs and emotions the author might not necessarily have envisaged. There is still that zeal towards arenas and festivals: we cannot overlook how wonderful a Sin-é performance would be – getting back-to-basics and performing to a small number of people. Buckley was ahead of his time but just carrying on a traditional that had been in place since the time of his heroes like Bob Dylan.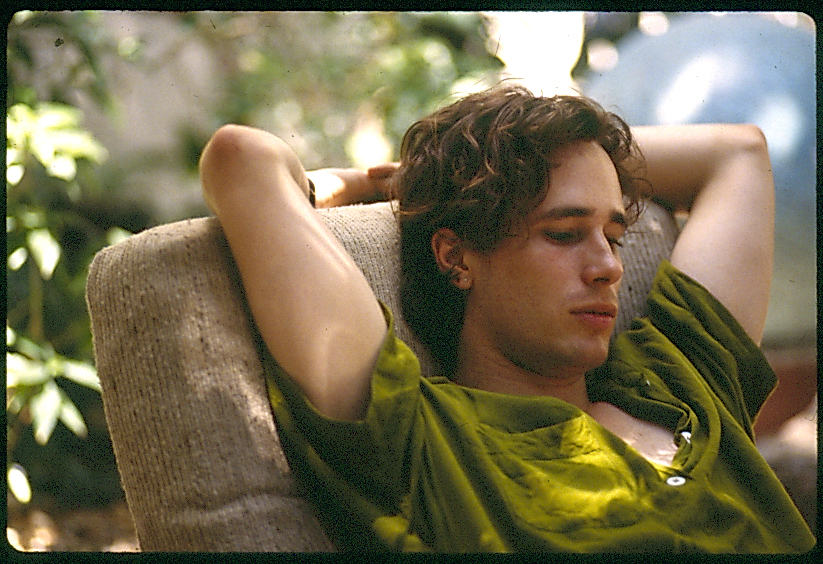 Further Investigation
Going hand-in-hand with the legacy of Live at Sin-é is what an effect it had on Jeff Buckley himself. He was a musician (in 1993) that would be signed by Columbia Records shortly after. Limousines and executive motors would be parking around the block: all eager to see the young man perform and blow the crowds away. Fighting and bidding for his signature, Buckley would take this faith and energy into his 1994 masterpiece, Grace. The only studio album of his career is arguably one of the most influential in all of music. It has compelled generations and continues to gain huge praise and love. Buckley himself became more confident as a performer and as two distinct live cuts (below) show; he was one of the most audacious, consistent and beguiling artists to see live. Few since his death have managed to achieve that same degree of affection and reputation – many have tried to top him but none have equalled the majestic Jeff Buckley.
[youtube https://www.youtube.com/watch?v=sA5UAbl1OWY&w=560&h=315]
[youtube https://www.youtube.com/watch?v=eG62bMRml0E&w=560&h=315]
Choice Cuts
Take a listen to the below and get a sense of what the album is about. In actual fact, it is a double-album and contains many treats and wonders.
Buckley was keen to never repeat himself as a performed - no two renditions of the same song - and you can see that here.
He is always thinking and working as the song prevails; taking it in a new direction and keeping the audience alert. The sign of a true master is one who can make old songs sound new and reborn: something you will see...
Calling You
[youtube https://www.youtube.com/watch?v=lOFmZ3WlTBE&w=560&h=315]
Eternal Life
[youtube https://www.youtube.com/watch?v=LzgbIaBP9cU&w=560&h=315]
Strange Fruit
[youtube https://www.youtube.com/watch?v=Rhn8koaW-vQ&w=560&h=315]
Je N' en Connais La Fin
[youtube https://www.youtube.com/watch?v=__uu9kNBDS0&w=560&h=315]
Lover, You Should've Come Over
[youtube https://www.youtube.com/watch?v=8FO_9Iig4EQ&w=560&h=315]
Hallelujah
[youtube https://www.youtube.com/watch?v=BsyRq0WFOHY&w=560&h=315]
Final Thought
It is hard to say what defines a truly exceptional live album. Whether you favour the large stadiums or somewhere more humble it is all about the performers. So much emphasis is put onto bands and the festival circuits; a lot of solo artists get overlooked and often have to struggle for space and attention. I feel Jeff Buckley, even before Grace arrived, was laying down a legacy and showing just what can be achieved in a small setting. It is the simplicity and honesty of Live at Sin-é that wins your heart.
It is an album that can be played in any time and during every weather: its majesty and sheer beauty will comfort and stun the listener every time.
Live at Sin-é finds Grace's future inclusions starting to take shape and form but also unites some older songs given fresh life by a young man who lionised so many artists. From Led Zeppelin and Leonard Cohen to Edith Piaf and Nina Simone: a transcendent set of performances that announced to the world one of the greatest singers and performers ever. He may be gone, but as Live at Sin-é prove, he will…
NEVER forgotten.
Purchase the album here: https://www.amazon.co.uk/Live-at-Sin-E-2CD-Legacy/dp/B001CNFZCM/ref=sr_1_2?s=music&ie=UTF8&qid=1474207140&sr=1-2&keywords=live+at+sin-e