TRACK REVIEW:
We Are the Catalyst
Open Door
9.2/10
Open Door is available at:
https://www.youtube.com/watch?v=hYGef7am2Ig
RELEASED: 14th April, 2016
GENRES: Alternative-Metal
ORIGIN:
Varberg/Gothenburg, Sweden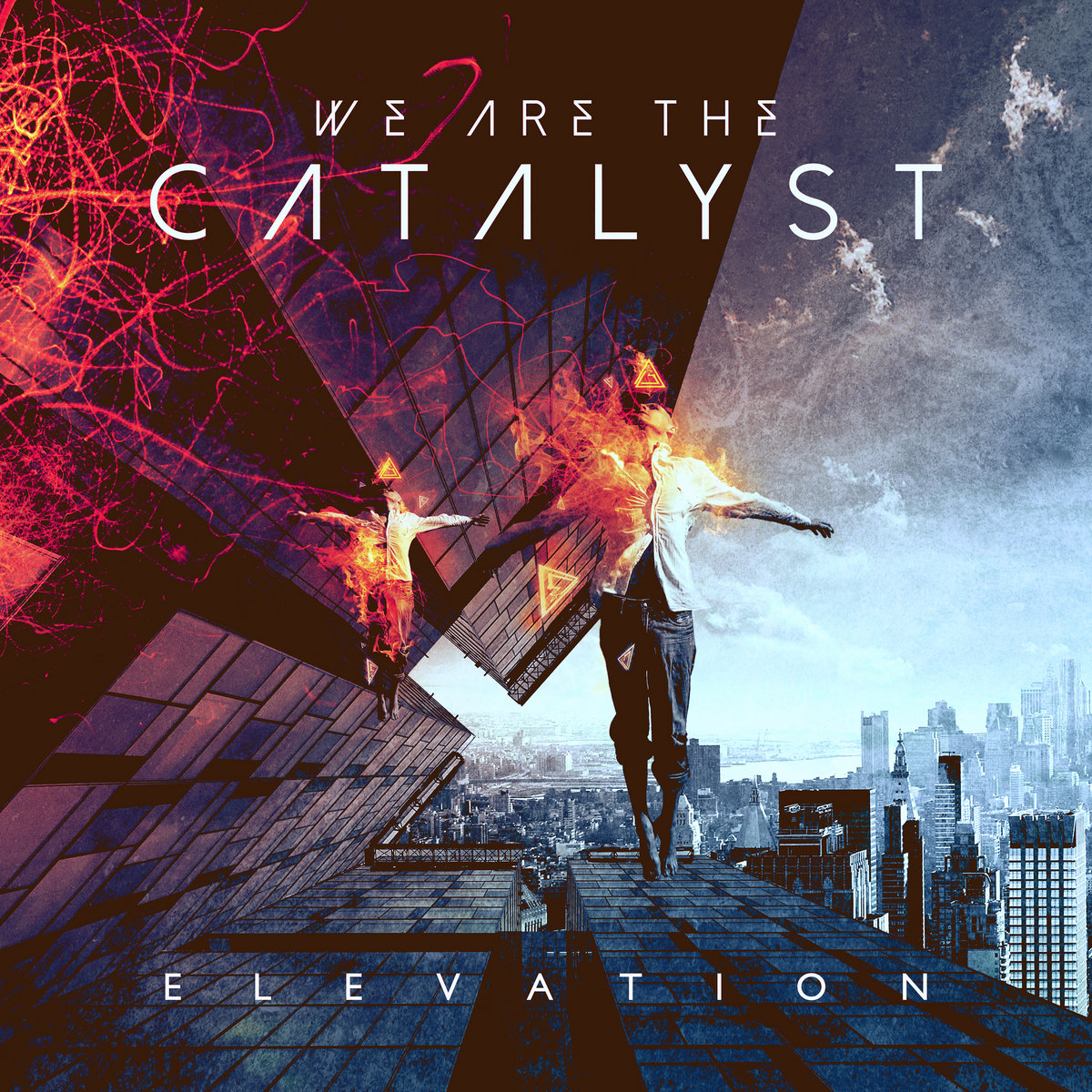 The album, Elevation, is available here:
https://watcofficial.bandcamp.com/album/elevation
____________________________
BREAKING out of London for a day: it is nice going back to...
Sweden and a band that are picking up a lot of acclaim and celebration. Thinking about them compels me to look at Swedish music; the themes and ideals behind Alternative-Metal and themes and compositions in music. Before introducing the band themselves; it is worth looking at Sweden as a centre for musical excellence. It was only yesterday – the band might cringe at this – I was extolling the virtues of ABBA's knack for harmonies and insatiable chorus lines. The legendary band were derided by some – too cheesy and slight to appeal or gain credibility – but you cannot deny some of their songs are quite masterful. That thought has prompted me to dig deeper into Sweden and the musicians that have emerged from there. When we think of nations like Sweden (and Scandinavian countries) we all have ideas of what the local bands will sound like. Iceland and Norway are seen as quite gentle and atmospheric with regards their landscape – if you consider the Black-Metal bands from the latter and the Experimental-Pop/Björk-type musicians of Iceland, then you have a clear juxtaposition. It has been a while since I last reviewed a Swedish band – cannot remember the last I came across – so it is wonderful being back in the country. Last year, local sources in Sweden were tipping the bands they thought were going to be a big proposition this year. Among the acts tipped were Stockholm's very own Pinemen. Pop and Surf-Rock define their sound and have captured the imagination of the nation's press. Throw in Tussilago – widescreen, atmospheric Indie-Pop sounds define who they are – and you have a band that are capable of gaining recognition in the U.K. and U.S. Maja Francis is a glitter-filled, colourful star who pens spacey, sugar-sweet Pop songs with enough directness and relatability to hook people in – songs that address serious subjects and personal insights. Toxe is as promising as her female counterpart but her music puts hard beats and juddering snatches together with ice-cool Electronic sway.
Maybe a contradiction to Maja Francis: someone who is making headway and another star of the future, one feels. Female duo Pale Honey were tipped – this list came from Ja Ja Ja – and, although not reinventing the wheel with their music, have a strong set of songs and a chemistry that has seen them getting into the thoughts of critics and tastemakers in Sweden. I wanted to bring this point in because it dispels clichés and stereotypes we have of Sweden. You have seen, with that list of five acts, that there is as much variation and variegation as there is in Britain. We all get hooked in our own expectations and what a nation's musicians will sound like. Sweden is a country that has so many fantastic artists around and we should not assume they are limited to certain centres and themes. Maybe we associate Sweden with the heavier side of the spectrum – Black-Metal, Alternative and various forms of Metal and Hardcore – but the same could be said of Norway. That is another country that has rafts of wonderful Pop acts and Indie players; wonderful solo artists and a full, busy scene. Sweden is a nation that has given fantastic acts like The Cardigans – one of the most innovative acts to emerge in the '90s – and current artists Lykke Li and Say Lou Lou (half-Australian, half-Swedish) are just two examples. If you dig deeper, there is so much potential and richness waiting to be discovered. It is worth taking time away from nations like the U.S. and U.K. – when it comes to music – and giving countries like Sweden more consideration.
I was keen to review We Are the Catalyst – and the standout song from their latest album – as they, in a way, fall into stereotypes we have of 'Swedish sounds' but are much deeper and impressive than many would give them credit. Before I come to that point, let me introduce the band to you:
Cat Fey (vocals)
Kenny Boufadene (guitar / vocals)
Håkan Strind (drums)
Joni Kaartinen (bass)
Swedish Alternative Metal band 'We Are The Catalyst' and their new album 'Elevation' are most definitely set to stun the industry on the 2nd of September. The most striking elements of the album are, first and foremost, Cat Fey's immense voice that is supported by one of the thickest and heaviest guitar sounds you will ever hear. The combination of these and the overall mixing across the album creates a hugely empowering aura with a gravitas paralleled by none. It is clearly a fitting follow up to the bands first album Monuments; released in 2014.
'Elevation' covers themes ranging from depression, personal strife, world conflict and helping to see the glimmer of light in the dark, perfectly in support of their name: "'We Are The Catalyst' is meant as encouragement to overcome and challenge the darker parts of ourselves and others, to invite the listeners to keep fighting in a rough and dark world, and try to encourage them to be their best self, even when it might seem hopeless."
The first single "Open Door" is a worthy and powerful successor to the bands previous chart success which they scored with a cover of Swedish House Mafia's "Don't You Worry Child" which the band released in aid of The Fostering Network.
Everything about We Are The Catalyst screams uniqueness. How many bands are so driven that their second ever show ends up being performed on the other side of the planet in Beijing China. Everything from their album production to video direction is done by the bands members themselves. The pinnacle of their combined love for music has to be that lead singer Cat and guitarist Kenny have a daughter together called Decibelle, who they raise in their hometown of Varberg, Sweden. 
The bands amazing rise and critical acclaim in the last 12 months alone have seen the stunning 4 piece We Are The Catalyst complete a 10 day tour of china playing various shows and festivals, playing Bloodstock alongside bands such as Trivium, Sabaton and Within Temptation. The band also had their first UK headline tour following a support slot for Delain. Adding to their early and extremely impressive accolades they performed at Planet Rockstock as well as The Darkness and FM and Rival Sons where WATC headlined the second stage on the Saturday evening.
I mention Sweden is synonymous for bands that play tougher, accelerated music. I am not a huge fan of Thrash-Metal and find (it is a genre) that is reserved for dedicated fans and the patient. We Are the Catalyst are a group that has plenty of accessibility, melody and maturity to their music. Alternative-Metal and Rock seem to go hand-in-hand and explore many of the same themes. I have been impressed by the rise and proffering of We Are the Catalyst as they continue to climb and impress. You might see them on paper and think they are quite a scary and snarling band – one that might be all noise and no sense of depth and likeability. That would be short-sighted and something many might be doing. The fact their second-ever show was performed in China – and they have supported some true heavyweights – lets yu know they are no average band. The guys have released Elevation and the album is gaining a lot of headway and applause from music critics. It is no surprise when you consider the components and chemistry that runs right through it. Astonishing, passionate vocals and tight songs that get straight into the head; consistently memorable compositions and songs that motivate you to get up and move – small wonder they are gaining respect from countries around the world. Before I move on, it is worth noting, with regards bands like We Are the Catalyst, those wall-of-sound guitars and scintillating vocals are two elements that, in lesser hands, could be put together clumsily and with little harmony. This is just one side of the Swedish band and there is so much to recommend about them. The instrumentation alone gets so much attention from reviewers who note the band's exceptional, tight performances and inventive riffs give their songs plenty of meat, emotion and drama. Throw in consistently gripping vocals and lyrics that prompt the listener to think and reflect – a solid band that addresses every facet and side with aplomb and attack. There are not many bands that cover the spread like that and really dig deep. I have been looking at a range of bands the last few weeks and there are few that have the solidity and nuance of the Swedish Alternative-Metal band. We do not often – when looking at Swedish music – go beyond Stockholm and the musicians coming from there. Let's hope the likes of We Are the Catalyst we redress that imbalance and find curious fans areas like Varberg. The music world is huge and frightening but, if we become more adventurous and brave, the rewards are out there.
Elevation is the band's latest album and one that has been widely celebrated. It has been two years since their L.P., Monuments, which led many to fear the band was on hiatus or perhaps struggling to muster new material. Monuments was a fourteen-track album that showed We Are the Catalyst were one of the most exciting propositions in new music and they proved this in every track. The ensuring touring demands and need for breath means Elevation came to the public attention a couple of years down the line. It is understandable the Swedish band took a bit of time with their new album and was not just going to rush-release a new record. Having toured extensively and honed their skills: one sees development and change in Elevation. The album is a bit tighter (fewer tracks) and the guys seem tighter and more focused on this effort. Whereas I feel Monuments has its moments and is consistently strong: there are some loose edges and some of the songs pass by without sticking in the memory. Everything si sharper and more defined on Elevation. The songs are more consistent and nuanced whereas the compositions more dramatic, tough and varied. Rather than repeat themselves – which many bands would do after a successful album – they have regrouped and bring new elements into their current work. Throughout Elevation, you get a sense of a band that is never willing to stand still and just replicate what they have already done. The album shows the band in top form and at their most inspired and together. This rings true of the lyrics that are more repeatable, quotable and deep – more intelligent and accomplished – than ever. Open Door is a song that perfectly emphasises this new talent and growth: from the opening bars to the dying seconds; one feels the sense of a band that are really creating their finest material and discovering new areas to explore.
The opening seconds of Open Door see the band come together and whip of a furious, if tempered, sense of impending force and explosion. There is plenty of flurry and rain-storm in the guitars which mix lighter strings with toothy undertones. The percussion rolls and rumbles: not only forming an animalistic sense of attack but creating melody and story into the bargain – the bass keeps everything sturdy but has enough bounce and cut to add its own elements into the fore. All of this together gets the listener primed early and eager to hear what is to come. We Are the Catalyst are experts at creating these instant, tight introductions that get you ready and hungry. Never too forceful or intense in these early moments: it is the perfect canvas the band works from; where the vocals come in. Fey's voice comes in and adds some emotion and heartache to proceedings. I use the word 'emotion' quite a bit with regards the band but never in a florid or wussy sense. They are always authoritative and steely but are wise enough to open themselves up and reveal some truth. The heroine has heard it say that a way will be found – forgive my clumsy syntax. It seems like there a passion and bond being assessed and distance between lovers. Maybe the story – as the song title suggests – finds the two distant but hopeful; there is always a chance things can be rekindled and get back to what they were. Fey elongates her vocals and creates something quite dramatic and semi-operatic in the opening stages. She does not go for an easy option and go in hard and spiteful – ensuring there is plenty of humanity, heart and soulfulness in her voice. Before you get settled and start to predict the story arc: the band sharpens and the strings and percussion come into focus. Edgier, lunging and pressing: it beckons a new phase and the chorus comes to reign. The fast-paced, exhilarating chorus finds the boys turn the volume up and perfectly conjure a storm – something they are masterful at. Fey lets it be known she is falling down; there is something afoot and a desperation that cannot be overlooked.
One is never completely sure whether it is just a single romance that is suffering or a message to the world. The song has such a widescreen sound and cinematic range that you could be looking at a universal sentiment – maybe addressing the state of the world and a political message put in there. Whilst keeping the lyrics oblique but focused: one feels that is a deliberate move by the band; ensuring the listener arrives at their own conclusion. What Open Door does is stretches the vocals and gives them room to breathe. In terms of lyrics, there is that balance of romantic possibilities and wider concerns. I get the impression the sweethearts are divided by more than geography. It seems, emotionally, they are in different places and perhaps too distinct and different to ever come back. The door is open but one feels it might be slammed shut. The emotion and hurt in Fey's voice suggest someone that has overcome challenges and is fatigued by the pressures and struggles of love. In that same sense, you can also nod to political and social events unfolding – the lyrics can apply to the Government and their inadequacy; violence and hatred that have dominated the front pages. What Open Door does is perfectly balance a sharp and racing composition against a constantly romantic and impassioned vocal delivery. That is the We Are the Catalyst quiet-loud dynamic coming back in and at its finest. Comparisons have been made to Paramore and you can hear a little of that here – not as commercial and samey as them. I always find Paramore lack the variety and creative nimbleness their music deserves – always too primed for the charts and a little tame at times. We Are the Catalyst are an insatiable band that put memorability and singalong chorus together with beefy riffs and some incredible moments. Some of the riffs snake and howl from the speaker: arpeggios and fret-heavy work that gives the song oomph and blood-rush. The bass is always fluid, hard-working and leading – keeping the song together and pushing all the other elements on. Percussion-wise, you have enough smack, tremendous fills and energy to satisfy anyone.
Perhaps the chorus is the shining star and one that will get fans singing along and chorusing when performed live. One of the only detractions is the lyrics are a little sparse and repeated – it would have been nice hearing more verse and revelation. The song leaves mystery and questions (which can be good) but perhaps not quite as many original lines and plot progression as one would hope. In spite of this, it is the band's cores and trademarks that see the song through and get it inside the head. A typically bold and impressive composition that is duplicated across Elevation – the Swedish Alternative-Metal band growing and pushing their sound to the limit. Things are never too ambushing and pouncing; always imbued with a sense of composure and sweetness. Fey's voice is typically beautiful and strong and ensures the lyrics get into the heart and get you thinking. I have come to my own conclusions but one feels there is no overall truth or definition to the lyrics – perhaps a general song for lovers or a message to the world. Open Door finishes with softness and composure and brings things down. In every stage of the song, there is a lot to recommend and you are always hooked and involved. The band is masterful when it comes to crafting songs that draw you in and take you into their world. The highlight and most memorable song from Elevation: it is the fourth track of the album and ensures the first-half of the record impresses and resonates. Few will be able to listen to Open Door and not be affected by it. In sheer terms of power and prowess, it is one of the standout tracks of the year and perfectly defines the album as a whole. Let's hope the band come to the U.K. and bring the song to the masses as it is sure to gain a lot of love and new support. One of the most promising and unique bands in Metal/Rock have shown just what a consistent and reliable force they are. Open Door not only brings all Elevation's themes and sounds into one but is shows how they have evolved and developed since their earliest work – a group that is ready and able to take the mainstream by storm and put their marker down.
When it comes to reviewing Elevation – the album Open Door is taken from – reviewers have had the hardest job doing so. With regards to defining the band - labeling them (genre-wise) - there is a blend of Hardcore and Alternative-Metal; a bit of Rock and Metalcore. Delusion is the perfect opener and one that blows away cobwebs of expectation and doubt. Following a Morse Code red herring – perhaps a coded message to the enemy – the percussive thunder that sweeps in gets the feet moving and the body involuntarily involved. The band is all together and ensure there are layered guitars, cutting bass and precise, emotive vocals to cut through the mist. Hearing all the tough and granite instrumentation together and the effect is quite profound. It is the perfect representation of the album and a perfect opening salvo. The group nail the loud-quiet dynamic in song and ensure one moment is calm and restrained – before bursting out the gates and bucking like a rabid bull the next. Songs address dark themes and mortality – the state of the world and corruption – but never come off too suffocating and repressive. You are always involved with the music and embrace everything it has to offer. Since the band's earliest work and previous cuts: they have come on a long way and become sharper, more ambitious and more exceptional as a band. Whilst never average of naïve on any of their early work: what we have now is the sound of a group that are ready for the arena stages and have that professional, inspirational sound. Many have claimed We Are the Catalyst are pioneering new Metal sounds and will inspire legions of bands in their wake. That is true as one does not hear too many Metal bands being highlighted in the media. Maybe that is because (many bands) possess little melodic hook and range – that all changes with We Are the Catalyst. The guys have plenty of terrific hooks and these run rampant throughout Elevation. For purists and those that like their Metal hard and sweaty – they are catered for and get ounces of fighting bass, volcanic guitars and ballistic percussive smash.
I will end things but assessing the album (briefly) and where the band might be headed – just recapping my earlier point. Elevation might have a simple and obvious title – used by a lot of bands including U2 – but that is where the simplicity ends. When you dig into the L.P., one finds Fey's voice scratchy and intense right from the blocks in A Million Claws; Without Fear blends the sounds of Paramore with something a lot more intense and dirty. That is what you get with the album (and band). The twelve album tracks whizz by in a blur of force, intensity and passion but you are hooked enough to listen back and repeat the experience. When you do return, the nuance of the songs comes through and you discover new things. If it is not the powerhouse vocals that strike then the inventive compositions and tight riffs that will get you. If not that then the melodic sensibilities and vivid lyrics are sure to resonate. There is so much for everyone: the album is not for those who only listen to Metal; there are Pop, Rock and Indie strands one hears throughout Elevation. You cannot really distil the album into a single genre and sound. I would like to see We Are the Catalyst coming to the U.K. in 2017. I know there are venues and clubs throughout Britain that would house and welcome them. Whether Brighton's Green Door Store or some of the more intimate spots in London – enough ammunition and appeal lies here. There are fans and new followers that would love to see them live and that is something to think about. They are a group that has a hefty reputation in Sweden and plenty of international fans. I know they have representation and P.R. bodies working and promoting them – one imagines a flurry of tour dates will unfold. I know there will be follow-up albums and E.P.s and it will be interesting seeing whether the band can translate into the mainstream.
I opened my mentioning how we are keen to label nations and assume we have their national music all nailed and figured out. If we come to Sweden then there is that assumption it is all going to be Death-Metal and harrowing noise. That is a discrimination that should be overturned as it is costing the nation a lot of appreciation and focus. The music press is still too keen to concentrate on U.S. and U.K. artists which mean a lot of other nations are not getting a look in. I have seen Swedish acts flee to London because they are not getting enough respect and column inches at home. I feel we should all be more open and investigative with regards other nations. If you are a fan of Metal (or not) then you cannot go wrong with We Are the Catalyst. The band is an exciting proposition and put Rock and Pop melody into their sounds without dampening the purity and intensity of their compositions. A lot of kudos has been paid to Fey's vocals and that is quite right. She is one of the most exciting and electric performers around and has that wide-ranging voice that means the band can write whatever they damn well please – knowing she will own it and make it sound transcendent. Boufadene, Strind and Kaartinen are not half-bad either. An incredible backing and tremendous musical force – do not overlook their contributions. The entire band gel superbly and have been playing together long enough to really hit their stride – which they do throughout Elevation. It has been great coming back to Sweden and discovering a band that has a big and busy future ahead of them. 'Catalyst' is a word that means change; the band themselves want to change expectations and shake the scene up. As Open Door and Elevation has shown they can do this…
WITH ease and intensity.
[youtube https://www.youtube.com/watch?v=hYGef7am2Ig&w=560&h=315]
________________________________
Follow We Are the Catalyst
Official:
http://www.wearethecatalystofficial.com/
Facebook:
https://www.facebook.com/WATCofficial
Twitter:
https://twitter.com/officialWATC
SoundCloud:
https://soundcloud.com/watcofficial
YouTube:
https://www.youtube.com/user/WATCofficial