FEATURE:
Artists to Watch This Year:
 PHOTO CREDIT: Chuff Media
 The Amazons
___________________
I have stated, in various reviews, how bands will play a more prominent...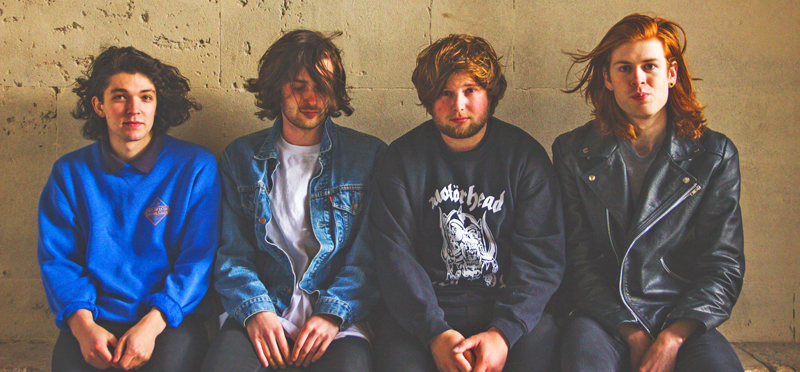 role in music this year. 2016 was very much about the solo artist, which will be the case to an extent his year, but there is a crop of new bands that look set to flex their muscles and prove themselves festival headliners-in-waiting. The Amazons hail from Reading: an area that has spawned a lot of great bands in the past. From Pete and the Pirates to Does It Offend You, Yeah? through to Slowdive – there have been more than couple of great bands from Reading. It is not surprising to find another one put the Berkshire town on the map. I am not sure where The Amazons will finish, if they are included on BBC's shortlist for their 'Sound of…' this year, but they are turning heads and being championed all over the place. Matt, Joe; Elliot and Joey complete the band and have been making steady steps over the past year-and-a-bit. In 2015, the guys released Junk Food Forever – a song mixed by Catherine Marks (Foals; Wolf Alice) - and embarked on a string of tour dates. Around the time of the song's release, the band spoke with The Student Advertiser. Matt chatted to the paper and explained how they came together:
"It was kind of a slow development over a couple of years actually. We were all in different bands in the Reading scene, and we just ended up coming together really. We were a band for a couple of years and then we lost our drummer, yknow we went through this horrible experience of trying out like eight different drummers before we found Joe, who was playing bass in another band".
The guys had been playing in various bands since their school days but it was only when they met each other that inimitable unbreakable bond was formed. You hear The Amazons play and it seems like they have been together for decades – such is the connection and naturalness of their gigs.
They have already played Reading and Leeds but, as they say, the band market is a tough and intense one where gigs are hard to come by. The fact they are included on BBC's list of acts to watch this year will not shock those who have been following them since the start. In 2015, the band released the Do You Wanna E.P. and benefited from that instant relationship formed with Catherine Marks:
"Catherine Marks is who we recorded Don't You Wanna? with, we'll be recording the album with her over the summer. I think it's important we were in the same studio, everyone knows each other and that's just how we wanted it to be – we wanted to have the relationships already there.
I think when you work with people regularly you get all the small-chat out of the way and a relationship develops".
Having toured across Europe with the likes of The Kooks; The Amazons already have that international recognition and are used to the demands and intensity of the touring circuit. They have worked their way from modest beginnings and have already, before that big, breakthrough debut album, performed abroad and performed their music around the world. That is not to be sniffed at: most bands in their position struggle to get gigs – let alone any across Europe! That is testament to the talented and incredible songs The Amazons have in their lockers. They may be Reading-lads but they are a proper, mainstream-ready band eager to get started and put their music out to the (wider) world. In that same interview with The Student Advertiser, the boys pledged a loyalty to the Reading Festival – you can see them playing the headline stage in years to come – and how Coachella would be another dream gig. To be fair, since 2015, the band have barely stopped touring and gaining that all-important experience. You can hear how much stronger they are not (compared with their earliest work). You just have to hear their music to know they are not in it for the short-term. Every note and vocal is delivered with conviction, passion and command: the guys are tight and focused yet their music is not generic and soundalike – a problem that blights many of their peers. I have been exhausted by the wave of so-called 'young hopefuls' who have been tipped by the press – only to sound like every other band of the last decade. With The Amazons, you hear that originality and know they mean business.
[youtube https://www.youtube.com/watch?v=tGRIqw2Tpr4&w=560&h=315]
A couple of months back, to see how far they have come and what they're saying now, the chaps sat down with Brig: the newspaper/website for the University of Stirling. The boys said, when trying to describe their sound, what they are like. "Sweaty-energetic-rock 'n' roll" is a pretty distilled and accurate description. Over the past year, there has been little to suggest this type of swagger, crowd-uniting type of music would make a big appearance in 2017. The Amazons will not only inspire other similarly-minded bands to keep pushing but will provide a much-needed kick to the backside – ensure this year has that incredible, arena-sized Rock sound running through it. You hear (as they claim as influences) Led Zeppelin, Arcade Fire and Nirvana in their music but these acts are not too obvious: they form the basis of their unique and stunning music. The guys yearn for a more 'secure' life – a bit of money and safety in the industry – but are doggedly pragmatic when it comes to the realities of music:
"Do everything yourself and rely on nobody! You find out very quickly that if you don't get your head down and play as many shows as you can, continually write and record your material, review it and try and build your own brand of whatever you're doing – nobody is going to do that for you. It's a great foundation that we stick to now".
In My Mind and Something in the Water have already impressed band you feel like these songs will form the basis of the upcoming debut L.P. The band know that guitar music, unless you are original and properly-awesome, is not the coolest commodity in the modern climate. There is that yearning for homemade beats and laptop-generated sounds: the guys are not in any rush to get the laptops out and succumb to that temptation. With Wolf Alice, who Catherine Marks worked with, a little quite the last few months, there is that void to be filled; the need for an anthemic, 'proper' band. That might seem like a back-handed compliment but many, including myself, have been desperate for sort of music The Amazons have been laying down (for a long time). It is just as well the boys have been tipped by BBC (and enjoyed support from BBC Introducing) as there seems to be, as they have said in various interviews, little consideration given to Reading. Most people do not realise there is a local scene there and some great bands emerging from there – many do not cast their eyes away from London. Let's hope the attention The Amazons are accruing puts the spotlight on their hometown and just how important it is.
[youtube https://www.youtube.com/watch?v=SEBkSFvxNOM&w=560&h=315]
Before wrapping things up, and stating just how important the band is to 2017, I caught an interview they conducted with Exposé. It was a revealing one because The Amazons proved themselves to be unchanged by success attention: staying a true Rock band who are not your average Indie clone (the type that replicates The 1975). They still play gigs in Reading; it is a bit crazy and rowdy – just what you want from a real and raw band! One of the things that made me smile was how the music comes together:
"… Matt seems to get a fair amount of the credit; "he comes to us with an idea." Joe struggles to explain, so I try to help, "like a framework, and you guys fill in the gaps?" He replies, almost relieved, "yeah, exactly."
There is such a lack of pretension and ceremony with the band: songs just seem to come together somehow; it is not quick or pretty but that is the charm: each member chips in and has a say in how the music coalesces. The thing The Amazons will try to do throughout 2017 is to balance a recording schedule with plenty more touring. Their music is at its meatiest and most vibrant when performed in the live setting. Songs like In My Mind have that big, stadium-crunching sound, thanks to Catherine Marks' expertise and knowledge of the genre, but the band take it to new heights when on the road. Therefore, they will keep campaign and electioneering through the year: new countries and continents to be seduced. It seems, looking at their tour dates they are remaining in Britain for the next few months and ensuring the home crowds get to witness The Amazons in the flesh.
I know, when their debut album is released, will be getting orders from across the water: Europe will be a natural calling-card but don't bet against the U.S. beckoning. Where they end up on BBC's shortlist, if they are included at all, will not matter as the attention and acclaim are already there. When pressed, in the interview from November, the guys were asked about album plans/dates:
"… next year, definitely"; he explains that the bulk of the tracks are finished, but there is still work to do in production. However, as the interview winds down Chris chips in, "We do have an exclusive though. There's a single coming out before Christmas". I'm definitely looking forward to it".
With acts like Royal Blood threatening new music this year, it seems we'll be seeing 'proper Rock' come back strong: The Amazons have a vital role to play in that resurgence. I am thrilled the boys have made such strides and remaining true to Reading. Whether they stay true to the town and keep playing there or find themselves busy with international demands (in years to come) it will be interesting to see – one suspects they will always stay loyal to their roots. As they have already shown; they are one of the most exciting and dynamic bands on the touring circuit and produce incredible, unforgettable songs. No pandering to mainstream demands or replicating the Indie-Rock no-hopers. When you look around, the artists coming through at the minute…
FEW others are doing that!
____________________
Follow The Amazons
Official:
Twitter:
https://twitter.com/TheAmazons
Facebook:
https://www.facebook.com/theamazonsforever/?fref=ts
YouTube:
https://www.youtube.com/channel/UCOdQQDM6n5J3KDBSFdfnn5w
SoundCloud: