TRACK REVIEW:
The Molochs
 
You and Me
9.3/10
You and Me is available at:
https://www.youtube.com/watch?v=6MTZBUXwTUI&feature=youtu.be
GENRES:
Alternative; Pop
ORIGIN:
Los Angeles, U.S.A.
RELEASE DATE:
8th December, 2016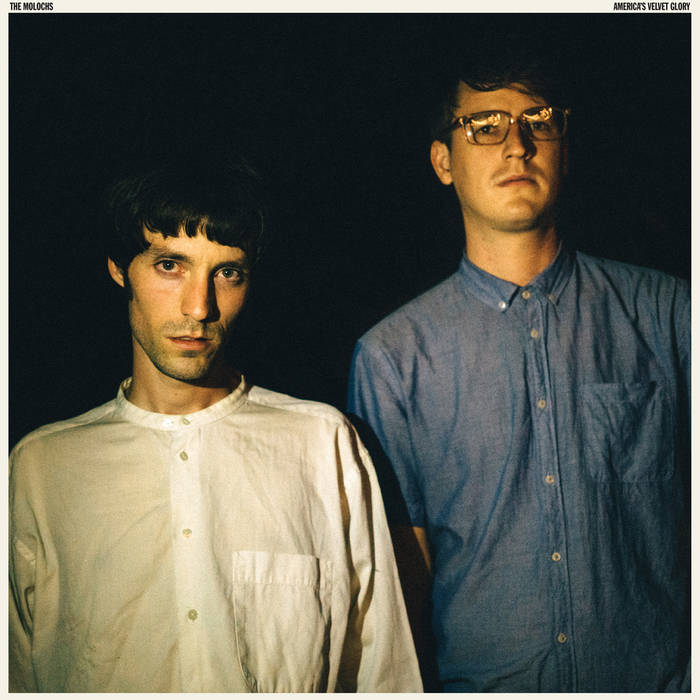 The album, America's Velvet Glory, is available at:
https://themolochs.bandcamp.com/album/americas-velvet-glory
TRACK LISTING:
Ten Thousand
No Control
Charlie's Lips
That's the Trouble with You
The One I Love
Little Stars
No More Cryin'
You and Me
New York
I Don't Love You
You Never Learn
RELEASE DATE:
13th January, 2017
__________________
ONE of the things I was going to aim for in 2017 was...
taking myself to new cities - focusing on areas of the world outside the U.K. and U.S. It is, with typical lax discipline and over-ambition I am back in L.A. and concentrating on a rather promising and tremendous duo. I will look at duos/bands once more – before arriving at the boys themselves – but want to look at L.A. promise in 2017 and acts that mix nostalgia and haziness with modern concerns; musicians with a fascinating influence palette and the importance of getting more U.S. artists across to the U.K. (and other parts of the world). I am not disappointed to be back in the warm climate of L.A.: in fact, it is good escaping the bitter cold of the U.K. and looking at what is happening over in California. Whilst the poll-makers have been a little lazy outside of London, L.A. and New York: you can always rely on the Los Angeles music press when it comes to predictions for the year. KCRW Music Blog has collated some of the L.A. bands watch throughout 2017. The duo/band of Electric Guest consists Asa Taccone and Matthew 'Cornbread' Compton (Todd and Tory Dahloff play with the band on tour) burst onto the scene with their 20123 debut album, Mondo. The reception the L.P. garnered was quite impressive – perhaps kinder reviews from the U.K. press than the U.S. – and many were struck by the original songwriting. Looking at ethical choices and career considerations: it was a rebellion against love-obsessed albums that offered little diversity. They are a band to look out for in 2017 as there is a demand for a follow-up album – five years is a very long time in music. Elsewhere, and tipped by the same source; Lo Moon are worth a punt and have a long career ahead. Their seven-and-a-bit-minute track Loveless was released last year and impressed many with its sweeping atmosphere and audacious confidence. Ty Segall and Cherry Glazerr are two media-approved acts who are camped out of L.A. – and already are exciting many; tipped as ones to watch his year.
L.A. Weekly have been busy scouring the local scene for hungry talent worth a damn in 2017. Def Sound, as the reporters defined, is synonymous with his impulsivity. His 2015 album, Kings of Neon, is a personal work with plenty of character, quotable quips and confident, slick raps. "On the other, it's a showcase of his own omnivorous nature, skipping from manic footwork to worldly R&B to gothic Yeezus rap". He is someone you will want to familiarise yourself with. Pastel Felt blew many away with their November-released masterwork, Charming Lait. Its lo-fi aggression and big harmonies drowned down-in-the-mix vocals and analog-noise brilliance. It is a blast from the past combined with an atomic bomb of the future. Before I move onto my next point, there are a couple more L.A. acts worth some serious time. Buzz Bands L.A. explained how music is a "two-class system". If an act is established, has a record deal and money behind them they are 'ones to watch' – whether they are much kop or not. On the other hand, the unsigned artists bereft of label patronage will have to fight three times harder to get the same sort of buzz. Moon Honey is an (independent) duo that consists Louisiana native Jessica Ramsey and guitar chap Andrew Marin. Their 2016 was concentrated to making an album but they are, as Buzz Bands L.A. define them, "Kate Bush on swamp gas taking a mystical trip through the bayou". Moses Sumney and The Regrettes are a contrasting couple of names primed for big things this year. The former is a UCLA alum and has been bossing end-of-year lists for years now – his debut full-length is mooted for release this year. The latter is a Warner Bros.-approved band of girls who are not a 'girl band'. Do not expect sugary Pop and tales of teenage love dilemmas. Their album is fronted by a sixteen-year-old but (the girls' album) will carry a parental advisory sticker – expect cursing, suggestive language; scenes of an explicit nature and some f**k*** good music.
In terms of teen revelation, Billie Eilish surpasses The Regrettes in terms of age (she is still fourteen) and lyrical descriptiveness. The striking L.A. dweller told, on her breakthrough song Ocean Eyes, love is like falling off a cliff – surrounded by napalm skies and apocalyptic gravity. She writes about the perils and uncertainty of love but fills her lyric book with poetry, epic scenery and a frightening amount of talent – far stronger than her older, more experienced contemporaries. Finally, actually four more names from that site that deem inclusion, we have Starcrawler, Alexandra Savior; Lauren Ruth Ward and Phoebe Bridgers. Stracrawler, like Eilish and The Regrettes, are not precocious or patronised because of their tender days – a yellow highlighter strikes their name because of sheer talent rather than their teenage (and unavoidable) years. The boys are another band of back-to-basic Rock purveyors and, although their fashion choices might get them beaten up on the Metro Rail, they are a solid band that are intriguing the beard-stroking journos. of L.A. The conurbation is proudly proffering Alexandra Savior as a 2017 treasure. The Portland (Oregon) songwriter will bring out Belladonna of Sadness – coolest album title of the year so far – on 7th April and has Alex Turner credited on the single Mystery Girl (who co-wrote it with her). Lauren Ruth Ward might have the looks to lure gods from the heavens but her incredible pipes leave jaws hanging lower. Working as a hair stylist; one feels her immense voice and forceful, big personality will mean paychecks this year have more zeroes on the end – another name you should turn your dial towards. Looking at images of Phoebe Bridgers and one can see similarities with London's very own Laura Marling. Our Berkshire-born treasure shares some D.N.A. with Bridgers but the twenty-one-year-old American employs Rock, Americana and Pop into her music: Conor Oberst, Blake Babies and Julien Baker are names she's supported and it seems like this experience and hunger will go into an album (speculation rather than fact) very soon.
There are plenty more L.A. bands/acts ready to impress this year – Warpaint, Dark Waves and Frenship among them – and it is something I will return to in the conclusion. Among the semantically null (journalistic) sentences – many claiming artists to be the 'next big thing' when I am loathed to predict who the current big thing is – there is a lot of truth in their clairvoyance and accumulators, tricasts and ante-post bets. Rock Club UK are one of the first (British) sites to tip The Molochs for greatness. Before I go on and investigate this theme more, let me introduce the band (words by Christopher Ziegler):
"First, let's meet Moloch. You remember him, right? The ancient god, the child eater, the demander of sacrifice, the villain in Ginsberg's Howl(and also real life) and now the personal antagonist of singer and songwriter Lucas Fitzsimons, who named his band the Molochs because he knew he'd have to make sacrifices to get what he needed, and because he always wanted a reminder of the Ginsbergian monster he'd be fighting against. And so this is how you make a record right now: you fight for every piece, and when Moloch takes apart your relationships and career potential and leaves you sleeping on couches or living in terrifying apartments and just about depleted from awful people involving you in their awful decisions, you grab a bottle of wine (and laugh at the cliché) and put together another song. And once you do that eleven hard-won times in total, you get a record like America's Velvet Glory: honest, urgent, desperate and fearless because of it.
Fitzsimons came to his calling in an appropriately mythic way, born in a historic city not far from Buenos Aires and raised in L.A.'s South Bay—just outside of Inglewood—where he was immersed in the hip-hop hits on local radio. (Westside Connection!) The summer d before he started middle school, a close friend got an electric guitar, and Fitzsimons felt an enirresistible inexplicable power: "I'd go back home and I'd look up guitar chords on the internet—even though I had no guitar—and just imagine how I WOULD play them. I was slowly getting obsessed." When he was 12, his parents took him back to Argentina, and on the first night, he discovered a long-forgotten almost-broken classical guitar in the basement of his ancestral home: "It sounds made-up, but it's true," he says. "I didn't put the guitar down once that whole trip—took it with me everywhere and played and played. When I got back to L.A., I bought my first guitar practically as the plane was landing."
This started a long line of bands and a long experience of learning to perform in public, as Fitzsimons honed intentions and ideas and tried to figure out why that guitar seemed so important. After a trip to India in 2012, he returned renewed and ready to start again, scrapping his band to lead something new and uncompromising. This was the true start of the Molochs: "It didn't make any sense to not do everything exactly the way I wanted to do it," he says. "I was so shy and introverted that singing publicly sounded like a nightmare come true. But I didn't have a choice—I heard something inside of me and I needed to be the one to express it."
The first album Forgetter Blues was released with Fitzsimons' guitarist/organist and longtime bandmate Ryan Foster in early 2013 on his own label—named after a slightly infamous intersection in their then-home of Long Beach—and was twelve songs of anxious garage-y proto-punk-y folk-y rock, Modern Lovers demos and Velvet Underground arcana as fuel and foundation both. It deserved to go farther than it did, which sadly wasn't very far. But it sharpened Fitzsimons and his songwriting, and after three pent-up years of creativity, he was ready to burst. So he decided to record a new album in the spirit of the first, and in the spirit of everything that the Molochs made so far: "I wanted to spend less time figuring out HOW we were gonna do something and just actually do it." The result is America's Velvet Glory, recorded with engineer Jonny Bell at effortless (says Fitzsimons) sessions at Long Beach's JazzCats studio. (Also incubator for Molochs' new labelmates Wall of Death and Hanni El Khatib.) It starts with an anxious electric minor-key melody and ends on a last lonesome unresolved organ riff, and in between comes beauty, doubt, loss, hate and even a moments or two of peace. There are flashes of 60s garage rock—like the Sunset Strip '66 stormer "No More Cryin'" or the "Little Black Egg"-style heartwarmer-slash-breaker "The One I Love"—but like one of Foster's and Fitzsimons' favorites the Jacobites, the Molochs are taking the past apart, not trying to recreate it.
You can hear where songs bend, where voices break, where guitars start to shiver and when strings are about to snap; on "You And Me," you can almost hear Lou Reed's ghost call for a solo, and on "I Don't Love You," you get that subway-sound guitar and find out what happens when Jonathan Richman's G-I-R-L-F-R-E-N goes wrong. And of course there's the charismatic chaos of bootleg basement-tape Dylan—always Dylan, says Fitzsimons—and the locked-room psychedelia of Syd Barrett, especially on "Charlie's Lips," Fitzsimons' ode to—or antidote to—those times when he felt the bleakness completely: "Then a bird lands on a branch nearby, you hear leaves fluttering, you hear a child laughing … all of a sudden things don't seem so bad anymore."
So Moloch might still be out there, devouring his sacrifices, but the Molochs are still fighting, too. And that's why Fitzsimons picked the band name—it's so he remembers what he's up against. He's not celebrating the destroyer of youth and individuality and creativity, he says: "I'm just keeping him in sight so that he doesn't win."
When hearing their name I am reminded of Sex Pistol's one-and-only album, Never Mind the Bollocks… (only transposing 'Bollocks' with 'The Molochs'). It seems the L.A. chaps have been overlooked by a lot of Los Angeles publications which seems remiss. Maybe there are just so many Los Angeles jewels it is hard bagging them all and giving equal footing. No loss because the duo/band has signed to Innovative Leisure (home of Allah Las and Hanni El Khatib among others) and have been getting some love from The Huffington Post, The 405 and Noisey. I would place The Molochs with any of the (aforementioned) artists because they have a U.S.P. that no other – apologies for the tautology – another good album title? – act possess. Well, not to the same degree anyway! The boys seem like men from another time: happily casting their songs in bygone days through a prism of hazy dreamscapes and retro. fashions. The guys – no huge biography on social media so I am cobbling snippets from their P.R. material – want to perform a bypass of the past – pull the heart out carefully and transplant it with a more modern thing with fast-pumping ventricles – and have no intention of lazily recreating it. Described as a sort of Black Lips-meets- The Byrds type of act; they nod to Velvet Underground, Bob Dylan and Violent Femmes.
There are few bands out there who take you back to the 1960s/'70s and do so with affection, originality and respectfulness. Many acts are influenced by musicians (of that decade) but it can be quite carelessly and haphazardly done. What I like, and admire about The Molochs, is the way they infuse past sounds into their music with modern ingredients and spices. Their proprietary cocktail sounds fresh and sumptuous without seeming over-familiar and derogatory. In terms of tastes and cocktail-blend their old-school glamour-dreamy concoction mixes a Green Dragon (Woodford Reserve, Buddha's Finger Liqueur, Pastis, Dragon Fruit, Strawberry Wine, Bamboo Shoots, Honeysuckle, Silver Berries, Fresh Lime) with Picardy Punch No. 2 (Grey Goose, Giffard Berry Liqueurs, Chambord, St Germain, Aronia Berry Juice, Fresh Lime, Rosé Champagne). That might seem a ball-bag of pretentiousness (forgive my fruity, wandering – drinks taken from https://www.barnightjar.com/drinks) but you get what I mean. The boys are exotic and colourful but have so many different elements and ideas. Nothing is predictable and everything comes together with ease and command.  When you find acts – who claim to be matchmakers of vintage glories and modern promise – the chemistry is often lacking nuance and explosion. The Molochs have some great influences (Velvet Underground come through strongly) but place local geography together with the past-years wanderlust. You can hear and smell the sights of L.A. but are transported to an easier, more peaceful (compared with Trump's ideologies and mission statement) time. In doing so, The Molochs create a new sub-genre. Whether it is 'retro.-Indie' or 'modern-vintage' I could not tell you. So many artists lack the bravery to do what the Los Angeles are providing. We all know how effective repurposing past sounds can be with the, in my mind, queen of the hustle: Lana Del Rey. The sepia-toned, black-and-white films and '50s fabrics of her music entwines and contorts its body with the excitement of fast cars and faster boys (in more than one department); cigarette-scented kisses and rough-stumble anti-heroes. The resultant, and riskily-matched throw-down could result in regrettable, blink-and-you'll-miss-it sex but, instead, you get something harmonious, mind-blowing and hugely satisfying. Del Rey is one of the most remarkable and alluring songwriters in modern music and someone who can combine aspects of 1950s'/'60s' music/artists with a contemporary aesthetic.
  PHOTO CREDIT: Jeff Fribourg
Stepping away from the vinyl crackle and Super 8 realms and, before I come to the music of The Molochs, I wanted to place the boys in the context of duos/bands – just how en vogue and in-demand they will be this year. There are some stunning bands and solo artists around but I have always yearned towards duos. I have examined why they are such an irresistible force but I think it comes down to the dynamic, choices and bond. Many would assume a relationship-based duo would be most secure: if you were merely friends there is a risk of that closeness and solitude (no other bodies around) would cause bonds. You could also argue lovers who work together run the risk of that much-alluded-to/misquoted maxim: "Never defecate where you eat". I feel the band can be ungainly and subject to fragmentation. Some members feel alienated and there is often, a lot more prevalent with male bands compared with female, dissension and creative differences set in. Solo artists have the unenviable task of organising their schedule and keeping themselves amused. It can be quite a confined, solitary and unexciting existence. I am over-simplifying but The Molochs does have that deep and solid central bond but are not limited like many bands – The Molochs are credited as a band but the focus is on the two leads. My British mainstream favourite (duo) are Royal Blood. The Brighton boys create a cataclysm of electric grunt and percussive gut-punch in spite of the fact there is the two of them. They have a new album (it is rumored) out this year and look set to bring serious rawk and swaggering cool into music. My underground favourites are London-based Rews. I have mentioned them a lot but for good reason: the girls create sensational, memorable music and are among the most down-to-earth and charming you'll hear. Between them, they produce a mule-kick of Rock goodness and loin-enflaming noise. Duos are a lot more varied than one might imagine and are not as defined and pigeon-holed as many bands. Because of that, they are free to mix genres and decades in accordance with their own free will and volition; there is a fairer democracy in the ranks and music that reflects that kinship and trust. It is a brief discussion but I just love the way duos operate/sound. The Molochs perform as a full band on the road – and their latest album – but, in many promotional shots appear as a duo – they have the best of both worlds in a sense. I am tipping the band for success in 2017 and excited to see just how far they can go.
I see myself, in a number of ways, as a cultural attaché. I hear a lot of U.S. bands and aim to introduce them more widely to the venues and fans of the U.K. (and the wider world). I have listed a few eager and talented L.A. artists but wonder just how readily they will be able to transition to the shores of Britain. I have seen many young and inexperienced musicians thrilled at the chance to play in the U.S. and get their music out there. When they return there is that consensus: it would be great to return there and perform a lot more. In terms of American artists coming over here, it is always difficult coaxing them over and providing an appealing rider. Our weather is moody (U.K.-U.S. translation: sh**) and the beaches not quite as bronzed, buff and beautiful as those around California – in fact, you're more likely to see elderly people wrapped up in coast than heavenly torsos soaking up the rays. If the billowing and fetid belch of Donald Trump's inauguration is not reason enough to flee the U.S. then our venues and clubs surely will be. I have a lot of love for our resident musicians but am always excited when an American comes over here and gets settled in.  I hope The Molochs spend more time here (they have a couple of dates in London soon) and do a proper tour of the U.K. We need to encourage more international talent to play here for a few reasons. Many of our small venues are under threat and it is hard keeping them cost-effective and busy. I feel a range of acts from across the pond can add resurgence and renewed purpose to some struggling venues. If anything, having American artists playing around Britain provides some variation and nationality mix that we can all abide by – for a nation determined to keep the rest of the world out music has the common sense to open its borders to (hard-working and passionate) immigrants. I feel music can be compartmentalised: so many of our artists are not alluded to in the U.S. or under anyone's radar. Subsequently, our national press has a very limited scope when it comes to American artists we should all be watching. We need to forge a closer bond with America – not politically as that would lead to imminent apocalypse – but show the political world why music is a much stronger and safer democracy. It would not only be good for alliance purposes but ensure our best new musicians have opportunities to play in America – and vice versa for that matter.
You and Me is the song I am focusing on but it is by no means the only tracks by the boys. Get a Job Blues was released as part of the Forgetter Blues E.P. and is a lo-fi track that does what the title suggests. The hero is trying to score employment but feels, in order to do so, needs to hoodwink and chance. The employers, as it is said, need someone honest and who turns up: it is felt our man would not be the most reliable option. Constantly moving and skipping along; Get a Job Blues never relinquishes its energy and has that mid-'60s charm. You are transported back to the era but you never feel The Molochs are transposing or tampering with that decade – only adding their own take on it. Percussion notes are solid and static but add the necessary punch and energy the song requires – elevating it from weary and despondent to alive and eager. If the vocal has that defeatism and the lyrics paint something quite anxious; you never feel weighed or burdened by the song. It is a hopeful song that recognises the state of affairs – needing work and feeling disconnected from society – and strives to rectify it. Other tracks on the E.P., like Drink the Dirt Like Wine and It's Only Cause, are sparse and acoustic and very much have that live feel. The E.P. is solid and has a distinct sound but I feel You and Me, and the duo's new album tracks, are better produced and sharper. The sound is cleaner and it is a lot easier to decipher the words. Whereas their E.P. was lo-fi and uncluttered – it did mean there was an emotional limitation and decipherability was an issue at times – now there is more polish and clarity to be found. That has not sacrificed the purity and overall sound: the guys are afforded more lustre and focus. The words and compositions come more into the forefront and the overall effect is more pleasing. Other tracks across America's Velvet Glory have that same production sound, and altogether, come off a very professional and solid album. That is not to say, as I have mentioned, character and personality are substituted for gloss and finery. The boys maintain their 1960s-nodding sound and sound at their most essential, inventive and spectacular.
You and Me, then, is the latest single from the album and follows from No More Cryin' – another song that defines what America's Velvet Glory is about and how original The Molochs are. The opening of You and Me, whereas their E.P. tracks were sparse and sounding like a two-piece operation, is full and the sound of a band connected and ready. Reviewers have assessed the band's work and made those comparisons with mid-'60s bands and the sort of upbeat, jangly Pop that defined that period – you hear a bit of The Beatles' mid-career work in the opening bars. The introduction mixes the Mersey Beat of The Beatles and Art-Rock of The Velvet Underground. Quite breezy and sunny; there is a seriousness and sophistication in the way the notes are meshed and combined. Before the lyrics come in, you are imagining black-and-white films and retro. scenery – two lovers racing through a highway scene; talking about their lives and where they are heading. The openings lines suggest (the hero) is in a mess and trying to find solid ground. Lyrica are quite simplistic and emotive: there is a lot of pain inside and you feel a man spinning a bit. Maybe a relationship is suffering strains and the two lovers are on different pages. I have mentioned other bands - but only as a compliment. The Byrds and The Mamas & Papas are two names you hear in the music: that same Pop-cum-Folk-Rock cocktail that is evocative, powerful and transporting. The hero is pushing his girl away – although he only wants to be in a blissful and safe state – and wondering what is happening. The lyrics are quite established and familiar in the sense they are a staple for many musicians. That sense of dislocation and imbalance is nothing new but it is the way The Molochs portray the trope that makes it fascinating. You do not get the usual compositional sound and vocal delivery – they take something potentially stale and routine and transform it into something beautiful.
I am not sure what has caused the relationship to sour but there is mixed messages and drama wherever the duo step. The girl pledges her allegiance to the hero – he is the only one she loves – but is walking around town with a new man. You do not hear why the relationship broke up but it seems like there are lingering emotions and feelings. I can hear the hero's pain as he tries to keep it together. Sure, the bond has ended but why is the girl telling him he is the one for her?! She is gambling about with a new guy but hooking our man and giving him false hope. Whilst the foreground provides sentiments of deceit and stress: the composition remains cheerfully optimistic and juxtaposes the seriousness of the lyrics. It keeps the song from being too depressed and exhausted. There is that Californian sun and 1960s Pop core; tied with a straight-to-the-point vocal is a fascinating song. This year, I am embracing songs that are instant and have that memorability and hook to them. You and Me is a song that wins you with its flair and heart; the way it rattles and rolls and its elliptical notation. The foreground appeals to the heart and mind whereas the composition gets into the body and soul. One gets hooked by the eagerness and energy of the composition but cannot ignore the lyrical pain. The hero is confused the way things are unfolding and the contrasting messages his former love is sending. She might be with this man but is she using him as a band-aid? Maybe it is a fling and meaningless bond; a way of eradicating the memory of our hero – not in a bad way; trying to get over him. I know mentioning other acts is folly but The Velvet Underground are a genuine name you can link with The Molochs. Whether seeing the band as a duo – the way they are photographed for the main – or a full band; no matter what their configuration, you hear embers of Lou Reed's band in the L.A. act.
At the mid-way point is a pleasing and clean compositional interjection which adds Country-esque strings and patterned beats to provide physicality and evocativeness. You transport yourself in the song and what is happening. In that moment one imagines the Californian sun and the open landscape. It has a sprite and edgy tightness but produces a feeling of openness and atmosphere – the yawning vista and carefree sensation of the summer. After such a fraught and revealing verse; it is nice to receive something warming and nourishing. The band keeps the momentum strong and ensures the song is constantly moving and energised. You never get drawn into dark recesses and have any negative thoughts. Whilst your heart is with the hero; your body is propelled and invigorated by the cheerfulness and magic of the music. If one follows the Super 8 video – its grainy beauty and the 1960s-themed scenery – you get a better sense of the song and the sort of images being portrayed. In a sense, the camera/filming style represents the vision of the hero: a little grainy and unclear; maybe seeing things through rose-tinted glasses. He has pain and recrimination at heart but never lets out his true anger. The vocal is constant in the way it sounds. It is never too full or slight but also never elicits a burst of anger or any real spite. Maybe that is the case to gain a sense of mystery but one feels more overt expression would not go amiss. A lot of the '60s bands were similarly unemotive and calm but The Molochs could bring some 2017 anger and modernity into the vocal delivery. Regardless, you are invested in the story and follow its trajectory. The hero sees a light ahead (maybe hope of reconciliation and resolve) but is still enamoured of the girl. They both remember how good it could be and was to start; what they have been through and how strong the love was. It is at this moment you become more curious of the break-up and what caused the rift. Maybe things petered out and the spark was lost but that is never uncovered. Perhaps it is a painful memory and one that cannot be shared. Throughout You and Me there is a split between a man who wants the girl back and cannot move on from her legacy; someone who is pouring out his pain and asking some very pertinent questions. That sense of 'how could this could be?!' has that double meaning. Maybe them being back together would be the right thing or perhaps transparency (from the girl) would cause less upset in the hero. Whatever the true meanings and reasoning, You and Me is a stunning track from the album and one that defines where they are and where they are heading. Their strongest material since inception: things will be very bright for the L.A. duo/band. From the first notes you are invested in the guys and what they are doing – few other acts have that potency and instancy.
I have waffled a bit about The Molochs and where they fit in music – looking at L.A.'s best new acts and the merits of duos. Before I return to those points, highlighting a few other Los Angeles music-makers to follow, I will look at the next few weeks/months for The Molochs. The band play The Shacklewell Arms (London) on 22nd May. The too-cool-for-school Dalston bar will be a great setting for the L.A. visitors to ply their trade and put their music out to the people of East London – from there it will spread like wildfire (sure to be a lot of switched-on music lovers at that date). The next day they head off to the Montague Arms in Nunhead (SE14) to entertain the good people – no doubt sample their guest ales, American hotdogs and spit-roasted chicken. In addition, The Molochs are confirmed for Primavera this year and are going to keep themselves busy. You and Me is the duo's second single and was taken from the forthcoming album, America's' Velvet Glory. Recorded with engineer Jonny Bell at Long Beach's JazzCats studio – I hate them because they get to make music in such an idyllic part of the world! – the L.P. will arrive on 13th (January) and marks the guys as an act to watch closely. Their album has Sunset Strip '66 stormers (No More Cryin') and '60s Garage-Rock tableaus; Little Black Egg-style heartwarmer-cum-breaker The One I Love and minor-key melodies; unresolved organ notation into the bargain. It is an aural banquet that alludes to the past, drawing in suggestions of times-past but never tries to do it injustice. The boys have a varied and quality-laden vinyl collection and less plunderphonics: more reinventors. The L.A. band has a fondness for past music and lovingly reinterpret their idols through their own eyes. It is impressive finding artists that manage to do this. All too often you see musicians wearing the past with little modesty and poor judgement – ignoring laws of decency, taste and respect. The music (they play) will be obvious and copycat; not adding anything new and sounding derivative and uninspired. That is never the case with The Molochs who show true affinity and knowledge of the past but never intoxicate it or take advantage. All of this comes through on You and Me (and their debut album).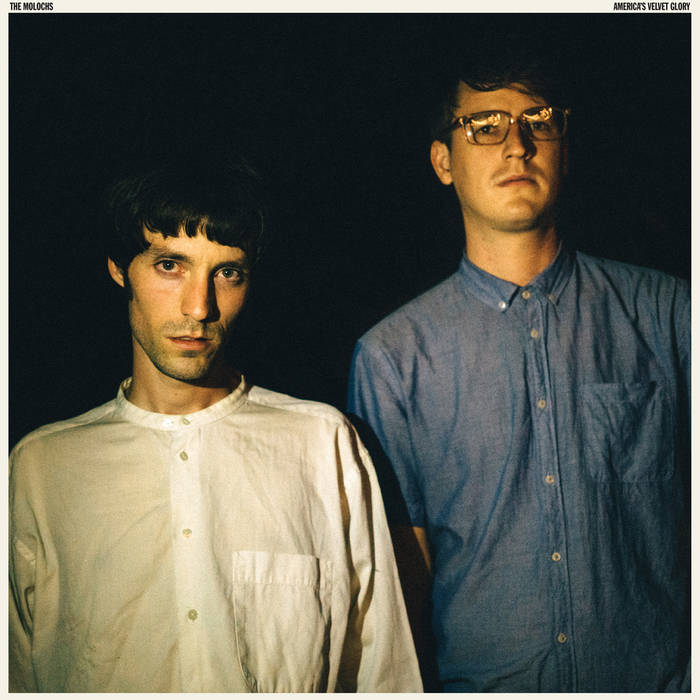 Before I conclude with a bit about the boys' 2017, I will return to my opening points of L.A. clippers and where that particular ship is sailing to in the waters of music. According to another wise source; Rebel and a Basketcase are not as anti-social and frightening as their name suggests. The Electro.-Pop duo have been compared with David Bowie and St. Vincent and can go from demon-energised to Sunset Strip-romantic within the space of a single song. There is soul and darkness sequestered in the chinks of light and radiance. In the same feature; Twin Temple are singled-out for greatness this year. The duo has been stirring up excitement for a long time and comprises husband-and-wife duo Alexandra and Zachary James – who entwine their personal and professional personalities in Gothic-Soul brews. They have a six-track E.P. forthcoming and are worthy of close focus. Take a look at Billboard's recommendations and one will find Hey Violet nestled in the groove. 5 Seconds of Summer are mentors of sorts – Hey Violet their willing protégés – and accompanied them on the summer leg of their 2016 arena tour. If the mere mention of 5 Seconds of Summer makes you want to wretch blood into a bucket of toxic waste – that is the first reaction I have – then fear not: Hey Violet are a lot less breakfast-violating and twee than the aforementioned boyband. In fact, there is enough edge and maturity (in their music) to hook those who prefer actual songs over commercialisation and teenage gratification (sounds mass-produced to appeal to those two young to know any better). Aside from my near-psychotic rants, the selection of L.A. artists I have included in this piece shows what a smorgasbord of talent can be discovered in the city. The Tracks' debut single, Go Out Tonight, marks the Boyle Heights-based band for great things this year. The group is not new: they have been formulating and solidifying their sound for years and are well-respected and popular. I would expect them to transition to the U.K. and discover their music has reached eager ears here. They are a band I would like to see, in addition to The Molochs, come to Britain and show their mettle.
I will sign-off by looking at the band and how this year will fare – taking a quick (repeated) peak under the skirt – like a voyeur watching through slitted blinds – of new music and sounds emerging; a bit about The Molochs. In terms of my featured group; they have a busy year ahead and are in the position where they are getting attention from both sides of the Atlantic. When they come to London, albeit a brief jaunt, they will attract a lot of new support. It will raise awareness of their music but do so much more. Fellow L.A. artists will be put under the spotlight – people compelled to check out the local compatriots of The Molochs – and encourage venues like The Shacklewell Arms to scour the haven of Los Angeles music and diversify their stage. It is always good promoting local artists but there is a world of international taken hungry to play the U.K. I have stated how many great venues there are across London (and the nation as a whole); tonnes that would host The Molochs. I hope they do come back here and enjoy a longer stay – surely dozens of places they could perform at and new territory they could claim. Until then, they have touring commitments and will be taking America's Velvet Glory on the road. I know the people will lap it up, and from what I have heard of the record, it is not to be missed. The songs (across the L.P.) build on You and Me's jangly '60s Pop and paint all manner of scenes. There are Dadaism swathes and Post-Impressionist flecks; Cubist brushstrokes and Fauvism undertones. What you get - a new wave of pretension aside - is a band who can fuse dreaminess and sunshine and create something cohesive, developed and alluring. You never listen to their music and let it play in the background: full attention is demanded; music that appeals to all the senses and remains long in the imagination. The guys are well aware of how competitive and challenging musical success is and taking big steps ensuring they remain and grow. Their album is packed with exceptional songwriting and beautiful, thoughtful songs – never too busy and complex; never too simplistic and one-dimensional.
The three singles/songs that have kick-started and defined this year (so far) are London Grammar's Rooting for You; Dutch Uncle's Big Balloon and Maggie Rogers' On + Off. Between those tracks, there is passion and defiant strength; we have uplifting, big choruses and something laconic, wistful and sepia-toned. I love London Grammar's 'comeback' single; not only because it sees them return from the wilderness but is one of their strongest offerings yet – framing an immaculate lead vocal (from Hannah Reid) and lyrics of hopefulness, loyalty and emotion. It is shimmering, evocative and soulful – a beautiful reminder of why the trio have been much-missed. I might actually need Electroconvulsive therapy in order to remove the song from my hippocampus. With its subtle, but slicing, riffs and sing-along, addictive chorus; the nuance it provides and the smiles it induces – a song that is impossible to ignore. Aside from the Manchester band, I have been enjoying Maggie Rogers' music for a little while now. Following from stunners like Alaska: her new track, On + Off, is an immersive, hugely impressive track that marks her for fantastic things (she plays London in February if you are around). Thinking about it, Laura Marling's Wild Fire (the second single to be taken from the forthcoming Semper Femina) has lodged in the brain and is a typically remarkable track. My point is, and putting this train of thought back on the rails, between those tracks we have, in my view, what 2017 will be about. Revelation, tenderness and emotion together with spirit, energy and memorability. This is what music should be about and what our best artists are endeavouring to do – eradicate the tragedy and strange politics of last year and produce something wonderful. The Molochs manage to combine all these elements in songs like You and Me. They encapsulate contrasting emotions and provide something retro. and distrait. Even if the composition and vocals have that vintage, dreamlike quality they are never inferior and slight. So much potency and strength go into the song and you are gripped by every layer and element. Despite being released at the tail-end of last year; it leads the charge of America's Velvet Glory and one of the most promising albums I have heard in a while (from a new band). I will try and catch the guys in London but would suggest you get your ears…
AROUND their wonderful music.
[youtube https://www.youtube.com/watch?v=6MTZBUXwTUI&w=560&h=315]
__________________
Follow The Molochs
  PHOTO CREDIT: Jeff Fribourg
Facebook:
https://www.facebook.com/themolochs
Twitter:
https://twitter.com/the_molochs
Instagram:
https://www.instagram.com/the_molochs/
SoundCloud
https://soundcloud.com/themolochs
BandCamp: