TRACK REVIEW:
Big Deal
Say Yes
9.6/10
Say Yes is available at:
https://soundcloud.com/fatcatrecords/big-deal-say-yes-1
RELEASED: 12th March, 2016
GENRES: Rock; Alternative; Grunge
ORIGIN:
London, U.K.
You can pre-order the album, Say Yes, via:
https://www.fat-cat.co.uk/release/say-yes
RELEASE DATE:
10th June, 2016
________________
IT might be a while before I get out of London...
when it comes to musical investigations.  Having just completed a review of Laish- a London-based Indie/Folk artists- it is to a band that probably do not need my patronage.  Big Deal are; well... a big deal.  With the combinative allure of Alice Costelloe and Kacey Underwood continuing to impress and strike:  Their forthcoming album is going to be hotly anticipated.  Before I come to the band; it is worth looking at the groups coming from the capital.  I have been following (Big Deal) for a while and know they are going to be much in-demand this year.  I keep extolling the virtues of London because it never ceases to disappoint.  While I have been fondly seduced by duos and solo acts (from London) the bands have been a little less reliable.  It is Yorkshire; perhaps strangely, that wins the band rosettes.  It is their depth and variation of sound that wins my heart.  From revitalised motifs of Swing music- there are a lot of good neo-Swing bands emerging- they do Rock pretty good, too.  From CryBabyCry and Allusondrugs:  Yorkshire is making sure their musicians are among the country's most impressive.  Even the solo artist and duos are making big impressions.  I have assessed the likes of ISSIMO and Jen Armstrong:  Two of the most distinct artists out of Yorkshire.  I take my mind to London and look to see the bands that are making headway down here.  I have been a little harsh in the opening, perhaps.  London has plenty of great bands- I have seen and reviewed enough- so it is not a complete loss.  There just seems to be that comparable lack of ambition and innovation.  I hear too many bands that are trying to be the next Foo Fighters or Oasis:  There is not that necessity to create something new and deep.  While I can understand the appeal of other acts- people yearn to recapture the early-days glory of those bands- it is a worrying trend emerging.  The easiest way to fail in music is simply stepping on the toes of others.  Musicians that combine populist- some familiar shades in the music- with personal will always endure and remain.  Big Deal takes membership from the U.K. and U.S.  Alice Costelloe is a stunning singer who originates from an artistic London household.  Finding like-minded curiosity and passion in Kasey Underwood- a native of California- the seeds were sowed and the music started to flow.  Big Deal has already released two albums:  Lights Out in 2011 and June Gloom (arriving in 2103).  Assessing the best and worst aspects of love:  The music resonated with critics and marked the guys as a serious proposition.  While Big Deal have essences of '90s Grunge- with some compressed drums and explosive guitars- that is as 'familiar' as they get.  They are not a group that wants to replicate others and sounds like your average band.  With Say Yes forthcoming- the new album is out in June- the self-titled, lead single has been dropped.  The social media universe is exploding with love and admiration:  Hardly surprising when you dig deep into the track.  I shall address Say Yes in a while, but before then, it is worth looking further at the best 2016 has to offer:  Finishing off with a bit about making a name for yourself.  This year has some heady expectations and some intriguing promises.  Last year saw the likes of Wolf Alice burst onto the scene.  With a year where U.S. /non-U.K. artists produced the best albums- from Kendrick Lamar to Bjork- there was hope for young, British acts.  This year, it is mainstream artists that are stealing focus once more.  Radiohead have an album mooted- I am drooling with excitement- while Kanye West has been stealing headlines (because he's a berk).  Bubbling under the surface, there is a wash of wonderful, varied, British groups making headway.  Big Deal are one of our most reputable acts and one of the finest bands in London.  Their third album is sure to establish them as one of the most logical headline-worthy acts in the world.
It is that investigation of love- the ups and downs- through a funnel of slamming percussion and dreamy vocals that have awed critics and listeners alike.  I feel there is too much reliance on the mainstream- the acts who have been playing for many years and have critical approval- and too little focus on our upcoming bands.  Big Deal have grown and expanded because of a number of factors.  Their sound is original yet knowing.  There is that nod to '90s elements- the members grew up with the likes of Nirvana ruling the waves- and have taken a little from them.  In reality, it is unfair to label Big Deal with any other band.  Costelloe's powerful and determined voice is backed by Underwood's influence and guidance.  The two bond naturally and have a clear affection.  Vibing from one another- and driving the individual performances- you get a core that is solid and dependable.  A lot of duos/bands have weaknesses or arguments that bubble:  There will be no such concerns with Big Deal.  The fact the band has a busy tour schedule- they are just returning to the U.K. having played abroad- means their music is affecting and inspiring the public.  I am impressed to see such a young band- only on their third album- in such demand already.  It gives hope and spur to other bands who want to follow in their footsteps.  Say Yes is an album with a chequered history and hard road to completion:  I shall assess the problems and issues with the recording near the end of this review.  In spite of obstacles and roadblocks; Big Deal have achieved something quite remarkable.  I have streamed/heard the tracks on Fat Cat Record's website- https://www.fat-cat.co.uk/release/say-yes- and it is their most authoritative work ever.  There is such a gamble backing a band in today's climate.  There is that disposability and unreliable result:  Too many bands in a hurry to get work out; no playing music that has depth and meaning.  Because of this, we are seeing too many short-lived acts and mainstream squibs:  Bands that burn hot to begin but dampen and cool as time elapses.  Big Deal have reversed the trend and get stronger with each passing year.  They add to their defined sound and find new influence with each record.  Whether it is that solid bond- the ties of Costelloe and Underwood- or the support they have obtained:  These guys will not be going anywhere anytime soon.
Say Yes will mark Big Deal's third album:  The completion of a rare heartbreak-and-love-to-separation-again trilogy.  The band's first two albums looked at love/friendships in two contrasting ways.  2011's Lights Out saw Big Deal burst on the scene with plenty of promise and punch.  Unlike most acts:  The album featured no drum and bass tracks.  It was the boy-girl guitar-and-vocal combination, resulting in something simple and tight.  As a result- given the sonic limitations- the songs looked at love and trying to deal with separation.  When Costelloe and Underwood arrived on the scene there was skepticism:  Maybe just another Folk-inspired boy-girl duo who sounds like everyone else.  With lo-fi recordings an explosive chemistry, critics shut up pretty soon.  What stood Big Deal out was not just the music and intention:  The lyrics were unique and stuck in the mind.  Whether Lolita-esque proclamations and come-hither- a young girl wanting to be taken to bed- I want to "feel old"- there was a stark and stunning set of lyrics.  Subjects such as homework strains and teenage quandaries were projected with intelligence, maturity and wit.  Looking at open wounds (many could interpret some lyrics as naïve and teenage) and recriminations- aghast at having to think about heartache- the duo arrived with a massive boom.  Underwood and Costelloe's harmonies were a study in connection and affection:  Like lovers conversing; it is no wonder the songs sounded so genuine and real.
Two years down the line; the sophomore album (June Gloom) signified another step forward and development.  The subjects looked at relationships and doubts- yet there was more positivity and depth.  A rhythm section was hired and the songs had flesh to the bones:  Tracks were more rounded and gave the duo more options.  Songs often looked at deceased love- the duo wanted to address a universal haunt- but there was more positivity and hopefulness on the record.  A more muscular, tight and hard-hitting album:  The band transformed from mellow and promising to pulsating and defined.  Big Deal sound (on June Gloom) more essential, insistent and nuanced:  A band that were growing and learning more about themselves.
Say Yes signals yet another move forward.  Sharing more in common with June Gloom- although there are lo-fi, stripped-back elements of their debut- there is an emphasis on force and passion.  It seems like the debut-era sound has been replaced by a more pulsating, energised and determined band.  Costelloe and Underwood's relationship- the band's lovers and muses- has stood firm and they seem as together and solid as ever.  In the middle of band turbulence and set-backs:  Our lead duo have kept firm and ensured their music rules and remains.  Now, Big Deal sound at their very peak and in their most inspired form.  Hearing the album's tracks- and the variation on offer- I have never heard Big Deal sound as compelling and staggering.  The performances and lyrics are sharper; whilst the vocals are at their most insistent and unforgettable.  Most bands develop and improve between releases but none as impactful and impressively as Big Deal.  The London band is on rich form and look set to keep getting better and more wonderful.  The music and sonics are the work of Big Deal but the confidence is at an all-time high.  Given the circumstances of the album- the horror and anger that blighted the run-up- it is not a shock to see Big Deal angered, fired-up and ready.  The backwards-logic creation/configuration of the album has not adversely affected its quality and appeal.  In fact, Big Deal are more open and honest throughout Say Yes.  Costelloe and Underwood are up-front about their relationship- pivotal to the success and continuation of the band- while the album is a more edgy and daring work.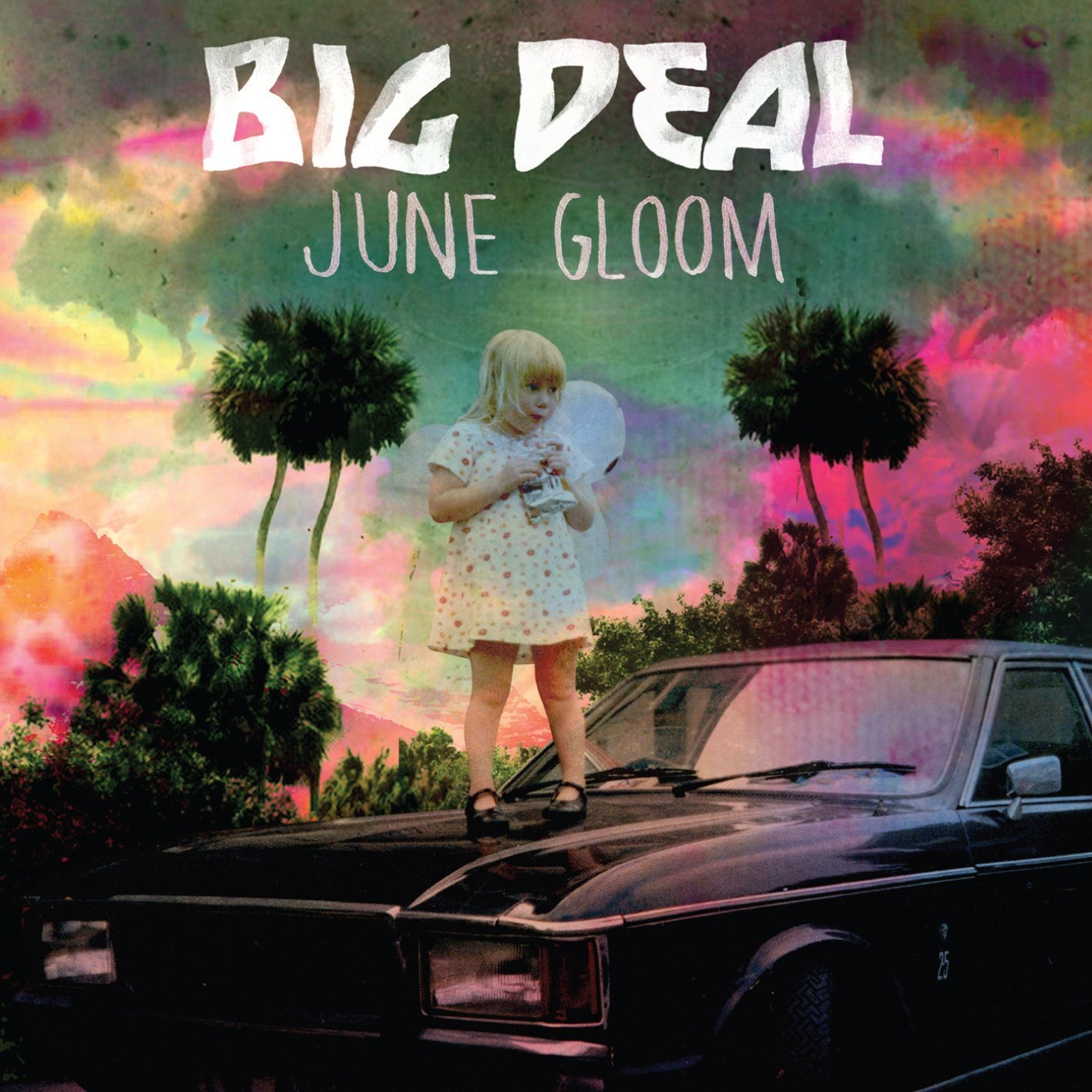 Say Yes is the lead single from Big Deal's third album (of the same name).  I have seen the response that has been collected across SoundCloud.  With nary a criticism or hollow word; the reaction has been one of universal approval and huge respect.  It seems Big Deal are on fire and have not been affected by their turmoil.  Far-off percussion opens the track up with quirk and fascination.  Sounding like far-off machinery- breaking rocks in a mine, perhaps- guitar joins the fray and offers something elliptical and light.  Soon enough, the song expands and rises as quivering guitar- a cosmic-cum-ghostly guitar wail slams forth- adds to the overall sense of mystique, emotion and drive.  The harmonies are all in place and dependable- wouldn't be a Big Deal song without them!- and it is an instant and bracing track.  Whilst the vocals are quite restrained at first- ladling the lyrics and ensuring the first words are delivered with clarity- they are effectively direct and emotional.  It seems the subject cannot go on "not knowing what's it's like".  Maybe (the song) looks at love and a split- reaching the point of no return- and being unable to commit to something long-term.  Perhaps those words relate to something more direct to the band.  With further lyrical revelation- the lead being alone and looking for answers- it seems to be a timely tale from a band that have seen their fair share of heartache.  Say Yes is a very open track that addresses false notions- "If you decide it's Paradise" might be a rather cautionary line- and relationship struggles.  From the initial listen, I heard personal relevance and insight.  Big Deal have faced members walking out and abandoning the music.  Costelloe and Underwood have had to shoulder responsibility and rebuild shattered remnants.  Maybe the song is a call-out to those who have left them and betrayed their bonds.
Maybe they (the 'accused' let's say) thought things would be perfect and there would never be any obstacles.  Perhaps their walk-out was not for the best:  They thought they would be better off going their own way.  It seems our leads are also speaking about relations in general.  There is that assumption things will always work out and the rebuttal is this:  "I won't tell you/everything works out right".  There is a searing honest and maturity to the words- and a relevance to Big Deal- that makes the track so compelling.  The chorus looks at saying yes- "I'm never coming down"- and is delivered with pure fight and conviction.  With every new line, you get new pieces of the puzzle.  The vocals and uniformly dependable and stunning.  Costelloe runs a gamut of emotions and lets her soul do the talking.  Such firepower and emotion come through; it is impossible to ignore the relevance and anger that comes out (in some moments).  Underwood unites perfectly and provides wonderful support.  The song has a more fleshed-out and Grunge/Rock sound than Big Deal's debut.  The band's new direction- the one they assimilated after the debut- allows Say Yes to explore and campaign with few restrictions and rules.  Jealousy and heartache get brought into a song that tackles some rather heavy issues.  When you (either a lover or former mate) sits "beside another" it will cause (our heroine/hero) to lose their minds.  There are fraught nerves and stresses ringing through the assaulting composition.  The guitars swagger and drive with pertinence- never has the band sounding as essential and determined- whilst the percussion provides that rapid heartbeat and palpable sweat.  "I was ready" it is said- "Are you ready?"- and there's that need to "just let it happen".  With lyrics matching direct with oblique- the song could be about love or disintegration in established friendships- it will resonate with listeners hugely.  We can all relate to the sentiments and subjects being broached and explored.  Say Yes is the sound of a band addressing changes and tackling it with a dead-eyed determination.  The ecstatic lyrics reach fever-pitched heights at times- almost screamed at some points- to underline the urgency and importance of the song.  The track never rests on its laurels and comes off as predictable.  Verses are broken up with vivid and itinerant compositional passages.  They move the story on and manage to convey so much emotion and movement.  At times, Big Deal evoke the spirit of Doolittle-era Pixies- that '80s Grunge sound comes right through- ensuring everything remains very much their own.  The lo-fi sound allows a certain rawness to pervade which gives the song necessary grit and appeal.  Were the production too polished (the song) would sound effete and insincere.  From the top down; Big Deal address concerns, heartaches and troubles with aplomb and rebellion.  Say Yes's chorus is one that should be screamed and see crowds united.  "I'm never coming down" seems like a mantra from the band.  In spite of the troubles that have affected their creative process:  They stand tall and are determined not to be defeated.  That maturity and strength are to be applauded.
Few bands are as consistent and brave as Big Deal.  Lesser artists- facing hard times- would retreat and call it a day.  What the London act has done is to channel that career-ending potential and turn it into something productive and inspiring.  The band have developed and matured since their sophomore album.  They are growing and developing into a genuine stadium-filling act that has a desire to succeed.  Kudos to the band for keeping resolute and knuckling down.  Their hard work and dedication have resulted in a stunning song that sets the tone for their album.  I hope they keep the rhythm section firm- for subsequent albums and tours- as it adds dimensions and depth to their music.  Say Yes is a song that needs a bracing kick and guiding bass.  Congratulations to a wonderful act that have negotiated some harsh days and come out winning.
I have no excuse to avoid Big Deal this year.  They are coming to Boileroom in June- right around the corner from me- and is the perfect venue for their music to fly.  That tour date (June 13th) coincides with the album release (June 10th) and will show how the new album sounds in the live environment.  Having investigated the album- and all the wonder it provides- there are plenty of anthems and solid jams.  The band has created their most consistent, progressive and nuanced work of their careers.  I am a fan of the earlier work- especially their debut- but think they have hit their stride.  With contemporaries Wolf Alice showing what British bands is made of:  Big Deal have the potential to scoop their crown very soon.  I am glad Say Yes (album) is arriving as its creation was far from simple.  Originally beginning as a self-funded project- the band struggled to find money for the album- demos and rough tracks were committed to a laptop.  That laptop was subsequently stolen- throwing the works into a panic- and it looked as though the record would never arrive.  Band members left the band- perhaps disheartened by setbacks and theft- and Big Deal parted ways with Mute: Their record label that had supported them for so long.   In 2015- after the apartment was broken into- the duo had problems stacking up.  Reduced to bare bones- in terms of membership and music- they had to rebuild and refocus.  Unwilling to wallow in misery and self-recrimination:  They started to tour (Drenge were among the acts they toured with) and approached new labels.  Big Deal are- by Alice Costelloe's own confession- a band that do everything backwards.  Bands usually find who they are before releasing an album- the logical way around things- yet the London duo has done the reverse.  The band will probably deride my review to an extent.  On a recent Twitter post- when someone on SoundCloud defined their new song in rather odd terms- they liked it as a review style.  It- the florid and eye-catching description- made more sense (to them) as an "8.275 out of 10"- let's hope my scoring will not rankle them too much.  To be fair to them, decimal places and numbers do not give you a full assessment of their new material.  Media assigned 4-star ratings and provide thumbs-up:  The descriptive words and feelings (a reviewer feels) is more useful than star ratings and meaningless scores.  The Big Deal ship is steadying and they travel as a four-piece on the road- it is not just Costelloe and Underwood playing on the road.  The travelling quartet show a more solid and defined band.   Let's hope the band remain solid and happy for the next few months, as they have a lot of cities to rock.
Having arrived back in the U.K., the guys have a little bit of time off.  In June, the guys will be touring from Leeds to Surrey; London to Birmingham (and lots of other wonderful parts).  For now- having premiered Say Yes's lead single- they will want to relax and rest their bones.  Given the rough year the band has had- including band walkouts and having material stolen- they deserve a lot of luck and success.  The social media numbers are growing and keep on flourishing.  The band has a great connection with the band- replying to comments and keeping everyone informed- and that mutual love will see Big Deal get stronger and more celebrated.  I have just seen the line-up for Glastonbury this year.  I predicted who would be on the bill before it was even announced.  Adele is there- after a disappointing album; she seems like an odd choice- whilst Coldplay are predictable headliners.  Neither artist covered themselves in glory with their latest releases.  It is not just the quality (lack thereof) that alarms me:  Neither act possesses much teeth or universality.  There are plenty of people who dislike Coldplay and Adele (me, for one) and it seems Glastonbury does not speak for the country as a whole.  Reading and Leeds have more credibility but I can just picture the line-up:  Will Muse and Foo Fighters be far from the main stages?  It seems the same, tired artists are dominating our music festivals.  I feel the likes of Big Deal deserve a bigger platform and capable of filling venues and festivals.  I am not sure how the band will be spending the next couple of months (before touring) but they should sit back and watch the praise come in.  Say Yes was always going to be a shaky and nervous release from the band.  After such a grueling and fraught album creation:  How would the first single fare in the world?  The guys need not worry as they have created one of their most immediate and popular songs to date.  Maybe the conflicts, heartache and stress has been good for the album- and made its subjects more realistic and urgent.   There are good vibes in the Big Deal camp and it seems like the guys are as contented and secure as they have been in a while.  Their alluring and stunning Siren Alice Costelloe has explained Say Yes's relevance.  The album is the third release that completes a sort of trilogy.  A three-album concept; this final part assesses love and its break-up.  If their debut album was about not being together- the strains and desire after separation- and the sophomore more positive- embracing being together- then the third returns to that break-up ideal.  If (Big Deal's) debut dealt with split and love in a rather obvious way- relationships hitting the ground and piecing things together- their latest album is more mature, relevant and deep.  It is not only love that is on their agenda.  The band has seen line-up fragmentation and thieved material; trying to make sense of everything and facing it head-on:  A compelling and dramatic synopsis from an album that is sure to be their most-championed.  Few bands experience such disappointment and struggle.  The fact Big Deal have translated this into something cathartic and cohesive speaks volumes.  I urge everyone to snap Say Yes up when it is released in June.  It is an eleven-track album with no filler and all killer:  Each track burst from the speaker and provokes repeated listeners.  So many avenues, subjects and situations are ascribed.  With Costelloe in the form of her life- her voice is staggering throughout- the entire sound is more exhilarating, varied and engaging.  If you have not fallen for the beauty, passion and wonder of Big Deal…
GET these guys in your life.
[soundcloud url="https://api.soundcloud.com/tracks/251039898" params="auto_play=false&hide_related=false&show_comments=true&show_user=true&show_reposts=false&visual=true" width="100%" height="450" iframe="true" /]
_______________________________________
Follow Big Deal
Official:
http://bigdealmusic.bandpage.com/
Facebook:
https://www.facebook.com/weareabigdeal/
Twitter:
https://twitter.com/wearebigdeal
Instagram:
https://www.instagram.com/wearebigdeal/
_________________________________________
Music
https://soundcloud.com/big-deal