TRACK REVIEW:
IV Rox (feat. Sneakbo)
 
Pumping (Out of My Speakers)
9.5/10
Pumping (Out of My Speakers) is available at:
https://www.youtube.com/watch?v=-oA_xlwl0zY&feature=youtu.be
RELEASED: 19th February, 2016
GENRES: Pop; Soul
ORIGIN:
London/Essex, U.K.
____________________________________
MY final review of the day arrives in the form of…
one of the nation's most promising girl bands.  I have reviewed IV Rox before and was blown away by the first experience.  I have never been a loyal, girl band fan.  Given the quality and rise of IV Rox:  I am becoming braver and more adventurous with my musical choices.  Before I introduce the girls to you; it is worth addressing girl bands of the moment; the potential (girl groups) have across music as a whole- with a bit about bringing the edge back into music.  As I have explained- twice today at least- London keeps bringing us terrific acts and varied music.  I shall not labour that point again- I feel everyone gets the idea- but few people talk about girl groups.  Given their relative decline- not as popular as they were in the '90s, for instance- I would like to see a resurgence.  I am a big fan of the days past-  The En Vogue and Destiny's Child regency.  The memory of The Spice Girls has long-since gone and there seem to be gaps in the market.  We have bands like Little Mix- one of the most credible girl bands- but very few at the moment.  With so many young musicians and music lovers discovering their feet:  I feel more girl bands need to come through and provide some variation on the scene.  Boy bands seem to have quite a few representatives- they outnumber the girls a bit- and have their own fan-base.  What I find regarding the boys are a lack of variety and sonic experimentation.  There is that reliance on a Pop core and chart-aiming safeness.  Not taking enough risks:  There is a tepidness that means recruitment does not reach a wide range of ages and genders.  IV Rox are a band who are free from labels, expectations and easy categorization.  If you are a fan of the classic girl bands- from the U.S. and U.K. - of the '80s and '90s:  You will find much to recommend within IV Rox.  The chemistry and bond the girls share go into music of the highest order.  I shall go into more detail, but for now, let me introduce the group to you:
"Hailing from London and Essex, IV Rox are fast becoming the next big British girl group!  IV Rox girls have gained themselves over 18,000 followers on Twitter and have landed themselves with a hugely dedicated fanbase of 'Roxstars'. Natalie, Raquel, Nadine and Dolly have an infectious energy and impressive vocals complete with effortless harmonies. Their already loyal and dedicated 'Roxstars' are hugely important to the girls and they will continue to interact with and appreciate there rapidly growing support as they look forward to a big year and a big future!"
I was surprised to see All Saints make a return to music.  The English-Canadian group burst onto the scene in 1997:  At a time when the likes of The Spice Girls were still storming the charts.  Maybe All Saints didn't quite match The Spice Girls in terms of hits and memorability.  Without the same writers and producers behind them; the All Saints went in a different direction and offered an alternative for the market.  Whereas The Spice Girls were more Pop orientated; All Saints employed Hip-Hop and Soul into a Pop core.  A so-called 'edgier' version of The Spice Girls:  They are now back on the scene and have not missed a beat.  While their songs are a little more mature and grown-up- they cannot bring out tracks like Booty Call anymore- there is a definite return to form.  One of the biggest criticisms (for All Saints) has been that lacking personality.  A lot of songs seem rather flat and do not possess that necessary pop and snap.  The girls' voices are uniformly excellent- especially when blended in harmony- but the songs are rather run-of-the-mill and cliché.  Over the last decade-and-a-bit- since the cessation of groups like The Spice Girls- the 'current' crop have tried to recapture the majesty and strengths of the girl band best.  Maybe the U.S. - in the past, at least- have produced grittier girl acts, but that might not be the case now.  IV Rox overcomes initial hurdles with grace and ease:  They have bags of personality and distinct voices.  They are not a committee-written band that is following the instruction of producers and record labels.  There is freedom and control that makes their songs sound completely natural and personal (to them).  Each girl has their own tones but- like the best girl groups- IV Rox are at their peak when their voices combine.  I like Little Mix and feel they have a great sound:  One of the best bands (girl bands, anyway) the U.K. has produced in a while.  IV Rox have very little competition when it comes to sound-alike groups right now.  Maybe this is a bad thing- rivalry can lead to some terrific music- but the girls are sure to inspire other acts to follow them.  There is plenty of market room for like-minded acts, so let's hope resurgence occurs.  The fascination for solo acts and (Rock/Indie) bands has seen a lot of girl acts feel uncertain and hesitant- whether there would be an audience waiting for them.  Raquel, Natalie; Dolly and Nadine seem to galvanise with every release:  Their current track sees that endless confidence and assurance come out in full.  It will be exciting to see how the girls expand and develop over the coming year.  They have made big impressions and have a die-hard fan base.  So much love comes through on social media- the band's core express love and admiration on a near-daily basis- and that is a great sign.  That motivation and love compels and drives the girls onwards.  I am not sure whether there is a new album planned- have not heard anything on social media recently- but I know there is the fuel and desire in the IV Rox camp.  When/if that does arrive- either this year or next- there will be a huge (and hungry) market waiting.
Although IV Rox have only been around for a year or so:  They have managed to craft a number of memorable tracks and gain huge reputation.  Case of the Ex was unveiled a year ago and was one of the first statements from the girls.  Showing their softer side (in the early moments) with the girls:  "What you gonna do when she wants you back?"  The song's hero (or anti-hero) has separated from a girl and has made a break.  He is a weak-willed man who seems like he will go back to her.  Currently in the arms of our heroine: There is that fear the boy will succumb to his ex and forget where his loyalties lie.  It is a theme that is not often addressed in music.  That will-he-won't-he cheat scenario:  Desperate ex-partners trying to reclaim their lovers; the struggles that occur within relations.  In the softer moments- the girls posing questions and the man put on the spot- the harmonies are delicious and almost gospel-like.  When things get more raw and urgent- and our heroine wants to give an engagement ring back- the beats step up and the song goes into Dubstep territory.  Mutating from Pop and Gospel; along to R 'n' B and Dubstep:  The song evolves and grows into something domineering and unstoppable.  Even on this early cut, the girls demonstrate what a force they are.  The harmonies are nimble and exceptional- consistent but varied- whilst the lyrics are sharp and relatable.  It is perhaps the composition that remains in the mind.  Propelled the vocals and augmenting the song's messages:  That fuse of genres makes Case of the Ex such a winner.
Badder Than a Mother (featuring Stormzy) followed Case of the Ex and showed the girls in fine form.  The track is even edgier and harder-hitting than Case of the Ex.  Stormzy brings an explosive and street-level performance that gives the song pace, danger and conviction.  His fast-flowed Grime spits contrast the girls beautifully.  The vocals- when solo or harmonised- are stunning and atmospheric.  The girls look at their boy in a rather different light.  Here is a more positive spin on things:  Although the boy is "badder than a mother" he is "good to me".  That loyalty to the girl- knowing where his heart and eyes should be- is emphasised and highlighted with aplomb.  There is a leap from the earliest cuts to this particular track.  The band sound more urgent and confident, here.  Happy to link with another artist; they do not lose their identity or fade into the background.  Whilst Stormzy is memorable and impressive on this track:  The girls are in control and leave the biggest impressions.
IV Rox are effortless when it comes to subject matter and mixing things up.  They concentrate on love and relations- a staple for most bands- but add new dimensions and insight into the themes.  From cheating boys to bad-as-Hell lads- they play with the rebels and rough-around-the-edge types- there is plenty of intelligence and nuance in their lyrics.  Most girl bands- the weaker varieties at least- tend to present cliché lines and choruses that seem tacked-on and lightweight.  IV Rox ensures their verses are tight, focused and sharp.  When it comes to the choruses:  They are huge and memorable statements that are designed to get inside the head.  With every release, the band raises their stake and sound alive and potent.  Pumping (Out of My Speakers) proves my theory and stands as their most impressive song to date.  Sneakbo is another cool and credible musician who brings his talents and voice into the IV Rox camp.  Given the progression the girls have made- and the endless confidence they put into the music- it will be wonderful seeing where they go next.  I would love to see an L.P. with their previous singles included; put some new material in there and show what variety that have.
Even after a few seconds; Pumping (Out of My Speakers) gets the senses primed and ready.  The bouncing and tribal electronic slam wrap around scuffed beats and a crisp production sound.  Putting me in mind of Rhianna- perhaps the most obvious influence on this track- the girls show a shift in their sound.  Earliest numbers (from IV Rox) share common strands with '90s acts like En Vogue and U.S. idols.  In more recent months, they have stepped away from that sound to something more current and of-the-moment.  Whether this was a conscious move- the need to evolve and grow- or just a temporary step-away; I am not too sure.  What is consistent and reliable is the girls' authority and confidence.  The music is blaring from the speakers and moving the floor.  Our heroines are getting with the vibe and feeling the room shake.  Able to feel and embrace the vibrations: IV Rox rides the rhythm and present one of their most exhilarating and ice-cool vocals in a while.  To be fair, the girls have always been utterly engaging and fiery.  They seem to have found new energy and influence here.  "Everybody to the dancefloor" is the declaration that is hard to refute.  With vibrancy and can-you-resist-me allure; you get sucked into the song and let your body move in time.  The composition is so insatiable it is near-on-impossible remaining stationary and flat.  Every listener will evoke some sort of reaction given time.  Pounding beats and a restless attack is the perfect backdrop for the girls' unique dynamics.  "Let me show you how to drop it" is a bold claim from a band that have complete control of the dancefloor.  I was amazed to see how much the girls have changed since their sapling days.  Songs like Case of the Ex has plenty of power but contained soothe, sweetness and some vulnerability.  Here- only a year down the line- there is that maturity and growth from a band that will not be taken for granted.  Whether dealing with capricious lovers or summoning bodies to get with the music:  It is here and now they are at their most arresting.  Addictive choruses are the least we expect from IV Rox.  Once more- and hardly a shock- the quartet bring it hard and strong.  Perhaps their most sensual and sexual call-to-arms (in a musical sense) so far:  Here is a song that will recruit male and females; cast its net to a very wide audience.
When Sneakbo comes into the mix; he steps into the club with black shades and "chains on".  You can picture our hero enter the rave with a cool swagger and clear intentions- dancing is not the only thing on his mind.  A singer that effortless slots into the song- another collaborator who is not intimidated by IV Rox; able to come in on an equal footing- there are no ego clashes and vying for attention.  Sneakbo lets it be known "Every girl looks pretty where I come from":  Whether it's "My black girls looking real meaty" or girls telling (our man) he's "too cheeky".  There is that part-confident, part-rogue-about-town smile that gives the song a heart and discipline.  A lot of rappers present needlessly vulgar, braggadocio-laden stories that can put off a lot of listeners.  Sneakbo keeps it clean and classy but ensures there is a little bit of ladishness and confidence bubbling away.  Our man is a "real G" with his keys in the B.M.W.  Sneakbo's introduction- and subsequent hold on the microphone- is hugely memorable and leaves you wanting a bit more.  Perhaps not breaking the mould when it comes to subject matter and lyrics- a lot of U.S. rappers have covered similar themes- against the tones of IV Rox; his raps seem new and fresh.  When the girls come back in- letting that chorus hammer, swing and campaign- it kicks the song up and get the crowds dancing once more.  In a lot of occasions- when rappers and artists collaborate on tracks- it can seem unnatural and a little forced.  I am not sure how the partnership came about- whether the girls are friends with Sneakbo- but there is a natural affinity and sense of intuition.  At no point does the song drop a step or lose its energy.  That constant dance and swagger are infectious.  The girls are caught up in their "favourite song" with their shoes off.  You picture the scenes and get the sense you are dancing alongside the girls- few of us are that lucky.  Unlike a lot of girl bands, IV Rox gives each member a chance to take a solo.  Given the fact there are no weak voices; you get varied takes and vocals- each girl has a different angle- which makes the song unpredictable and unique.  Not only are the girls stunning when combining their voices- their harmonies are amazing throughout- they show how able they are when stepping out alone.  Pumping (Out of My Speakers) rides the chorus towards the closing moments to ensure every listener is singing along.
IV Rox are one of the most consistent and fascinating groups in British music.  Not a mainstream act just yet:  It is only a matter of time before the girls are household favourites.  Many British groups (girl and boy bands) have been derided for their lack of edge and widespread appeal.  IV Rox oozes confidence and authority with every track but never push anyone away.  They prove they are capable of sensitive and soul-baring moments.  If you manage to shake off Pumping (Out of My Speakers) then you're a stronger person than I am.  You find yourself hooked on the song and will have that chorus bouncing around the brain for days- thanks, girls!  Backed by wonderful production- glossy yet raw enough to ensure the song retains its grit- it is a pure gem from this country's finest girl band.  It is only a matter of time before IV Rox are played across national radio- if they aren't already- as they are one of the most wide-reaching bands around.  Not reserved for Pop lovers and a female audience- that illustrious 13-21 demographic- they strike a chord with me (a 32-year-old man).  I am excited to see how far the girls can go and how big they can become.  Pumping (Out of My Speakers) is one of the most enticing songs I have heard all year and has resonated with fans and new listeners alike.
Pumping (Out of My Speakers) is a brash and sassy smash from a band that have just to miss a beat.  Even when the girls take the mood down- and are more reflective- they are arresting and engaging.  IV Rox are at their peak when the volume is turned up and the attitude levels are raised.  On their latest cut; they hook-up with Sneakbo and find a worthy collaborator.  The voices- different and with their own personalities- fuse well and sound natural alongside one another.  The hook-laden beats and electrifying chorus lines drill into the skull and make the feet stomp.  There are few bands that genuinely want to make you get up and dance:  Inspire the voice to sing-along and shout proud.  Whether you are a fan of girl band music or not:  IV Rox knock down the barriers and will reach all music listeners.  That is the appeal of IV Rox:  They are not your average girl band that has a very set audience.  I have been sad to see the decline of girl groups at the moment.  Maybe the decline of talent shows- relieved about that at least- has spelled the death knell for girl bands.  Gone are the '90s and '00s when we had some stunning examples owning the charts and bossing the airwaves.  In 2016, there are the odd (girl band) around but fewer than ever before.  I have a huge passion for all music and rank En Vogue and Salt-N-Pepa among my all-time favourite groups.  It is the power and girls-against-the-world prowess- when tied to fantastic, tight compositions- that wins me over every time.  It seems decades since the time of 'Girl Power' and something genuinely exciting.  With emerging acts like IV Rox; we could see a resurgence of The Spice Girls and All Saints.  All Saints are still about- Red Flag is a definite return-to-form- but their best/young days are behind them.  The mainstream is in danger of lacking any focus and consistency right now.  There are some dependable, long-term artists that continue to produce fine work.  To my ear, there are too many acts that are one-shot and brief:  They stamp a few good songs out but then start to fade away.  I feel there is too much homogenisation and narrowness when it comes to music tastes.  The media are partly to blame for this occurrence.  Every year, the same type of bands and artists are proffered:  Festivals like Glastonbury (and) Reading and Leeds are highlighting the same old groups and showing little bravery.
I feel there need to be a kick up the backside of the music industry.  Too many great acts are being temperised fearing they will not fit into critical moulds and mainstream tastes.  I hope IV Rox are able to transition to the big-time and show bands how it is done.  We all need music that cuts through the mist and delivers something entrancing, bold and to-the-point.  Whilst U.S. queens Beyoncé and Rhianna are through their best days:  Who will take their place and fill the (soon-to-be-available) vacancies?  In the U.K., we have very few acts that evoke the same sort of fireworks, spectacles and sexed-up verses.  The huge range, Hip-Hop flows and effortless cool- the likes of Beyoncé showcase on every album- are missing from British music.  IV Rox are, therefore, an anomaly that should be encouraged and fostered.  While they are not up to the regency-level heights of Beyoncé:  That is not to say they cannot climb those heights in the coming years.  The girls are young and still coming through but have made some impressive early strides.  They have great producers and writers behind them- the girls themselves are accomplished writers who have their own voices- and demonstrated what a vocal force they are.  One of the criticisms- when it comes to girl groups of four or five- is the lack of distinction between the vocalist.  Often, girl groups gain plaudits because the voices are melted together in harmony:  It disguises weak links and papers over any bum notes.  If you look at the likes of The Spice Girls:  We all know who the best singers were in the band (and which were a little out of the depths).  IV Rox are a band where each member has a stunning voice and could flourish on their own terms.  Girls Aloud is probably the most relatable, recent girl band:  Its members have gone on to record solo projects (with varying success).  The time is right for IV Rox to take over from Girls Aloud:  Fill that void and brings that vitality and verve back to the charts.  Pumping (Out of My Speakers) is a strong statement for a number of different reasons.  It is a song that proves what exceptional singers can be found within IV Rox.  That inseparable and undeniable chemistry explodes from every note.  There are few bands that have that connection and deep affection at the core.  IV Rox are almost like sisters:  As such, their music is so tight and compelling it is infectious and utterly irresistible.  The girls have the chance to make a big impact in music and inspire the young generation.  Although their sound has more in common with U.S. examples- Rhianna and the aforementioned Ms. Knowles- they have their own brand and sound.  Sharp, glossy and utterly seamless:  The girls have a white-hot assault that takes the breath and gets the body moving.  Let's hope the girls have tour plans as the year progresses.  There is demand out there and I would love to see them live- if they have any London gigs soon.  Ensure you offer the band your support and follow them as they grow and evolve.  Few great girl bands are emerging in the U.K., so for that reason, I sincerely hope…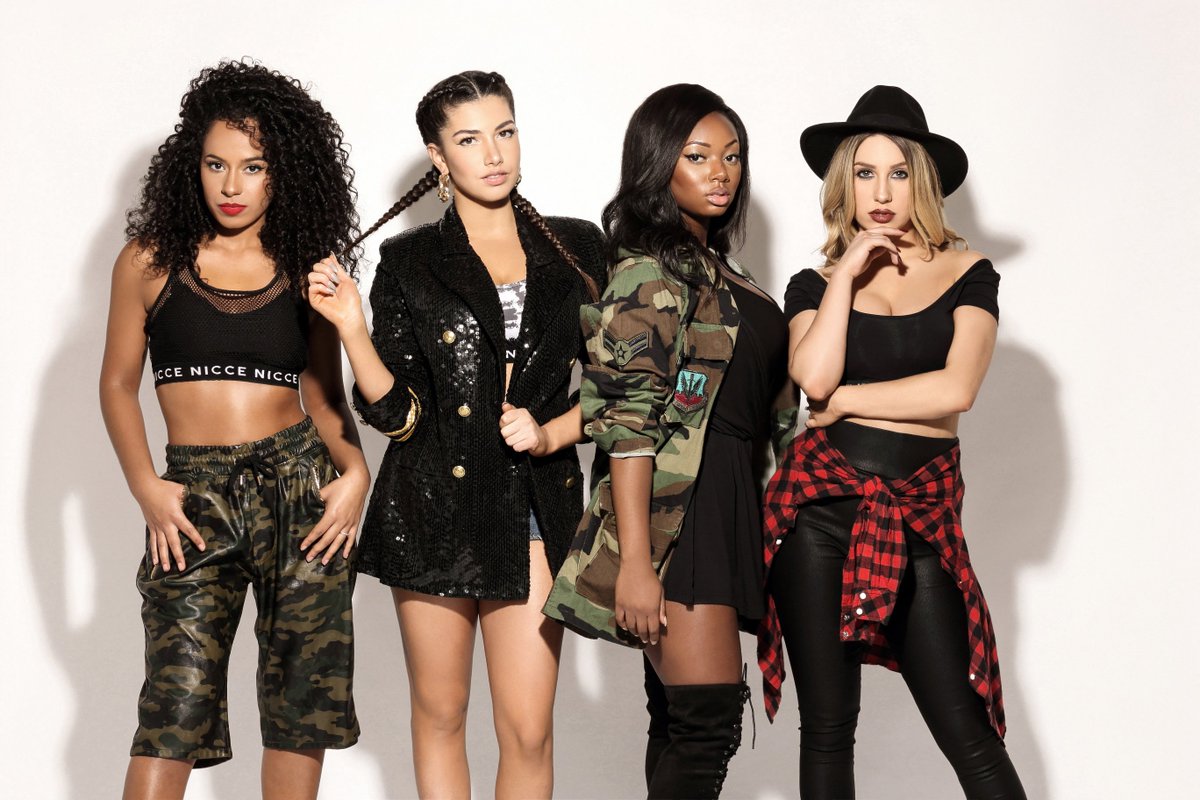 IV Rox stays in music for many years to come.
[youtube https://www.youtube.com/watch?v=-oA_xlwl0zY&w=560&h=315]
_______________________________________
Follow IV Rox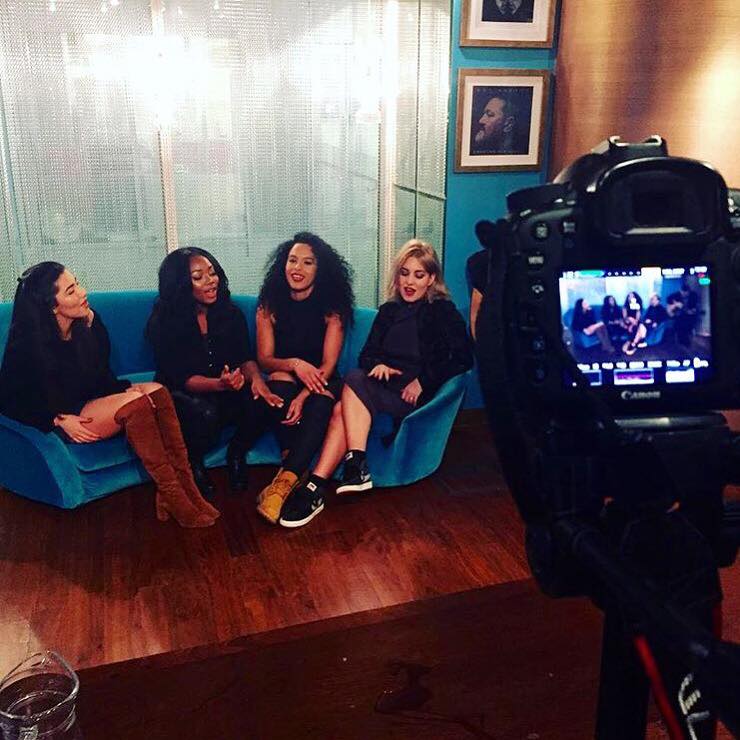 Official:
Facebook:
https://www.facebook.com/IVRoxofficial
Twitter:
_________________________________________
Music