TRACK REVIEW:
Victory Kicks
 
Skyscrapers
9.4/10
Skyscrapers can be heard via:
http://victorykicks.bandcamp.com/track/skyscrapers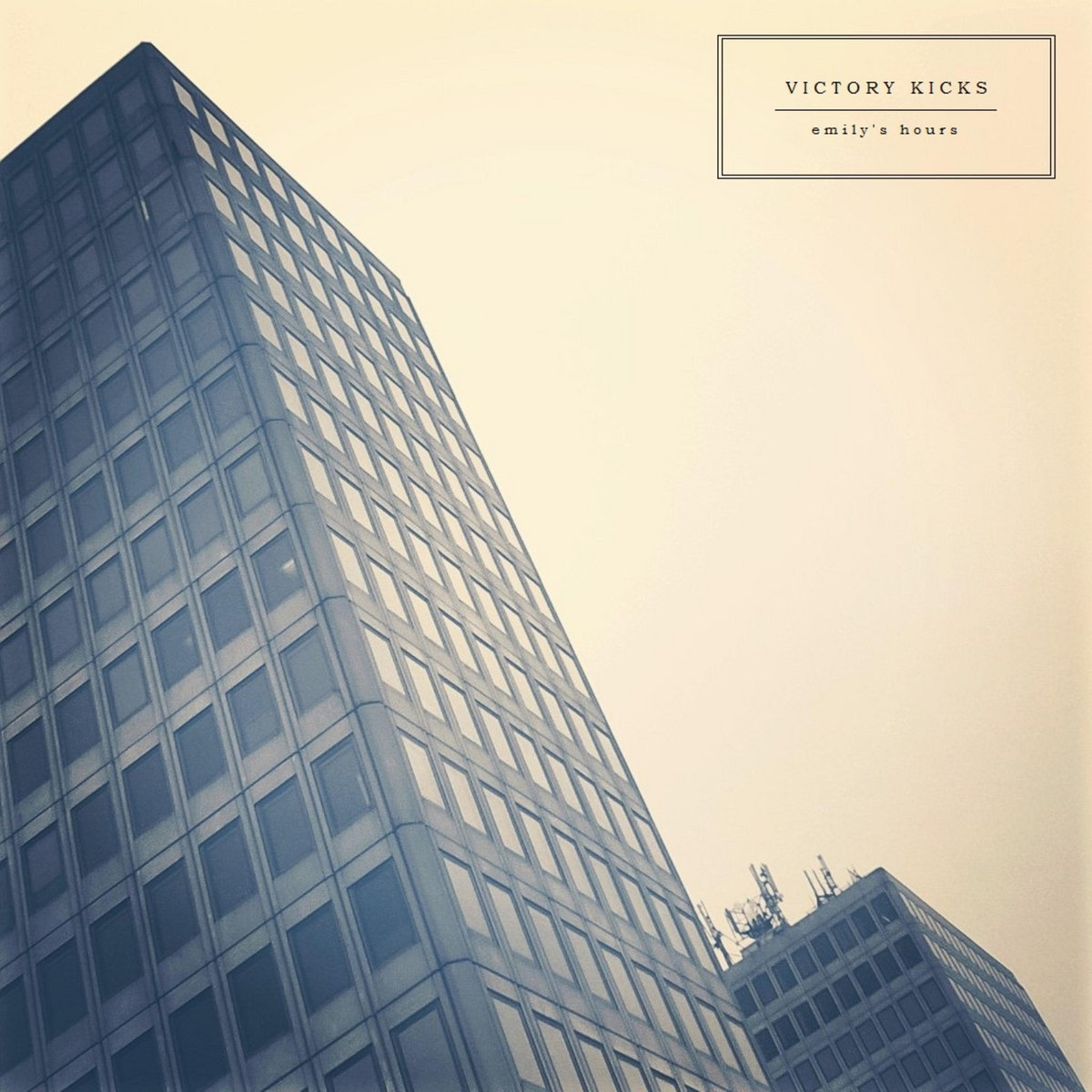 The album, Emily's Hours, is available at:
http://victorykicks.bandcamp.com/
TRACK LISTING:
Skyscrapers
Emily's Hours
Wino Lino (Part II)
Battleships
Take It Out
Night Train
Daylight Saving Time
Get Blurred
The Losing Side
We're Still Running
RELEASE DATE:
August 5th, 2016
_______________________
Emily's Hours is the seventh record to be released by Victory Kicks since its formation in 2013. The band's fourth LP and its second this year, it consists of ten short, sharp pop songs about work, based around overheard conversations on rush hour trains.
Released August 5, 2016
All songs written by John Sibley except:
Wino Lino (Part II) which includes lyrics and melody by Martyn Piggott. For Wino Lino (Part I) see Sweeney. New album Men of Funk out now at ohsweeney.bandcamp.com.
Night Train is written by Martyn Piggott and originally recorded by Space Team 4: soundcloud.com/spaceteam4
Performed and recorded by Victory Kicks
Produced by John Sibley
Unmanned Aerial Vinyl 2016. UAV-VKLP004
_____________________
FOR the second day straight...
I am looking at a solo artist who is a lot more intriguing than you would imagine. It seems like a strange sentence but we get impressions with solo artists and what to expect. By and large, the lone artist is perceived as quite slight and lacking – when compared to a band sound. Not as invigorating, full and layered as the group dynamic – our minds think of something calmer, more stripped-back and restrained. As my review showed yesterday: This Modern Hope, the moniker of Rob Payne, is capable of producing songs of majestic propositions; portraying the sound of a full group and subverting expectations of the solo artist. The same can be applied to my subject today: John Sibley's Victory Kicks is a fully-fledged band projection. It is weird we assume certain things with a one-piece artist: that they will play a certain way and not have the authority of an average band.  It is something that has irked me and got my wondering. Before I look at D.I.Y., bedroom-made music and unusual influences; I will look a little more at that point. One listen of the aforementioned This Modern Hope brings you into an evocative and beautiful world: all full of graceful, wave-crashing strings and vivid lyrics. Bracing, atmospheric and beautiful: the listener is brought into a new world and moves alongside the music. When a solo artist can do that it is deeply impressive but not rare these days. We all the idea that solo musicians are acoustic guitar-carrying and are Folk/Pop-based. That may account for a certain percentage of musicians but the modern evolution is producing musicians that incorporate more instruments and themes into their songs. Perhaps dictated by influences or fulfilling the changing demands of the marketplace: today's musician is a lot more varied and accomplished than in previous years. It is not sufficient to merely rock up with a guitar or hollow sound and expect to stand aside from the crowd. Among those type of artists, there are very few that genuinely stick in the mind and compel you to investigate them more. Today, Victory Kicks is a more established band dynamic but it all started with Sibley making music with a few friends kicking in. Victory Kicks wouldn't have come as far were it not for its leader's determination and clear vision. Even now, it is Sibley's characteristics and input that defines the music and distinguishes it from his peers.
I have noticed a sea-change in music that is seeing musicians become more multi-tasking and self-sufficient. As the likes of This Modern Hope has shown: you cannot expect a record deal straight away and must take initiative; get on with music and not hope someone will snap you up. Because of this, the new young musician has no choice than to carry on without record label approval and try and make an impression on their own terms. The music they are providing (by and large) is deeper, richer and more textured sound. John Sibley's Victory Kicks is the epitome of this and someone who has had to craft music, unsigned. One day that deal will come but Sibley knows it might be a little while down the track. Undeterred and determined: his latest work is among the very best yet; destined to see him scooped up and exposed to a wider audience. Before I come to that, I shall introduce Victory Kicks to you:
"Victory Kicks started life in early 2013 as a home recording project for songwriter and guitarist John Sibley. After writing a large number of songs and realizing that waiting around for a record deal would mean that most would inevitably be forgotten, John decided to start piecing a recording studio together at home. Old songs were finished off and new songs were written and often recorded the same day with John handling vocals, guitar, bass and drums as well as production duties and working out how to do the latter as he went. Early EP's and singles containing short, lo-fi pop songs were recorded and shared amongst friends and family.
Victory Kicks then went from solo project to band with the addition of friends from other London based acts and established its own record label with the release of its first official EP, Rockets for Ghosts in July 2013. Comprising seven home recorded tracks of short, catchy indie rock, Rockets for Ghosts was a success for the band garnering favourable reviews and receiving airplay for the first time on stations in both the UK and the US. Ghosts was followed by the release of three singles, including the song Radio Saves which saw the band make its debut appearance on BBC radio playlists.
Taking the decision to record music at home would allow the band the flexibility to record new songs as and when they were written and since the release of its debut EP in 2013 Victory Kicks has built something of a reputation for prolificacy - 2014 has already seen a full length album called The Decibel Age as well as a seven track EP called Emergency Noise. A third record called The Young Flood will be released on November 17th. Today, Victory Kicks is a four piece band consisting of old friends making home recorded music whenever possible".
I mentioned artists (solo) that have to up their game and become more band-sounding in order to resonate. Music is changing and becoming more challenging and less predictable. It has always been the case artists have had a tough time but the more people that come into the world; the existing musician has to struggle harder for recognition and acclaim. Record deals are near-impossible to come about and financial rewards are reserved for the most established and successful. What is happening more and more, is new musicians turning to D.I.Y. approach. Victory Kicks' John Sibley started on his own and realised studio costs would be extortionate and unrealistic. Knowing the only way to produce music would be to do it at home: he set up his own studio at his flat and laid down music there. It is becoming more common in today's climate. I am not sure how much an 'average' E.P. would cost to record but I imagine it would be hundreds of pounds. Many of us do not have that sort of money lying around reserved for music. So much of today's music is free of charge and can be accessed by anyone, anywhere. The profitability of being a musician is scares and unpredictable. I hear so many artists having to quit and change their goals because of this. Sibley started on modest footings but has grown into a more established artist – more musicians and a bit more luxury at his disposal. That said, he is still someone who is not surrounded by lavish studios and expensive producers-for-hire. There is a sense of D.I.Y. rawness and something quite sparse – harking back to the early days of Victory Kicks. Technology and online software is being utilised more and providing an affordable space and option for today's musicians. If we had to rely on studios for out output: modern music would  be far poorer and more restrained. I feel we have to do more to make music, not cheaper, but less daunting for those coming in. If you have to busk relentlessly and work several jobs in order to make a few songs then something is wrong. It is baffling so many great, ambitious musicians are being priced out; so the question remains large: is the bedroom-made sound the way forward? Perhaps so, but it is not always conducive to original and memorable songs. You have certain limitations in technology – artificial samples and under-produced sounds – and don't have the same options as studio-set music. Sibley's London crew have started from sapling roots and grown into a respected and popular group. In spite of the prolific output and exceptional music; the future is still not as certain and solid as it should be. One assumes someone like Sibley would be able to command long studio stays and get gigs wherever he pleases. I shall not go into too much detail only to say there needs to be a two-level approach to music. Not only ensuring studios are more affordable and less pricey; there are greater financial rewards for musicians and a way to finance them without having to rely on crowdfunding, for instance. It is a perplexing quandary but I am sure there is an answer in there.
Before I get down to looking at Victory Kicks' latest album/songs, I wanted to pay tribute to those who do not employ oblivious and stayed influences. Every musician has their idols and to an extent will integrate these into their music. The same is certainly true of Victory Kicks whose music has definite hints of certain artists. Looking at their biography and seeing who makes them tick, it made me smile a bit. Guided by Voices, Wilco and Yo La Tengo are key. So too is British Sea Power, R.E.M. and Grandaddy. I have never seen all these names together and few of them actually sourced by a musician (as an influence). Perhaps it is an issue among bands but I find so many are inspired by the same type of act. You hear the same bands being name-checked and mentioned; it is understandable in some cases but can be very predictable and shoulder-sagging. Victory Kicks, and their listed influences, breaks away from convention and is a rarity. I know all the bands individually but have never known an artist to put them together. Listening to Victory Kicks' music and it sort of all makes sense. You get the accessibility of R.E.M.'s mid-later-career accessibility with touches of Murmur (their debut album). Wilco and British Sea Power can be detected in Victory Kicks' early work and definite nods to Yo Le Tengo. None of those musicians leap from the page – Victory Kicks are unique and original when you think of it – but it is refreshing seeing lesser-mentioned acts sit alongside one another. Not only does it suggest a musician/band that are a bit different and less predictable: you are compelled to listen to those acts and see where Victory Kicks came from. If music is to evolve freely and inspire the future generations then artists need to be less rigid and more flexible with their influences. So many new artists are overlooked older music and taking their inspiration from modern artists. It is going to lead to music being more homogenised, narrow and 'new'. I hate to think one day musicians and the young will forget about the legendary artists and what they gave to us. Again, this is a theme for another day but something worth considering.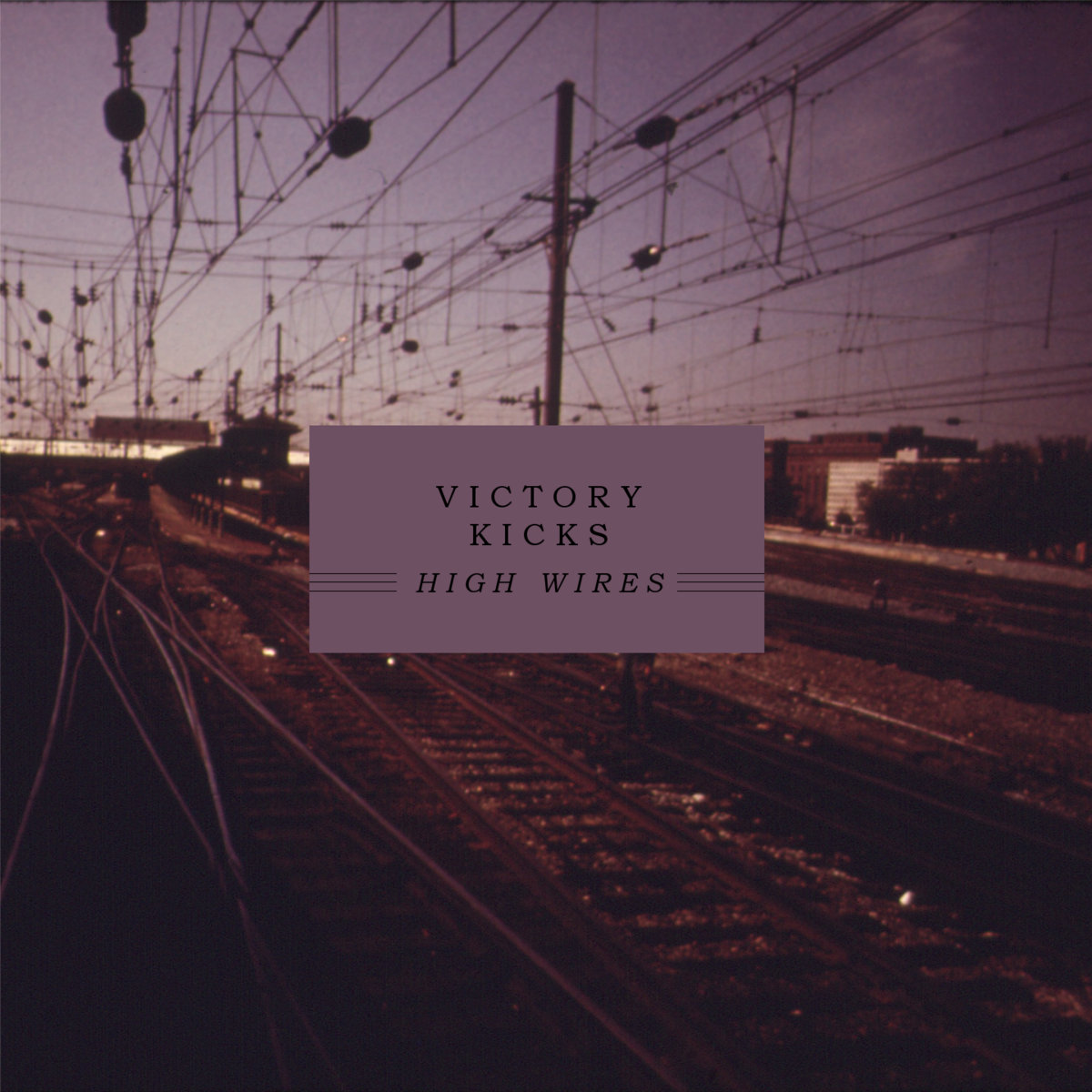 Victory Kicks have had a long and varied career and you need to go back to 2013's Dead Language Evening Class to discover their earliest sounds. That E.P. was a four-track release that sounded more like a John Sibley solo project. He has help with the record but the abiding takeaway is Sibley and his talent. It was home-recorded and has that lo-fi charm to it. More electric-based and harder-edged than current work: it owes a little nod to '90s Rock and Indie bands; an insistent and fast-flowing E.P. that announced a singular talent with a lot of focus. A series of singles were released by the E.P. Emergency Noise was the next full release. Released in 2014, and with seven tracks on board, more acoustic elements were brought into the fray and it remains a more rounded and diverse listen. Again, there was a D.I.Y. aesthetic but the E.P. seems crisper and more defined than the debut. Sibley pushed himself as a songwriter and brought more sonic elements and instruments into the pot. Recorded in Sibley's flat and benefiting from the creature comforts of his abode: it has an intimacy and deeply personal relevance; a wonderful live sound that makes every song shines and stand out. If it has a polished studio sound it would lose its edge and appear too theatric and insincere. Sibley's heartfelt and tender voice comes through and he progressed as a singer too – bringing more cadence and sides into his performance.  High Wires was released last year and an album that pushes Victory Kicks up another notch and improves on previous efforts.
With every release, Sibley becomes more intriguing and boundary-pushing as a songwriter and that is evident here. Recorded and produced by Sibley and sounding more band-mate and full; the L.P. owes more in common with the latest album, Emily's Hours. Every song seems fuller and more polished – not quite as bare and raw as earlier work. It gives the music a more commercial sound but not at the expense of conviction and emotion. Get Blurred takes this theory further and is another step up. Now a more band-themed concept: more elements and voices are brought in; the record is more compelling than one would imagine. Those thinking other components and vocal would take away from Sibley's established sound but in fact it elevates the music. From the earliest days until here; Victory Kicks have evolved and grown into something extraordinary. The first few efforts were simpler and brought in certain influences; the newer records are more variegated and mix genres and new inspirations into the records. Every new release sees to top the last and that is true with Emily's Hours. Victory Kicks seem like a full band now but one that have very few equals when it comes to what they are producing. Sounding completely in the zone and assured: it is wonderful hearing the guys bond and combines across truly incredible songs. There is still a rugged and modest production sound but the music is cleaner and has more polish than the earlier material. This rate of progression is impressive and hints at a band that is ready for mainstream recognition. How long before that happens? Surely not that long, one would imagine.
I was keen to review the entire album but wanted to focus on one track especially. Skyscrapers opens Emily's Hours and does so with a definite sense of purpose. No time for fade-up or building the mood: it goes straight in and gets away with intention and determination. Scratchy, accelerated guitar scuffs open Sibley's vocals up perfectly. The front-man is keen to lay down his lyrics and get his messages across. As Emily's Hours documents commuter conversation and the stories we hear unfold on trains: Skyscrapers' titrle might bring obvious ideas to the mind. The sight of pulling into Waterloo, perhaps, and seeing the tall buildings and London panorama beckon into view. Our hero implores against the workaday life and the humdrum, depressing daily existence. Whether speaking from experience or recalling the tale of someone he encountered: you get a real sense of mundanity of the working day and the stresses we face. The employers will not appreciate you and you will be undervalued and wasted. We all have that job where we feel invisible and anonymous and that comes through here. Those rushing and spiraling strings give ideas of locomotion and trains pulling into the station; the heavy foot traffic at train stations and the general busy nature of the streets. Many musicians have tried to assess the miasma and soul squalor of a Monday morning but few as effectively and vividly as this. You hop into the song and embody yourself the central figure – getting pushed along by London citizens and harried into the workplace; slum into your workstation and prepare for a crushing day ahead. Like Victory Kicks' modern songs (and a lot of their older ones) we start from subtle, softer beginnings before the song expands and gets hotter. Starting inside a tense and energised delivery about arriving at work and feeling squashed underfoot; Skyscrapers changes tone into the chorus.
The song's title is never really utilised as a mantra (like previous Victory Kicks songs) but instead it is the composition and vocal that is left to seduce and impress. Other Victory Kicks tracks have repeated chorus lines and song titles to get into the head and register a reaction. On Skyscrapers; the emphasis is put on the overall performance and the shift from acoustic-led drive to a fuller, bolder sound in the chorus. The lead implores us/the subject to open their eyes and see the sense of decay and depression. It is a number that will have different visions in each listener's mind. I was picturing a lone, solemn commuter moving from train to underground to office; walking the streets and feeling lost among the huge crowds. Never feeling needed or like a human being: you sense that the man is just a cog or ghost lost in society. Perhaps Sibley is looking at consumerism, the modern workplace or the city in general. Always comfortable being a musician in London; one wonders whether the band experience is being documented. Maybe they feel undervalued and aghast at what is unfolding and the state of the music industry in general. It is an interesting point and shows Skyscrapers has many levels and possibilities at heart. One notices an obliqueness to some lines and it can be open to the individual to decide what is being said. Some of the lyrics do get a little buried in the composition and can be hard to decipher but that adds to the overall effect and emotion of the song. The band keeps the score edgy, rushing and moving without outpacing the vocal and making things suffocating. Sibley's voice sneers at times and has a distinct tone of anger and upset to it. I was imagining the acidic tongue of the working life being twisted and tied but I also thought more generally about modern society. I was looking at R.E.M.'s debut album Murmur yesterday as part of a feature on the 1980s' best albums. That L.P. was distinguished due to its enigma and austerity; the richness and intelligence that came through. Stipes vocals have a lack of intelligibility at times but that all sort of adds to the song. Michael Stipe's vocals murmur and mumble but it elevates the song and adds mystery to them. Sibley has a similar quality and while his voice is clearer and faster; there is a loss of clarity at times which, rather than detracting and hurting thw song, seems appropriate and elevate it. The lyrics can be applied to the malaise we face approaching the working week but work deeper than that.
It is a great opener for Emily's Hours and a bold statement from the band; they get stronger and more fascinating with every album/E.P. Skyscrapers is a perfect opening statement and song that provides rouse and energy but has a deeper message and motivates us to consider what is being said and its wider implications. It is not just Sibley's vocals and lyrics that get under the skin and hits the listener but the composition provides plenty of splendor and quality. You get caught up in the spirited guitar and sturdy percussion and surrender yourself to its youthfulness and engagement. It is a composition to dance to and sing along to; another track that will get the crowds involved and unified. At the end of things, those lyrics leave you curious and you'll be listening back to try and dig down to its roots. Emily's Hours was inspired by train travel and conversations therein so one assumes the opening tracks looks at the morning commute and the experiences of getting into the office. Take it wider, and there are other implications and possibilities to the words. A song that mixes complex and simple without ever confusing or misleading. Such a wonderfully rich and terrific song that opens Emily's Hours up with a real sense of impact and meaning. I have followed the London band for a while now and know how good they are. Skyscrapers ranks among the finest work to date and shows how much talent and creativity is still on offer: it means the future will be very interesting and I will wait with baited breath.
I am a little late to Emily's Hours and joining the party. It is amazing to think Victory Kicks have released two albums in the space of a few months. It shows there is huge productivity, creativity and hope in camp. From the early days, the project has started from modest and homemade origins to grow into something more established, assured and full. Sibley is still at the heart of things but Victory Kicks have the sound and nature of a full band – not just a solo artist getting a few mates to contribute to their music. Victory Kicks are keeping their social media pages updated and ensuring fans are kept abreast of the latest happenings. The accounts are very professional, informative and easy for people to discover and follow. If you are not already a fan of the group then make sure you get involved and catch them live. So many great London artists are emerging and there is a lot of hustling and competitiveness. Standing aside from the crowd is incredibly hard and gaining the ear of studio bosses and record labels harder still. I looked at This Modern Hope and how it is, in essence, a one-man band and project of Rob Payne. He is based in London and stands aside from so many of his contemporaries. In the same manner, John Sibley's Victory Kicks is not your average band/endeavor and goes a lot deeper than many out there. One of the most productive and accomplished acts I have come across: their albums are an exploration into music, emotion and dynamics. All anchored and galvanised by Sibley's assured voice: the music creates something dream-like and wondrous. To be honest, there are so many shades and sides to Victory Kicks it is hard to narrow it down to one word or sentence.
Previous L.P.s have shown a development and progression: more confidence and sounds coming together; the songwriting stronger and possessed of more nuance. Where they are now is where they need to go: surely not long until international recognition and big-money deals one would imagine? It is always risky tipping a band for success – I have done that and a few have split up; not my fault, to be fair – so I am always hesitant making big statements like that. Victory Kicks deserve a lot greater acclaim and opportunity than they have. I know Sibley will take them across London and promote the latest album but one knows there are huge crowds who would love to see Victory Kicks in their town. The U.S. seems like a likely home and plenty of L.A. opportunities you'd think. Their sound is not cliché or predictable: it has clear personality and brings together wonderful artists like R.E.M. and British Sea Power. Varied, emotive and wonderfully fascinating: every album brings so much to the plate and leaves the listener stunned and deeply impressed. Get Blurred was released in June and has been followed up by this month's Emily's Hours. Not a mere copy or continuation of the previous album: the ten-track record is a different beast but still has that distinct Victory Kicks sound. I have been following the group since the debut album and am staggered by how they have grown and come along. Sibley is one of the most assured and talented songwriter in the country and his cohorts give the songs flesh and blood.
The title track drives off the blocks and races away. "Emily's Hours trying to turn it around" is repeated as a chorus line and one wonders what that relates to. Oblique on the one hand but quite direct on the other: you will have your own ideas and conclusions. Sibley's vocal is firm and determined and gives the lyrics a sense of urgency and passion. The composition pairs percussion and strings and has simplicity to it. Not needlessly crowding the song out or putting too much into the mix; it is a catchy and compelling song that has instant appeal and is sure to be a live favourite. There are flavours of R.E.M. in the composition but it is very much Victory Kicks in charge: they provide the merest hint and suggestion and employ the U.S. band as a springboard. Missteps, distortion and feedback give the impression the song ends but it comes right back to life: a wonderfully unexpected touch that gives it fresh momentum and a cheeky demeanor. Battleships is a less springy and more tense track whose vocal and composition has plenty of life but more seriousness to it. Perhaps not a crowd singalong: it is a song that makes you reflect and looks the inner-workings of a relationship. The words make you think of two lovers who are on different pages; trying to reach a compromise but perhaps not – again, Sibley's lyrics are not obvious and give you the chance to interpret yourself. Take It Out is acoustic-led but soon gets harder and heavier without coming on too strong. A typically tight and memorable song from the band: it revolves around trains and new days; the commuter lifestyle and a certain sense of routine. The entire album is built around overheard conversations on trains and the sort of odd and everyday mixes you hear from commuters' chat. Take It Out looks at the mundane, workaday life – getting the magazine out and head straight; wanting a slow day and no stress – but characterises it with heart and definite romance. You transport yourself into the skin of the song's subject and feel the emotions, scenes and people that aree being projected.
Night Train takes us into another side of the commuter saga and twilight experiences. Daylight Saving Time has elements of British Sea Power with the composition. The strings have that definite The Decline of British Sea Power vibe while the vocal (a two-hander) is a beautiful fusion of tones and expressions; constantly engaging and brilliant. The Losing Side is another propulsive number that catches you unaware. The percussion is especially impressive and gives the song kick and drive; propels all other components forward. Sibley's talents as a songwriter are brought to the fore as he turns the everyday ruts and experiences into something transcendent and fresh. He elevates these random conversations into little art pieces and galleries of human oddity. The Losing Side has some memorable lines (a mantra asking why they had to be "stupid fuc****" among them) and it is another concise and addictive jam that is sure to register a big response in the live setting. We're Still Running is one of the shortest tracks on the album but closes things with a definite bang. Built, like many songs, around the song's title: one of the finest cuts from the album. Bringing the entire band in more directly: it is a glimpse into another side of modern day life and gets you thinking hard. One is seduced by the gorgeous duel vocals and breezy, heartfelt codas that come forward. Never too anxious or foreboding; never needlessly offensive or vague: another quality cut from Victory Kicks that shows why they are one of the country's finest unsigned acts. It is hard to define Emily's Hours and drill it down to a few words.
Across the ten tracks, whilst levied to the theme of commuter discussions, you have so much story and different interactions. From stress-laden morning rushes to the nighttime unpredictability of the city; the sort of lifeforms that we take the train with to more everyday considerations – you need to study the album repeatedly for it all to sink in and get the full benefit. Victory Kicks have created a wonderfully unique album that shows how consistent and tight they are. Every song is defined by wonderful chemistry in the group and Sibley's songwriting is at its very strongest. Previous albums have been wonderfully engaging and solid but here you get the finest work from the band. There is a lot of excitement and hope in the group and they will have a busy next few months ahead. Following Get Blurred and its release; many would not assume another album would come out so soon. It just proves what a love for music they have and how much the creative juices are flowing. I am not sure we will see another Victory Kicks album in 2016 – you would not put it past them, mind – but they will be getting out to crowds and performing their new music. Take some serious time to discover a band that is likely to be one of our future mainstays. They have already set down an extraordinary benchmark and you know more is coming from them. I, for one…
CANNOT wait to see what they produce next.
[bandcamp width=350 height=470 album=382185148 size=large bgcol=ffffff linkcol=0687f5 tracklist=false track=1410279733]
__________________________
Follow Victory Kicks
BandCamp:
http://victorykicks.bandcamp.com/
Facebook:
https://www.facebook.com/VictoryKicks/
Twitter:
https://twitter.com/victory_kicks